Daza, Hilliard, Valaika Elected Starters in 2019 Triple-A All-Star Game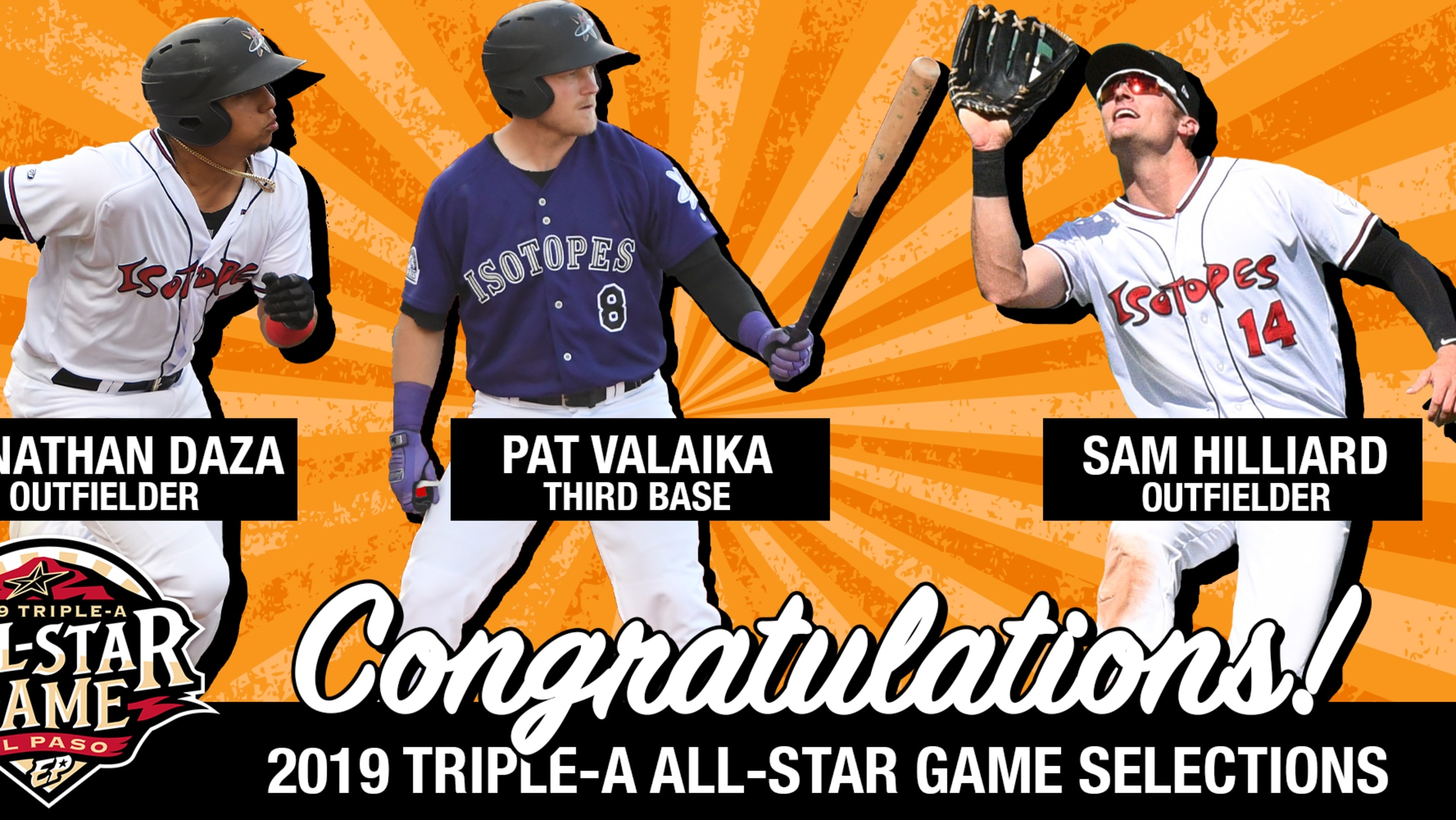 Albuquerque Isotopes outfielders Yonathan Daza and Sam Hilliard as well as third baseman Pat Valaika have been named starters for the 2019 Pacific Coast League All-Star Team. The game will be hosted at Southwest University Park in El Paso, Texas on Wednesday, July 10 and will be broadcasted on MLB
Albuquerque Isotopes outfielders Yonathan Daza and Sam Hilliard as well as third baseman Pat Valaika have been named starters for the 2019 Pacific Coast League All-Star Team. The game will be hosted at Southwest University Park in El Paso, Texas on Wednesday, July 10 and will be broadcasted on MLB Network.
This marks the second straight year multiple Isotopes have been voted as PCL starters with Mike Tauchman and Josh Fuentes both starting for the league last season in Columbus. The last time Albuquerque had three players named as starters in the All-Star Game was in 2008 (OF John Gall, C John Baker and 3B Dallas McPherson).
Daza's .375 batting average (98-for-261) at the time of his selection ranks first in the PCL while his 98 hits are the second-most in the circuit. The 25-year-old from Maracay, Venezuela has hit a career-high eight home runs and has recorded a multi-hit performance in 35 of 59 games played in Albuquerque. Daza has also compiled 22 doubles, four triples and 34 RBI. This is the third Mid-Season All-Star selection of Daza's nine-year professional career with the others coming in 2016 with Single-A Asheville and in 2018 with Double-A Hartford.
Hilliard, 25, leads the Isotopes in home runs (20), stolen bases (14) and runs scored (61). The outfielder is one of two players in Minor League Baseball with at least 20 home runs and 14 stolen bases. Hilliard's 20 homers are one away from matching his career-high from 2017. The Mansfield, Texas native ranks second in the PCL in extra-base hits (42), runs scored, fourth in triples (4), home runs, total bases (162), fifth in RBI (58) and eighth in stolen bases. Hilliard was previously named a Mid-Season All-Star in 2016 with Asheville, 2017 with High-A Lancaster and in 2018 with Hartford.
Valiaka, 26, has compiled a .339 batting average (63-for-186) with the Isotopes in 44 games, to go along with 16 home runs, 39 RBI and a 1.033 OPS. This is the Valencia, Calif. native's second All-Star Game selection, being selected as a Mid-Season All-Star in 2016 while with the Eastern League's Hartford Yard Goats.