De Aza homers, but Chiefs fall to PawSox
De Aza also smacks a double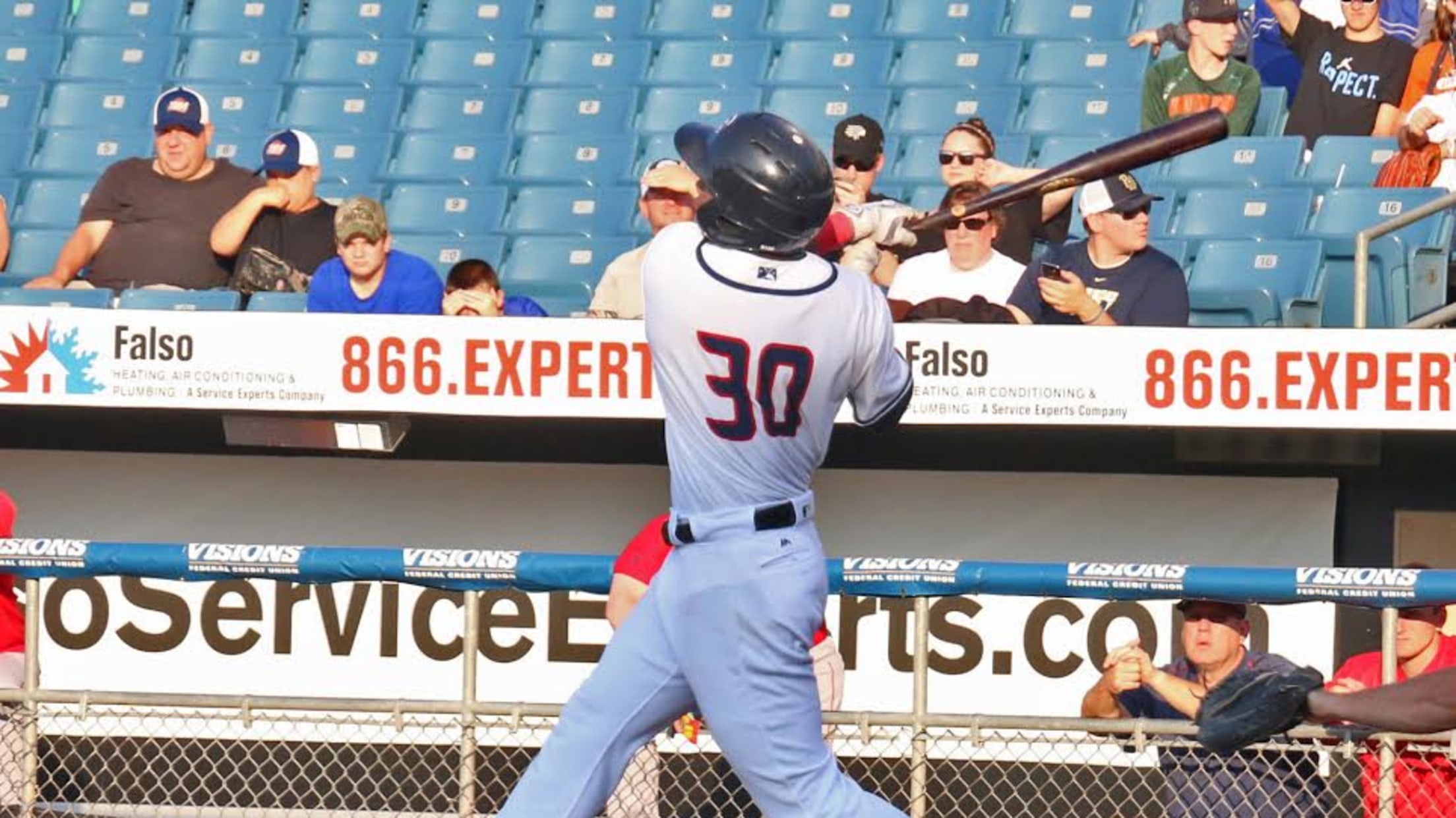 Alejandro De Aza hit the game winning double Tuesday night. (Danny Tripodi)
The Syracuse Chiefs fell to the Pawtucket Red Sox, 8-1, on Friday night at NBT Bank Stadium. Alejandro De Aza's solo homer provided the lone run for the Chiefs.Pawtucket (46-44) opened the scoring in the second inning against Erick Fedde. Ryan Court led off the frame with a single off
The Syracuse Chiefs fell to the Pawtucket Red Sox, 8-1, on Friday night at NBT Bank Stadium. Alejandro De Aza's solo homer provided the lone run for the Chiefs.
Pawtucket (46-44) opened the scoring in the second inning against Erick Fedde. Ryan Court led off the frame with a single off Fedde into right field. In the next at-bat, with Steve Selsky at the plate, Court broke for second on a 3-2 pitch. Chiefs second baseman Irving Falu went to cover the bag and Selsky took advantage. The right-hander slapped a single into the vacated hole between first and second base, putting himself at first and advancing Court to third. One batter later, Matt Dominguez grounded into a double play which allowed Court to score from third and put the PawSox up 1-0.
Syracuse (32-57) smashed its first hit and run of the game on one swing of the bat in the fourth. With Kyle Kendrick on the mound. De Aza led off the inning with a bang. On a 1-1 pitch, De Aza cranked his third home run of the season over the right-field fence to knot the game up at 1-1.
The PawSox regained the lead in the fifth inning versus Greg Ross. Dominguez smacked a single into center field to lead off the frame. Heiker Meneses followed with a double down the right-field line that allowed Dominguez to pull into third. After a Mike Miller walk loaded the bases, Ross settled down and induced two consecutive outs from Dan Butler and Aneury Tavarez. Major League rehabber Brock Holt drilled a 1-2, two-out offering on the ground down the left-field line, plating Dominguez and Meneses and advancing Miller to second. One batter later, International League All-Star Rusney Castillo singled back up the box to score Miller and put Holt at third for Court. With the right-hander in the batters' box, Ross tossed a wild pitch off the glove of catcher Spencer Kieboom, bringing Holt in to score from third and putting the PawSox out in front 5-1.
Stephen Perez doubled in the bottom of the sixth with a double off the right-center field wall. Perez moved to third on a De Aza single. However, Neftali Soto grounded into a double play to end the inning.
Pawtucket added to its lead in the top of the eighth. Castillo led off with a solo shot off Sammy Solís to right-center, his fourth home run against Syracuse in six games.
The PawSox tacked on two in the top of the ninth. Miller singled off Wander Suero to lead off the inning. Two batters later, Aneury Tavarez blasted a shot to right-center for a two-run homer.
Syracuse returns to action Saturday night at 7:05 against Pawtucket. A.J. Cole is on the hill for the Chiefs while Jalen Beeks will pitch for the PawSox.