De Jesus Hits for Cycle; Loons Rewrite History Books in Win
Great Lakes has one of most prolific offensive nights in franchise history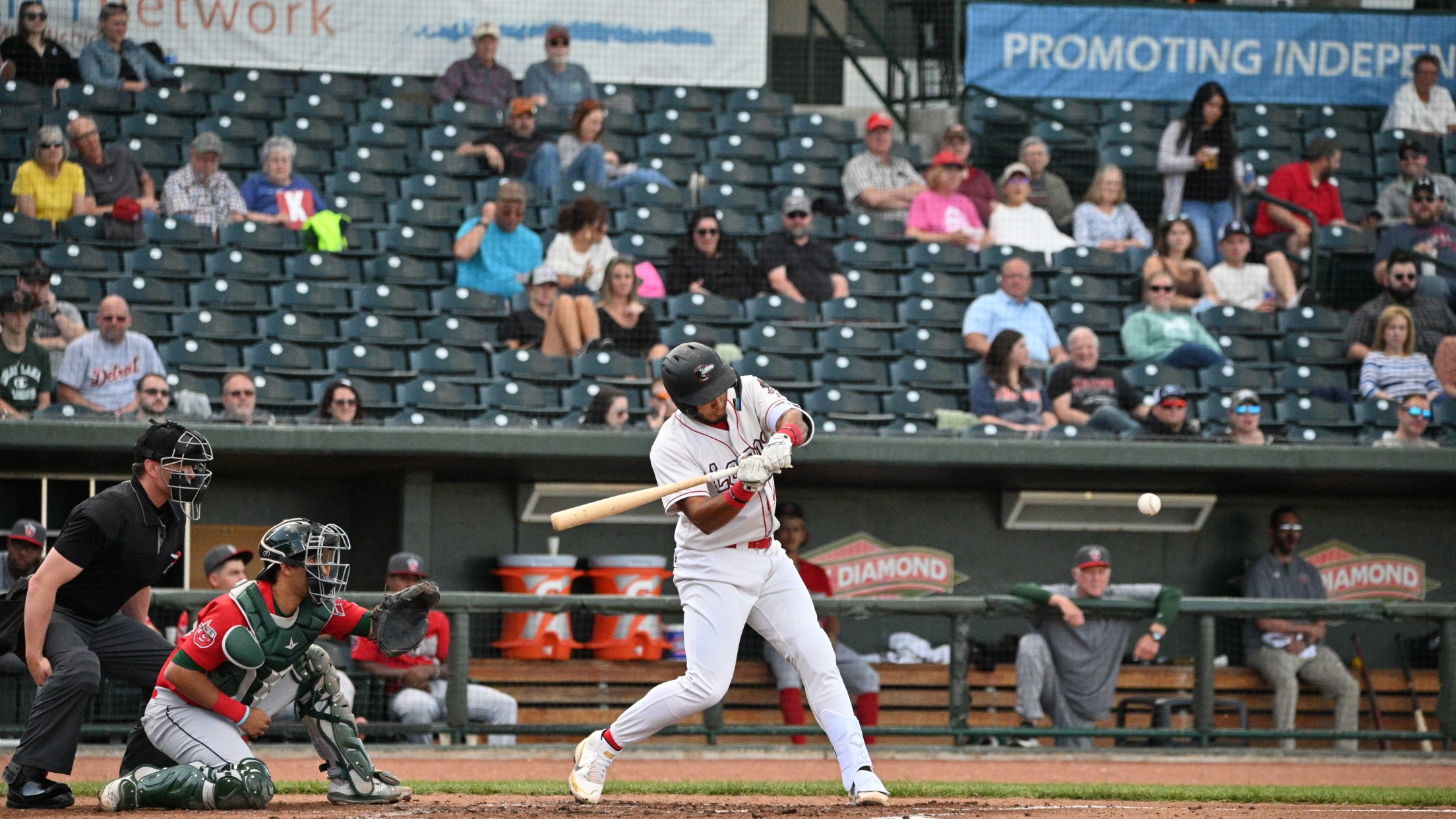 (Robert Spears Photography)
MIDLAND, Mich. – Nine doubles – a franchise record. 12 extra-base hits – tied for a franchise record. Season highs in countless other offensive statistics. And to top it all off, Alex De Jesus becomes just the second Great Lakes Loon to ever hit for the cycle. It's safe to
MIDLAND, Mich. – Nine doubles – a franchise record. 12 extra-base hits – tied for a franchise record. Season highs in countless other offensive statistics.
And to top it all off, Alex De Jesus becomes just the second Great Lakes Loon to ever hit for the cycle.
It's safe to say the Loons history books were rewritten Thursday night at Dow Diamond as Great Lakes walloped the Wisconsin Timber Rattlers, 13-4.
The last Loon to hit for the cycle, the only one before De Jesus, was Jaime Pedroza on June 5, 2009, in a game at the West Michigan Whitecaps. The cycle for De Jesus is the first in Dow Diamond history.
The Loons (35-25) scored in the first inning for the fifth consecutive game. Jorbit Vivas led off the game with a hit for the second straight game, this time a double. After two outs, De Jesus and Jose Ramos hit back-to-back RBI doubles to give the Loons a 2-0 lead.
Great Lakes, High-A affiliate of the Los Angeles Dodgers, got its third double in the second inning. Jonny Deluca and Edwin Mateo each singled with one out, then Diego Cartaya hit a two-out, two-run two-bagger to double the Loons' advantage, 4-0.
The Loons scored in each of the first five innings, in fact. De Jesus got his home run in the third, a solo shot to lead off the frame that flew well out of the confines of Dow Diamond – 452 feet over the left-center field fence. It was his third home run in High-A and his 10th of the season in total.
In the fourth inning, Great Lakes scored three runs. Cartaya was hit by a pitch and Eddys Leonard singled with one out before a two-out, two-run double for Ramos. He was scored on a two-bagger from Imanol Vargas, the Loons' sixth double of the night, which at that point was already a season-high in just the fourth inning.
Besides that Vargas double, all of that damage was done against Wisconsin righty starter Zach Mort (L, 3-2), in his first start of the season. Mort tossed 3 2-3 innings and allowed eight earned runs on 10 hits while striking out just a pair.
Meanwhile, the Loons had tremendous work from right-hander Nick Nastrini. The UCLA product struck out nine batters in 4 2-3 innings, allowing three hits and three walks but no runs. In 20 2-3 innings at Dow Diamond this season, Nastrini has allowed just six earned runs, for a 2.61 ERA at home.
Wisconsin (34-25) allowed four runs in the bottom of the fifth inning. DeLuca blasted his 14th home run of the season, his first since May 29th. After an error and a Leonard single, De Jesus scorched a grounder the opposite way, straight down the right field line, that rattled around in the corner to give him his triple and another pair of RBIs. He scored on the very next play, an RBI single from Ramos, and the Loons held a 12-0 lead at the end of the fifth inning.
The Timber Rattlers, the Milwaukee Brewers' High-A partner, would not be held silent all night. They broke a 15-inning scoreless streak with a Wes Clarke solo bomb, his eighth of the year. After that, a two-run double from Arbert Cipion and an RBI single off the bat of Ethan Murray gave Wisconsin a four-run sixth inning, still trailing 12-4.
The Loons kept Wisconsin off the board for the rest of the night. Cole Duensing (W, 2-2) pitched 1 1-3 innings of scoreless baseball, allowing one hit and striking out three. Julian Smith finished the night with two frames of one-hit, no-run ball, picking up a trio of punchouts as well.
Great Lakes got its final run in the seventh. De Jesus completed his cycle to lead off the frame, reaching first on a bouncing ball past the third basemen. Vargas hit his third double of the game before Ryan January lifted a single to left to drive in De Jesus and give the Loons a 13-4 lead, the score which would become final. January's single meant that all nine starters for Great Lakes got at least one hit in the game.
From a historical perspective, it was an eventful game for the Loons offense. Nine doubles in one game snaps a franchise record that had stood for over a decade – the Loons had eight doubles in a game only once, way back on August 31, 2010 at West Michigan. 12 extra-base hits is a feat Great Lakes has only accomplished once before, on August 3, 2017 at Dayton. The Loons also bested a season-high for hits with 19, way past their previous best of 14 this year.
There was individual greatness apart from the De Jesus cycle. Vargas smacked three doubles, becoming the 12th Loon with a trio of doubles in a game in franchise history. De Jesus matched a season-high for a Loon with four hits, and set a new season-best with three extra-base hits.
The Loons lead the Timber Rattlers two games to one in this six-game set, the only meetings between these two clubs this year. Great Lakes does not gain any ground on the Dayton Dragons, who lead the Midwest League East by 3 ½ games, after Dayton defeated Cedar Rapids on Thursday night. The Loons elimination number is now four – any combination of Loons losses and Dayton wins totaling four will eliminate Great Lakes from first-half playoff contention. The first half ends June 23, and the first-place team in each division in each half makes the playoffs.
The series continues Friday night at 7:05 p.m. at Dow Diamond. Right-hander Kyle Hurt (4-1, 2.93 ERA) toes the rubber for Great Lakes, opposing fellow righty Justin Jarvis (5-2, 4.14 ERA) for Wisconsin. On ESPN 100.9-FM, pregame coverage begins at 6:50 p.m. with the Loons On-Deck Circle, driven by Garber Chevrolet Midland. It's the first Copa de la Diversión night, presented by MLIVE.com, at Dow Diamond as the Loons debut their alternate identity, taking the field as los Pepinillos Picantes del Norte. After the game, stick around for a Fireworks Loontacular, presented by Farm Bureau Insurance of Michigan. Plus, one lucky fan will get the chance to participate in the 3 K's to win $10K challenge, thanks to Outdoor Adventures. And to top it all off, it's another Feast Friday, presented by Isabella Bank – enjoy deep discounts on myriad concessions all night long. Tickets are still available on Loons.com.
The Great Lakes Loons have been a Single-A partner of the Los Angeles Dodgers since the team's inception in 2007. Dow Diamond serves as the team's home and also houses the Michigan Baseball Foundation, a 501(c)(3) non-profit public charity, and ESPN 100.9-FM. For tickets or information about the Loons, call 989-837-BALL or visit Loons.com.