Deja vu! Renfroe, Carpenter win weekly awards
El Paso OF is third player since '09 to win award in back-to-back weeks; Albuquerque LHP wins for second time this year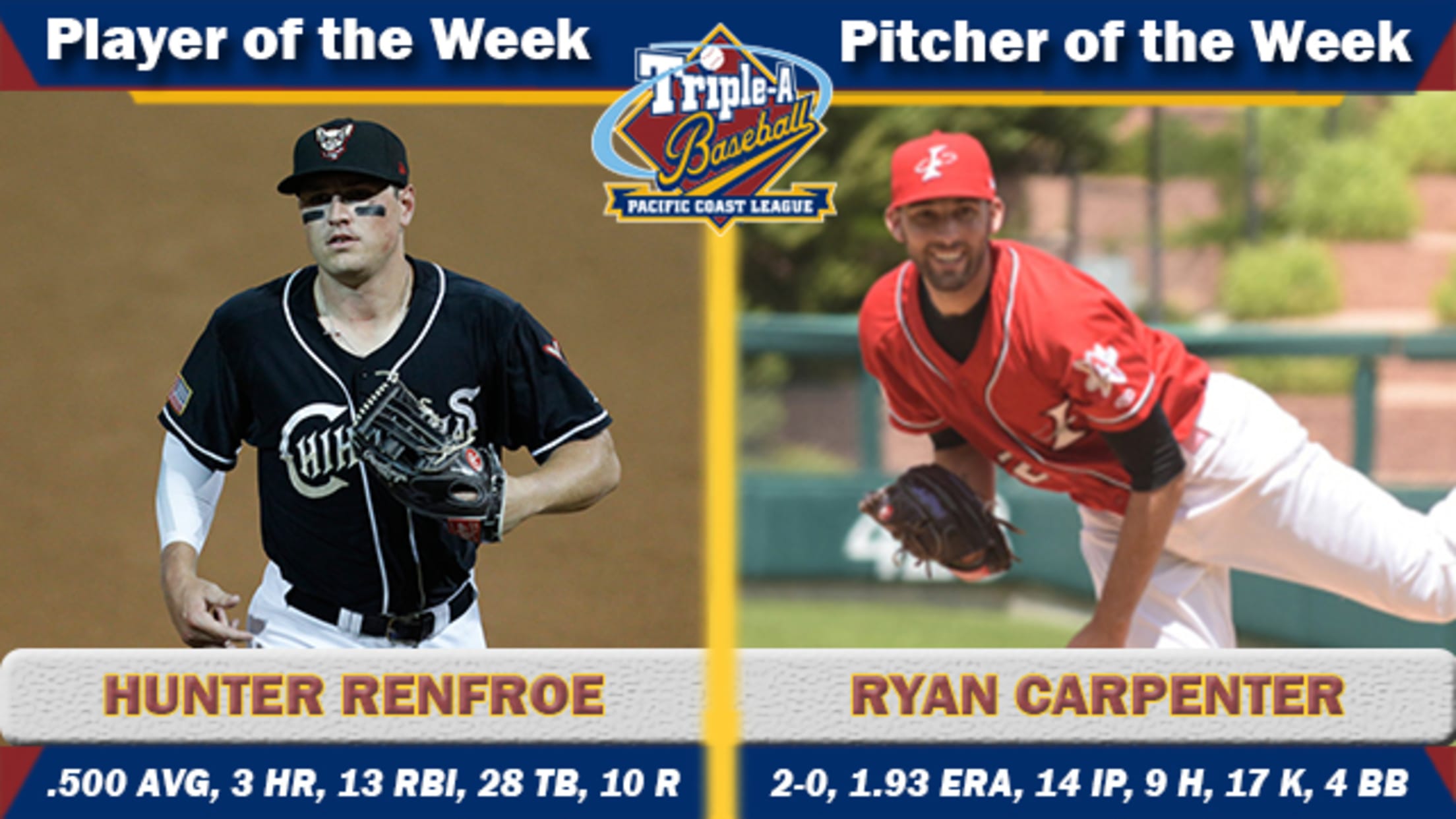 Photo Credits: El Paso Chihuahuas (left), Albuquerque Isotopes (right)
ROUND ROCK, Texas - The Pacific Coast League announced Tuesday that El Paso outfielder Hunter Renfroe and Albuquerque left-hander Ryan Carpenter have been named the Player and Pitcher of the Week for the season-ending period of August 28-September 4. Renfroe is only the third PCL player to win the award
ROUND ROCK, Texas - The Pacific Coast League announced Tuesday that El Paso outfielder Hunter Renfroe and Albuquerque left-hander Ryan Carpenter have been named the Player and Pitcher of the Week for the season-ending period of August 28-September 4. Renfroe is only the third PCL player to win the award in back-to-back weeks since 2009, while Carpenter is the second PCL pitcher to be honored twice this season.
Renfroe collected a PCL-best 17 hits, while tying for the league lead in total bases (28) and RBI (13) in helping El Paso win their third straight Pacific Southern Division Championship. During the period, he hit for both average (.500) and power (.824 slugging percentage), compiling a 1.364 OPS in the process. Renfroe also had five extra-base hits, three home runs and 10 runs scored.
Video: El Paso's Renfroe clubs two-run homer
In a series against then-playoff-hopeful Fresno, the former PCL MVP opened the set with three consecutive three-hit games - all in Chihuahuas wins. On August 28, he had a two-run homer, part of a three-RBI night, and a day later, added two more RBI. The third game of the set, Renfroe mashed a game-tying two-run homer in the ninth inning of an eventual 14-inning victory. In the season-ending series at Sacramento, he had two more three-hit games. The latter of those contests, Renfroe clubbed a first inning grand slam in the Chihuahuas division-clinching win. The Mississippi native had hits in seven of the eight games he appeared., a stretch that saw the defending PCL Champions go 6-2 to overcome Salt Lake and return to the postseason.
Video: Renfroe gets the Chihuahuas started
In his two weeks since joining El Paso, Renfroe has hit .509 (28-for-55) with four home runs and 18 RBI. He made San Diego's Opening Day roster and hit 20 home runs prior to his option. An eighth-round draft pick of the Padres in 2013 out of Mississippi State, Renfroe hit .306 (163-for-533) with 30 home runs and 105 RBI in 2016 en route to being named the league's MVP. Renfroe's former teammate, Austin Hedges, was the last PCL player to win back-to-back weekly awards. This is the fifth such award of Renfroe's career.
Carpenter spun 14 innings of three-run ball in a pair of starts against Reno, the Pacific Northern Division Champions. The first of those outings was at home on August 28, and he went seven innings, allowing two earned runs on six hits with two walks and 10 strikeouts - his third double-digit strikeout game of the season. On September 3 at Greater Nevada Field, Carpenter produced another quality start, going seven innings and surrendering just one run on three hits with seven strikeouts.
The All-PCL pitcher, in his second full-season with Albuquerque, led the league in innings pitched (156.0 IP), while finishing second with 161 strikeouts, the most for a PCL left-hander since 1985. Carpenter went 10-9 with a 4.15 ERA, the latter of which was only topped by two pitchers. The southpaw was a seventh-round pick of the Rockies in 2011 out of Gonzaga University. He has worked his way through the Rockies system, going 43-46 with a 4.37 ERA (760.1 IP, 369 ER) in seven professional seasons. His only other career Pitcher of the Week award came this year for the period of June 26-July 2 after he recorded 18 strikeouts in 14 innings.