Deja vu: Scarpetta, 'Cats unhittable again
Lynchburg holds Blue Rocks hitless for second time in 24-hour span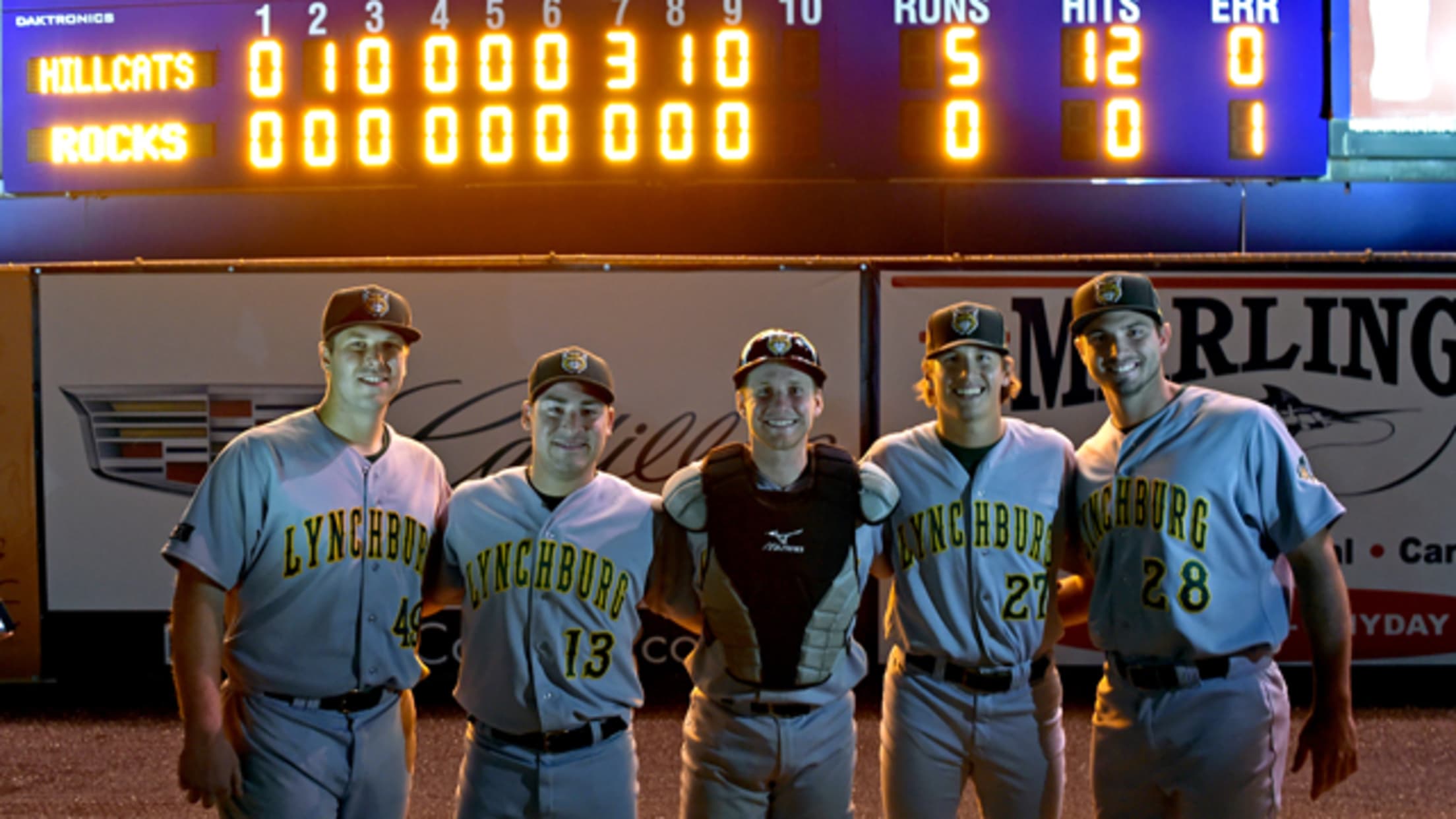 Cody Scarpetta, Benino Pruneda, Tyler Tewell, Lucas Sims and Alex Wilson made history in Wilmington. (Ken Inness/MiLB.com)
A month ago, Cody Scarpetta was desperate to get noticed and keep his career alive. On Friday, he added his name to a unique page in Carolina League history. "It's been a long road, it's been a journey," Scarpetta said. "And it's very gratifying." One night after Hillcats ace Lucas
A month ago, Cody Scarpetta was desperate to get noticed and keep his career alive. On Friday, he added his name to a unique page in Carolina League history.
"It's been a long road, it's been a journey," Scarpetta said. "And it's very gratifying."
One night after Hillcats ace Lucas Sims combined with Alex Wilson on a gem, Scarpetta pitched seven innings and Benino Pruneda finished off Class A Advanced Lynchburg's second straight no-hitter and a 5-0 victory at Wilmington.
"I've never seen or heard of it, two straight no-hitters," Scarpetta said. "It's pretty crazy."
The 25-year-old right-hander struck out seven, walked one and hit a batter in just his third start for the Hillcats since leaving behind his independent league club in Pennsylvania. Scarpetta (2-1), who earned a brief callup to the Majors in 2011, took a perfect game into the sixth and faced two batters over the minimum through seven when he departed after throwing 99 pitches.
The Illinois native was well aware of what was transpiring.
"Honestly, every inning I went out there, I was thinking, 'Well that's 11 consecutive innings of no hits ... that's 12 ... '" he said. "Every pitch, it's kind of in your head. But once I got out there, I was locked in and trying to make my pitches."
Scarpetta's bid for perfection ended in the sixth when he walked Terrance Gore on five pitches with two outs. He plunked Bubba Starling, the Royals' No. 7 prospect, to start the seventh but held it together, inducing a grounder from Jared Schlehuber before striking out Zane Evans and Cody Stubbs.
Pruneda came on and worked a 1-2-3 eighth before pitching around a leadoff walk to Gore in the ninth. He retired Raul Mondesi Jr., the Royals' second-ranked prospect, popped up Starling, then struck out Schlehuber swinging to seal the Hillcats' second no-hitter in 24 hours. Both gems were caught by Tyler Tewell.
After taking some heat for what apparently was an anti-climatic celebration on Thursday, Scarpetta said the Hillcats made Friday's postgame party count.
"Apparently, we kinda got made fun of last night, that our celebration wasn't up to par for a no-hitter," he laughed. "We made sure we were going to do it right tonight. It was just crazy, everyone was kinda like, 'How we gonna celebrate two in a row, two no-hitters?' It was just good, all the coaches, everyone was extremely happy and excited. It was just a very exciting and happy time."
It's believed to be the first time in Carolina League history in which a team has thrown no-hitters on consecutive days against the same opponent, although consecutive no-nos on [the same day](/news/article.jsp?ymd=20061114&contentid=144167&vkey=news_milb&fext=.jsp)_ has happened before, oddly enough. On May 15, 1966,
Rocky Mount pitched no-hitters in both games of a doubleheader against Greensboro, with Dick Drago working the opener and Darrell Clark the nightcap. Both of those contests were seven innings, though.
"It feels great," Scarpetta said. "We have a great staff here and it's just very exciting. I'm very happy for our organization, for the Hillcats and for my teammates, it's an exciting time. You can see it all on our faces, we're excited to be a part it."
For Wilmington, whose .222 team batting average is the lowest in the league, it's been a week to forget. After winning four in a row, the Blue Rocks have gone 20 2/3 innings without a hit, dating back to the seventh inning of Wednesday's 11-7 loss to Lynchburg, when Michael Antonio managed a two-out double off reliever Nate Hyatt.
"Honestly, it was a new day. Two new days," Scarpetta said. "We were able to learn what they were trying to do the first game, made some pitches when we needed to. Our goal was to pitch deep into the game and give our team a chance to win, and so it was like that with runners on, 3-2 pitches, we know we've gotta make a pitch. And we did that."
The Blue Rocks did have a couple of close calls. Evans launched a ball down the left-field line in the bottom of the seventh that hooked foul before Schlehuber ripped another down the line in the ninth that sliced foul.
"I threw a chaneup and [Evans] was just out in front of it," Scarpetta said. "I was definitely leaning with it."
Scarpetta said it wasn't easy handing over the ball after seven and it was even more difficult to sit in the dugout and watch Pruneda wrap it up.
"It was definitely easier to pitch, I'll tell you that," he laughed. "I had all the confidence in the world in Pru, although it was tough with that last hitter. He hit that ball, it was in the air and luckily it went foul, and he was able to punch him out."
Lynchburg took the lead in the second and tacked on four late insurance runs. Third baseman Kevin Ahrens went 4-for-4 with three doubles and two runs scored, while leadoff man Eric Garcia singled twice, knocked in a run and scored another.
It was plenty of support for Scarpetta, who underwent Tommy John surgery in 2012 and missed the entire season. His comeback was derailed last year when the Brewers released him in December, but he signed on with the Lancaster Barnstormers and caught the Braves' eye when he struck out 37 batters over 40 1/3 innings. Despite a 5.13 ERA in eight starts, he signed with Atlanta and joined the Hillcats earlier this month. Friday was his third start for the organization.
"Being able to go pitch indy baseball, it taught me some things," Scarpetta said. "I had to learn how to pitch to older hitters in that league and I was able to carry that with me here. It's a different mentality that came through than when I was younger. So
I'm very excited to have another opportunity with the Braves, just going out there every fifth day, doing my best and help the Hillcats win a game."
Glenn Sparkman (3-2) pitched well but had no help in taking his second loss. The Royals' 20th-round pick last summer struck out five, walked one and held Lynchburg to a run on seven hits over six innings.
Weary Blue Rocks fans, who at least got to see a postgame fireworks show, watched a night earlier when Sims threw seven hitless innings, giving up an unearned run and striking out six while walking four in a 5-1 win.
"Craziest thing I've ever been a part of," Sims wrote on Twitter after the game Friday. "Two no-hitters in a row!!"
Said Blue Rocks manager Darryl Kennedy, "Last night was the first time I've ever been a part of a no-hitter against us, for a team that I was affiliated with. I've had some no-hitters, I've caught a few no-hitters and managed a few perfect games, but never have I been no-hit. And then, to do it back-to-back, I'm speechless."
Scarpetta said he left it all on the mound in his effort to repeat Sims' brillance.
"I felt strong, I went into the seventh with the same mentality that I had in the first. I wanted to go out there and not let off the gas pedal, keep going as hard as I could until the last pitch," he said. "I wanted to stay in there, but it's part of being in baseball.
It's just the way it is and I was OK with it -- I'm happy to share that with Pru. He came and shut it down."