Delmarva Shorebirds Receive Invite from the Baltimore Orioles to Remain Class-A Affiliate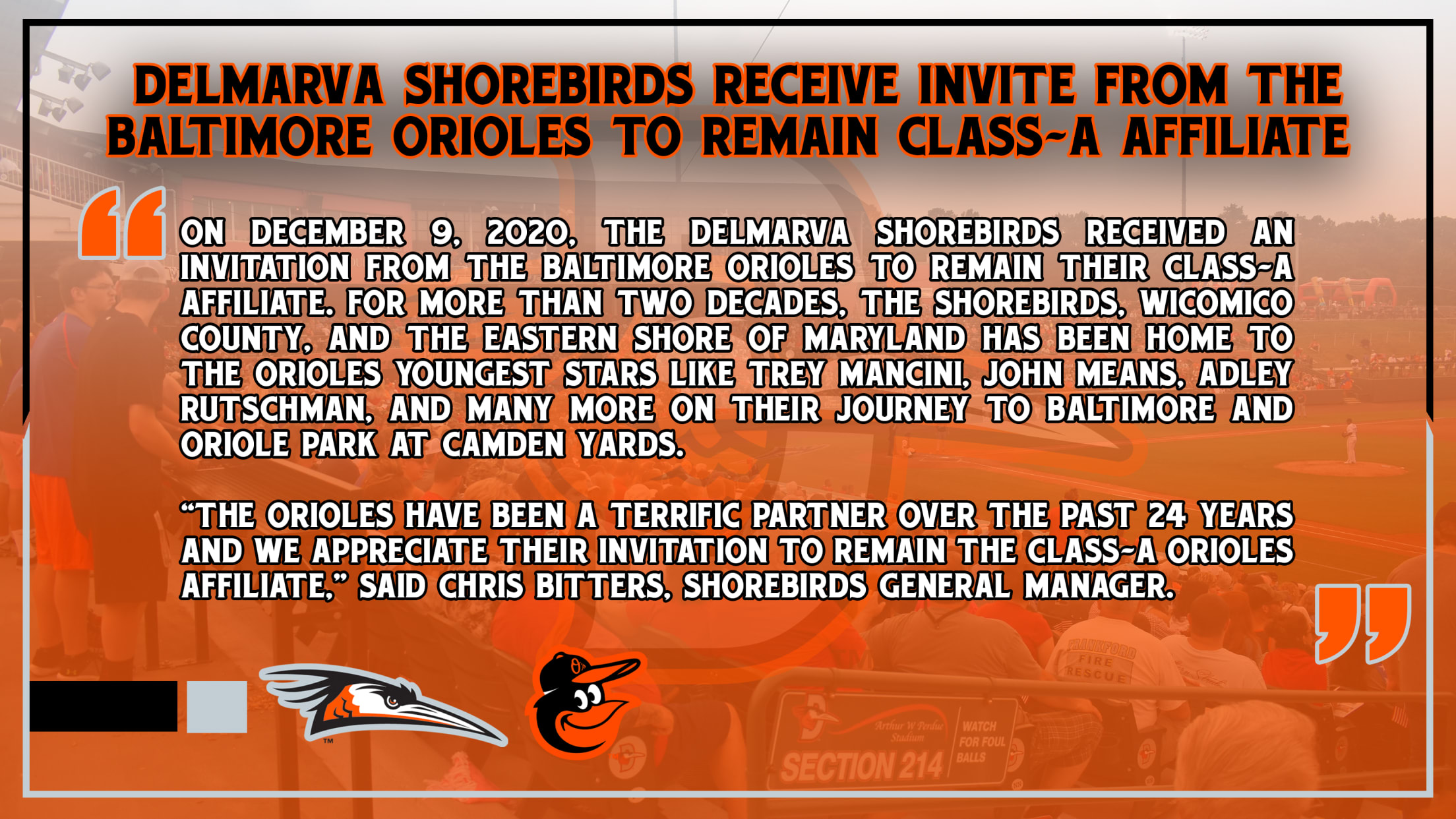 On December 9, 2020, the Delmarva Shorebirds received an invitation from the Baltimore Orioles to remain their Class-A affiliate. For more than two decades, the Shorebirds, Wicomico County, and the Eastern Shore of Maryland has been home to the Orioles youngest stars like Trey Mancini, John Means, Adley Rutschman, and
On December 9, 2020, the Delmarva Shorebirds received an invitation from the Baltimore Orioles to remain their Class-A affiliate. For more than two decades, the Shorebirds, Wicomico County, and the Eastern Shore of Maryland has been home to the Orioles youngest stars like Trey Mancini, John Means, Adley Rutschman, and many more on their journey to Baltimore and Oriole Park at Camden Yards.
"The Orioles have been a terrific partner and we appreciate their invitation to remain the Class-A Orioles affiliate," said Chris Bitters, Shorebirds General Manager.
Recently in 2019, the Shorebirds posted the best record in the history of the team capturing a 90-win season and a South Atlantic League regular-season crown. In addition, the Shorebirds were named the MiLB team of the year in 2019 with eight (8) Shorebirds earning mid-season All-Star accolades and four (4) earning postseason honors.
Throughout 2019, the Shorebirds hosted a plethora of the Orioles top prospects including Grayson Rodriguez (Orioles #2 overall prospect) and Adam Hall (Orioles #16 overall prospect) who both earned multiple accolades come seasons end. In addition, the Shorebirds welcomed the likes of 2019 #1 overall pick and current top prospect Adley Rutschman who made his Shorebirds debut on August 21 adding to a star-studded roster of future O's talent.
As 2020 has brought unprecedented challenges for everyone, the Shorebirds remain committed to serving our community and growing local Delmarva for years to come. Just this year, we hosted a Virtual 5K that raised over $700 for Operation We Care, our Flock for a Cause Auction that generated over $1200 for the Fly Together Fund, hosted 2 Drive-In Fireworks Shows, a Movie Night, and so many more community-centered events focused on continuing to provide fans fun, family entertainment that enriches our community.
"It's always been our focus with the Shorebirds to be active within our community and that will always remain a top priority in our organization," explained Bitters. "We are thankful for all of our stakeholders supporting us through these challenging times and the Shorebirds would not be the same without our loyal fans whose support is unwavering."
The Shorebirds 2021 schedule will be released at a later date to be determined. Ticket plans, suite rentals, and group outings are on sale and available for the 2021 season. To place your deposit, please call the Shorebirds front office at 410-219-3112 or visit theshorebirds.com.
Thank you for your support of the Delmarva Shorebirds and we would like to wish everyone a happy and safe holiday season. Go Shorebirds!