Offense clicks as Cubs roll to AZL title
Zinn finishes with five hits, four RBIs in three-game series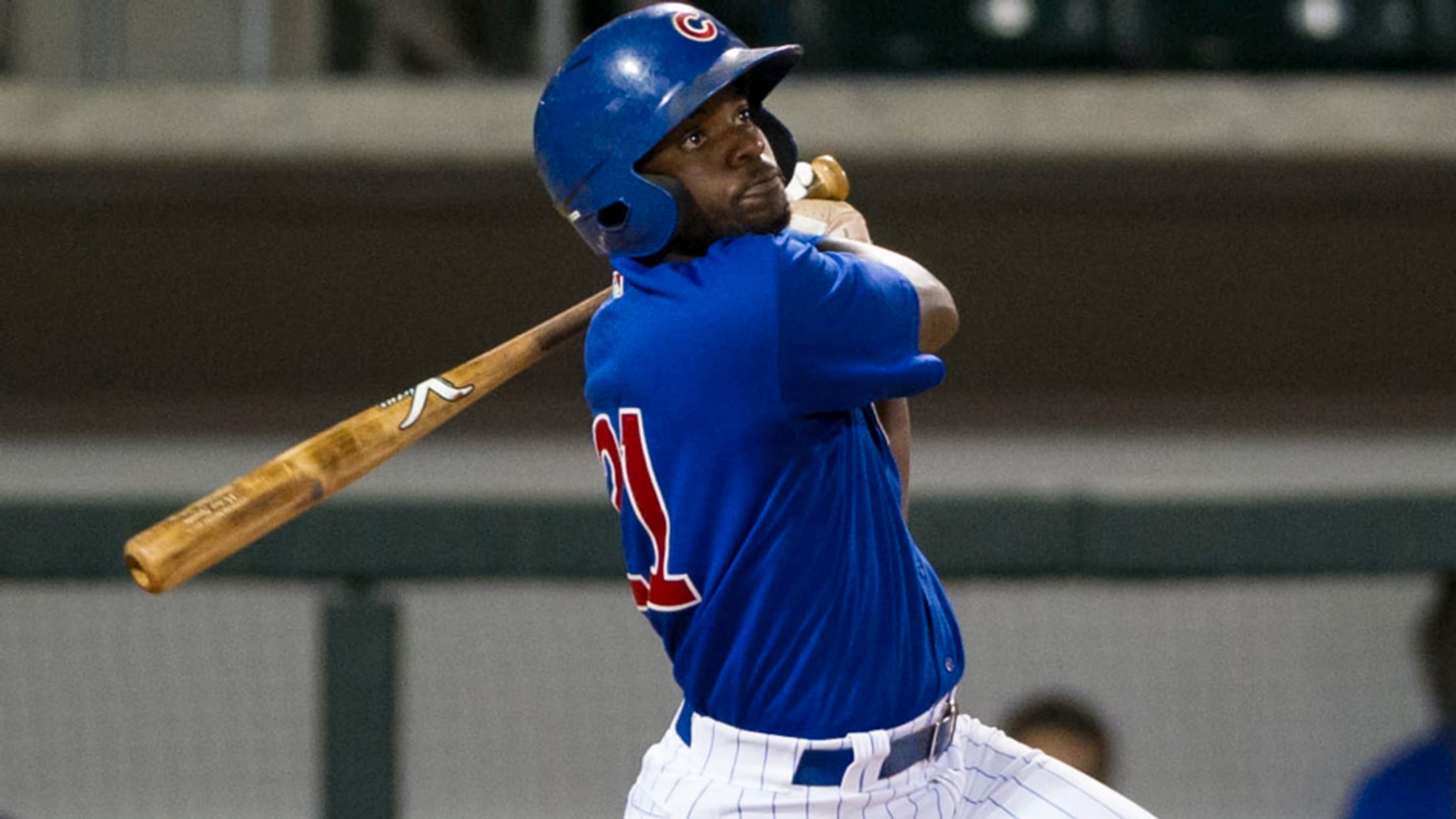 Delvin Zinn hit .218 with seven extra-base hits over his first 51 games in the Minor Leagues. (Zachary Lucy/Four Seam Images)
The Rookie-level Arizona League Cubs began the year at the bottom of the East Division. Not only did they turn things around, but they rule the circuit. The Cubs completed their worst-to-first season with a 13-3 victory over the Giants in the third game of the Arizona League Championship Series on
The Rookie-level Arizona League Cubs began the year at the bottom of the East Division. Not only did they turn things around, but they rule the circuit.
The Cubs completed their worst-to-first season with a 13-3 victory over the Giants in the third game of the Arizona League Championship Series on Thursday in Scottsdale. Luis Vazquez went 4-for-5 and scored twice and Delvin Zinn added two hits, three runs scored and an RBI.
Box score
The Cubs finished the first half with a 9-19 record, then rebounded in the second half with a 16-12 mark to earn a division title. After taking two winner-take-all playoff series, the Cubs split the first two games of the Finals with the Giants. To close out the series with a win after falling in Game 2 was emblematic of how the season went as a whole, according to Zinn.
"We started off pretty slow, but everyone bought in and continued to have fun," he said. "The second half, we fought and fought. We were fortunate to make it into the playoffs and we got hot at the right time. It's was good to see all of our hard work pay off and we came out on top."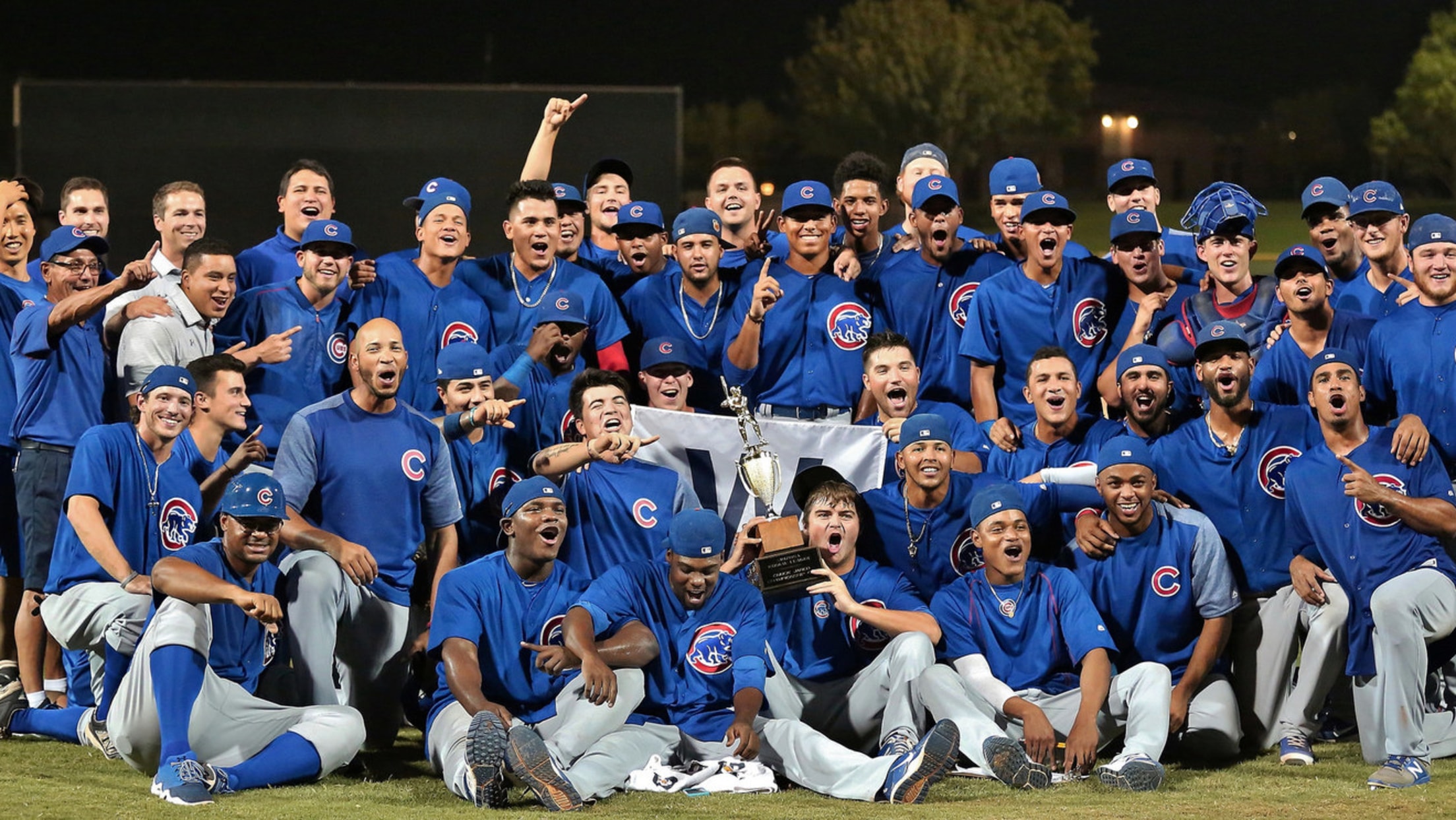 The AZL Cubs celebrate after winning the Arizona League crown on Sept. 7. (I.B. Lee/MiLB.com)
Zinn, who finished the series with five hits, gave credit for a lot of his postseason success to those surrounding him.
"My teammates did a really great job of telling me to stay within myself and trust myself," he said. "And I'm just glad I was about to come through for them."
The Giants took a 1-0 lead in the second, but Zinn walked to lead off the third to spark a four-run rally. Nelson Velazquez delivered the big hit of frame with a two-RBI single.
After the Cubs tallied four more runs in the fifth, they put the icing on the cake with a five-run ninth in which they sent 10 batters to the plate. Zinn began the rally with a one-out double and scampered home two batters on a passed ball. Marcus Mastrobuoni added the final touches with a run-scoring single to left.
When Ismael Munguia grounded out to second baseman Carlos Sepulveda -- the No. 18 Cubs prospect -- to close out the ballgame, Zinn and the Cubs set off a celebration they'll cherish for a long time.
Complete playoff coverage
"We came out with excellent energy and scored in bunches," he said. "When that final out was recorded, I had never seen a bunch of guys so ecstatic."
Righty reliever Jeffrey Passantino (1-0) yielded two hits and fanned two over three scoreless innings to earn the victory.
Andrew Battifarano is a contributor to MiLB.com. Follow him on Twitter, @AndrewAtBatt.