Demeritte's Double Caps Stripers' Comeback Win in Memphis
Gwinnett erases early 5-0 deficit, wins on Travis Demeritte's eighth-inning double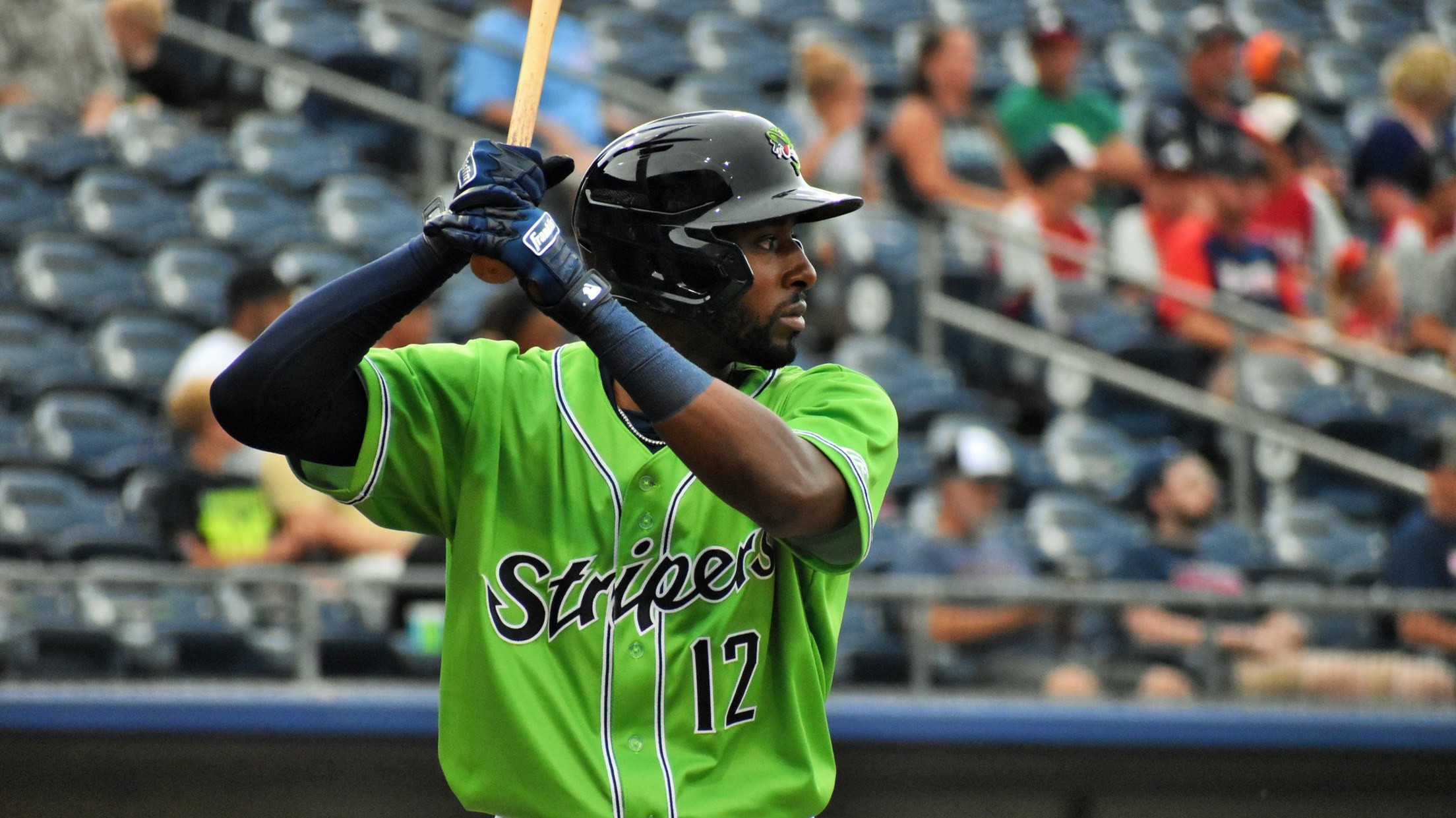 Travis Demeritte notched the 141st and 142nd RBIs of his Gwinnett career on Friday night in Memphis. (Josh Conner)
MEMPHIS, Tenn. – Travis Demeritte's two-out, two-run double in the top of the eighth inning led the Gwinnett Stripers (45-46) to a 7-6 win over the Memphis Redbirds (50-41) on Friday night at AutoZone Park. Gwinnett earned its largest come-from-behind win of the season, erasing an early 5-0 deficit. Decisive
MEMPHIS, Tenn. – Travis Demeritte's two-out, two-run double in the top of the eighth inning led the Gwinnett Stripers (45-46) to a 7-6 win over the Memphis Redbirds (50-41) on Friday night at AutoZone Park. Gwinnett earned its largest come-from-behind win of the season, erasing an early 5-0 deficit.
*Decisive Plays: *The Stripers fell behind 5-0 through four innings but rallied back to cut the deficit to 5-4 as Braden Shewmake (6) and Hernan Perez (4) each blasted solo home runs and Joe Dunand tallied an RBI single. Down 6-4 in the eighth, Preston Tucker laced a two-out single scoring Greyson Jenista and Demeritte followed with a line-drive to the right-center gap scoring Dunand and Tucker for a 7-6 lead.
Key Contributors: Tucker (2-for-5) and Demeritte (1-for-5, double) each had two-RBI games for the Stripers, while Dunand (3-for-3) and Chadwick Tromp (3-for-5) each had three-hit games. Gwinnett used eight pitchers in the game, with Jay Jackson (W, 1-0), Roel Ramirez (H, 1) and Michael Tonkin (S, 8) combining on 3.0 scoreless, two-hit innings to finish the game.
*Noteworthy: *Prior to the five-run comeback, Gwinnett's largest deficit overcome in a win this season was three runs (accomplished twice, last on July 4 vs. Charlotte). Tonkin extended his scoreless innings streak to 16.2 spanning his last 15 appearances. The Stripers improved to 4-39 when trailing after seven innings this season.
Next Game (Saturday, July 23): Gwinnett at Memphis, 7:35 p.m. ET at AutoZone Park. RHP Freddy Tarnok (1-0, 1.50 ERA) for the Stripers vs. RHP Jake Woodford (1-2, 3.33 ERA) for the Redbirds. Radio Broadcast: 7:20 p.m. on MyCountry993.com.
Next Home Game (Tuesday, July 26): Gwinnett vs. Jacksonville, 7:05 p.m. at Coolray Field. Radio Broadcast: 6:50 p.m. on MyCountry993.com. It's a Family Value Tuesday at Coolray Field. Enjoy $2 hot dogs and $1 select desserts, courtesy of Coolray Heating & Cooling.