DeRosier Dominates BlueClaws in 3-2 Win
Hagerstown righty K's six as Suns even series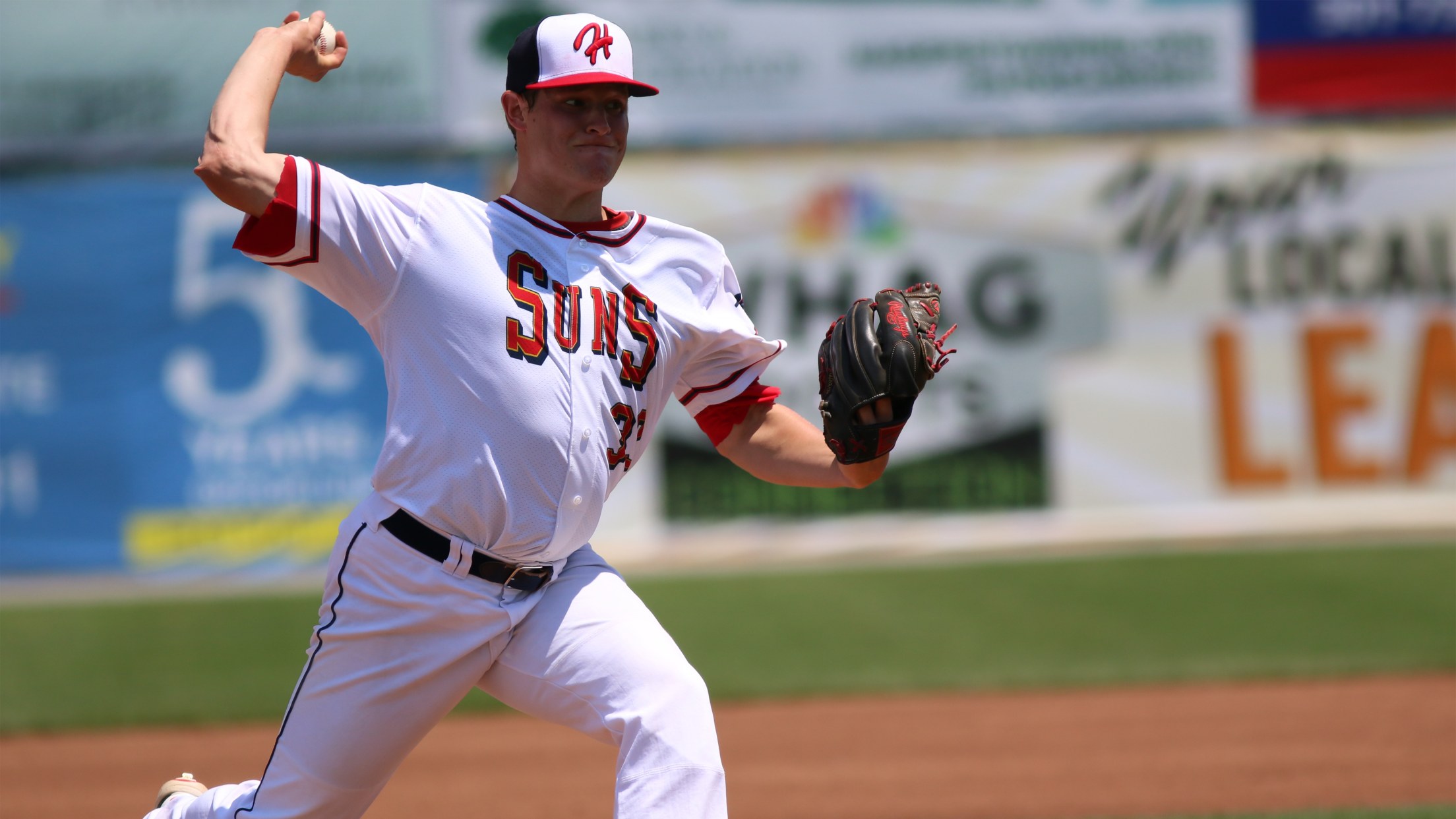 (Andy Grosh)
Lakewood, NJ - Matthew DeRosier spun six one-hit innings for the Hagerstown Suns on Wednesday in a 3-2 victory over the Lakewood BlueClaws to even the four-game set at FirstEnergy Park. The Suns improve to 16-27 overall and will play a double header against Lakewood on Thursday with a 5:05
Lakewood, NJ - Matthew DeRosier spun six one-hit innings for the Hagerstown Suns on Wednesday in a 3-2 victory over the Lakewood BlueClaws to even the four-game set at FirstEnergy Park. The Suns improve to 16-27 overall and will play a double header against Lakewood on Thursday with a 5:05 PM first pitch for game one.
Lakewood took a quick lead in the opening frame against Suns starter Matthew DeRosier in his third start of the season. BlueClaws leadoff man Jake Scheiner worked a full count against DeRosier, powering the sixth pitch of the at-bat over the right-center field wall to give Lakewood a 1-0 lead. DeRosier retired the next three BlueClaws in order to work out of the inning.
DeRosier proceeded to retire 14 straight BlueClaws, tallying five strikeouts over that span. He added a sixth in the fifth inning after allowing a pair of two-out walks to tie his season-high in punch-outs.
Hagerstown took the lead, scoring their first runs of the season against Lakewood starter Ramon Rosso. Yasel Antuna singled to left with one out and scored when Anderson Franco doubled to center to tie the game. Franco went to third on a wild pitch and scored with two outs when Jake Scudder singled to center, giving the Suns a 2-1 advantage. Scudder went to third when Jeyner Baez doubled to left and scored on a wild pitch that struck out Kameron Esthay. Baez was thrown out at third base during the same sequence to end the inning with the Suns up 3-1.
Lakewood drove in an unearned run against Suns reliever Kyle Johnston in the seventh to pull within a run. Gregori Rivero reached on a throwing error by Franco at third base, advancing to second on the play. Colby Fitch followed up with a single to right, scoring Rivero to narrow the gap with the Suns still ahead 3-2.
DeRosier (2-1) earned a win in a quality start, tossing six innings of one-hit baseball while allowing one run with two walks and six strikeouts. Johnston earned a hold, pitching one inning of relief with a hit, an unearned run, and a strikeout. Carlos Acevedo earned his first save of the season after pitching the final two innings, retiring all six batters he faced with one strikeout.
Notes: DeRosier had his first quality start of the season… His six strikeouts tie a season high… The six innings he pitched set a new season-high, falling one inning short of his career-high of seven… The one hit allowed ties a career-low… The last time he allowed one hit in a game was on July 15, 2017 against Vermont in the New York-Penn League… Freeman's 11-game hit streak came to an end… Antuna and Nick Banks each had their 10th multi-hit game of the season… Baez had his second… Baez's double in the fourth was his first extra-base hit of the season… Seven Suns had base hits on Wednesday… Lakewood's starter, Ramon Rosso, is 1-1 and both his win and loss have come from the Suns… Franco has a hit in three straight games… Scudder grounded into two double plays on Wednesday, which is the first time a Suns batter has done so this season… The Suns take on the Lakewood BlueClaws on Thursday in a double header with a 5:05 PM first pitch for game one to close out the series… Hagerstown will send LHP Jackson Stoeckinger (2-3, 8.21 ERA) to the hill in game one and the BlueClaws will counter with LHP Will Stewart (4-0, 1.26 ERA)… The broadcast can be heard, starting with the pregame show at 4:50 PM on www.hagerstownsuns.com by going to multimedia and "Listen Live" which also has downloads for a free app on the iPhone, iPad, Blackberry, and Android... The broadcast is also available on the Hagerstown Suns Radio Network in the Tune-In Radio App.