Reid Detmers Dominant In Debut Season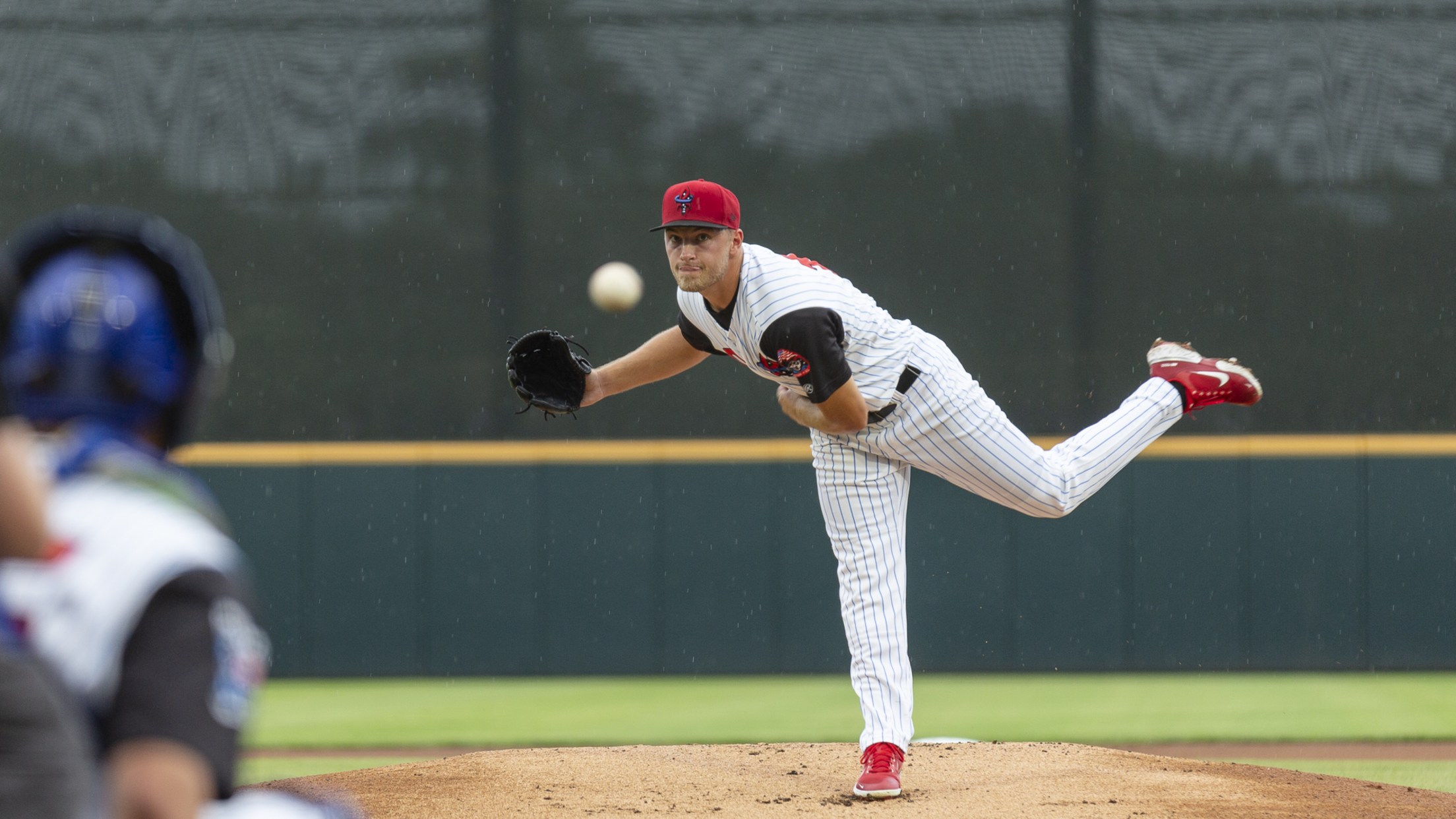 Reid Detmers left Rocket City as the franchise's All-Time strikeout leader with 97. (Javier Sanchez/Rocket City Trash Pandas)
When Reid Detmers gets the ball, he will always have one thing on his side, confidence.
"As soon as I step on that mound, I tell myself I'm the best player on the field. Sometimes that's not true. But having the mindset of telling myself I'm good enough usually
When Reid Detmers gets the ball, he will always have one thing on his side, confidence.
"As soon as I step on that mound, I tell myself I'm the best player on the field. Sometimes that's not true. But having the mindset of telling myself I'm good enough usually helps," he said. "If I'm not confident, that's a loss."
That poise was put to an early test for Detmers as he was named the Opening Day starter for both the first game in Rocket City Trash Pandas history on May 5 at Chattanooga and the inaugural game at Toyota Field on May 11.
"It showed that the coaching staff trusted me and it meant a lot to have the coaching staff and manager trust me to go on Opening Night without any pro experience," Detmers said. "At the time, I didn't think much about it. I was more anxious to get going and get the season started well."
Even though the Trash Pandas lost both games, those starts were the beginning of a special season for the rookie out of the University of Louisville.
Over 12 starts for Rocket City, Detmers is 2-4 with a 3.50 ERA along with 18 walks and 97 strikeouts over 54 innings. That strikeout total leads all of Double-A South and ranks first among all Los Angeles Angels minor leaguers.
The strong start led him to an appearance at the All-Star Futures Game at Coors Field in Denver on July 11. Pitching in relief for the American League, Detmers struck out both hitters he faced in baseball's annual prospect showcase.
"He's a well-groomed young pitcher and I expect him to do a lot of good things in this game for a long time," Trash Pandas manager Jay Bell said. "That experience (in Denver) will set him up for the many All-Star games he will appear in the future."
Pitching in front of tens of thousands of fans in a Major League ballpark was a long way from where Detmers was about a year ago. He made four dominant starts for Louisville to begin his junior season in 2020 before the pandemic brought an early end to the season.
"My head was all over the place. I was off to a good start, then it got cut short," he recalled. "I didn't know if there was going to be a draft or not. I thought I'd be going back to Louisville for another year. But once we realized there was going to be a draft, things calmed down a little bit and it worked out."
It worked out perfectly for Detmers, who was drafted by the Angels with the 10th overall pick. That's a vast improvement from his first experience with the MLB Draft.
In 2017, the Atlanta Braves drafted Detmers in the 32nd round (950th overall). But he opted to attend Louisville rather than give professional baseball a chance.
"I knew I wasn't ready. I thought I was mentally ready just not physically ready. I wasn't strong enough," he recalled on not signing with the Braves. "I thought it was my best option to go to school and improve my stock while getting stronger so that's what I did."
While Detmers was not bound for professional baseball after high school, the selection in 2020 put Detmers on the same field as another 32nd round draft pick from 2017.
Five picks after the Braves picked Detmers, the Angels selected infielder David MacKinnon and he did sign, beginning a professional career that has collided with Detmers as both are making their Double-A debut for the Trash Pandas.
"It's one of those things where it just happens to work out. You don't know who they are at the time because you've never met each other but once you learn that you realize how cool it is," Detmers said of his connection with MacKinnon. "Now we're playing together and hopefully we'll be playing together for a long time."
MacKinnon and Detmers have been two of the Trash Pandas' most consistent players this season, with the infielder winning Double-A South Player of the Month of June and Detmers setting franchise records on the mound.
On June 20 vs. Biloxi, Detmers struck out 14 over 6.0 innings to earn his second win of the season in the first game of a doubleheader. The 14 strikeouts tied a mark previously set by teammate Cooper Criswell days earlier as a franchise record.
The tie at 14 only lasted six days, when Detmers struck out 16 over 6.0 innings at Chattanooga on June 26. The mark is a career-high for Detmers, a single-game best for the Trash Pandas, and the most any Angels farmhand has produced this season. For the positive results to keep coming, the lefty knows what he has to do.
"I just need to keep attacking the zone, mixing pitches up, and having fun," he said. "The second you're not having fun, that's when things go south."
It was RocKKKKKKKKKKKKKKKKet City last night for Reid Detmers.

All SIXTEEN strikeouts! 👇 pic.twitter.com/lkfYzM64fK
— Rocket City Trash Pandas (@trashpandas) June 27, 2021
Detmers next challenge will be a step below the show. On July 22, the Angels promoted their top pitching prospect from the Trash Pandas to Triple-A Salt Lake, putting him on the cusp of achieving his dream.
"It will just give him another challenge," Bell said of the promotion to Triple-A. "For him to come over and buy into what we were selling here, he stepped up. He was a great representative of not only the Angels but the Trash Pandas as well. He was a good citizen, a good pitcher, and I am excited for him to be able to take that next step."