SeaWolves' Burrows tosses six hitless innings
Tigers No. 4 prospect strikes out eight, earns sixth Double-A win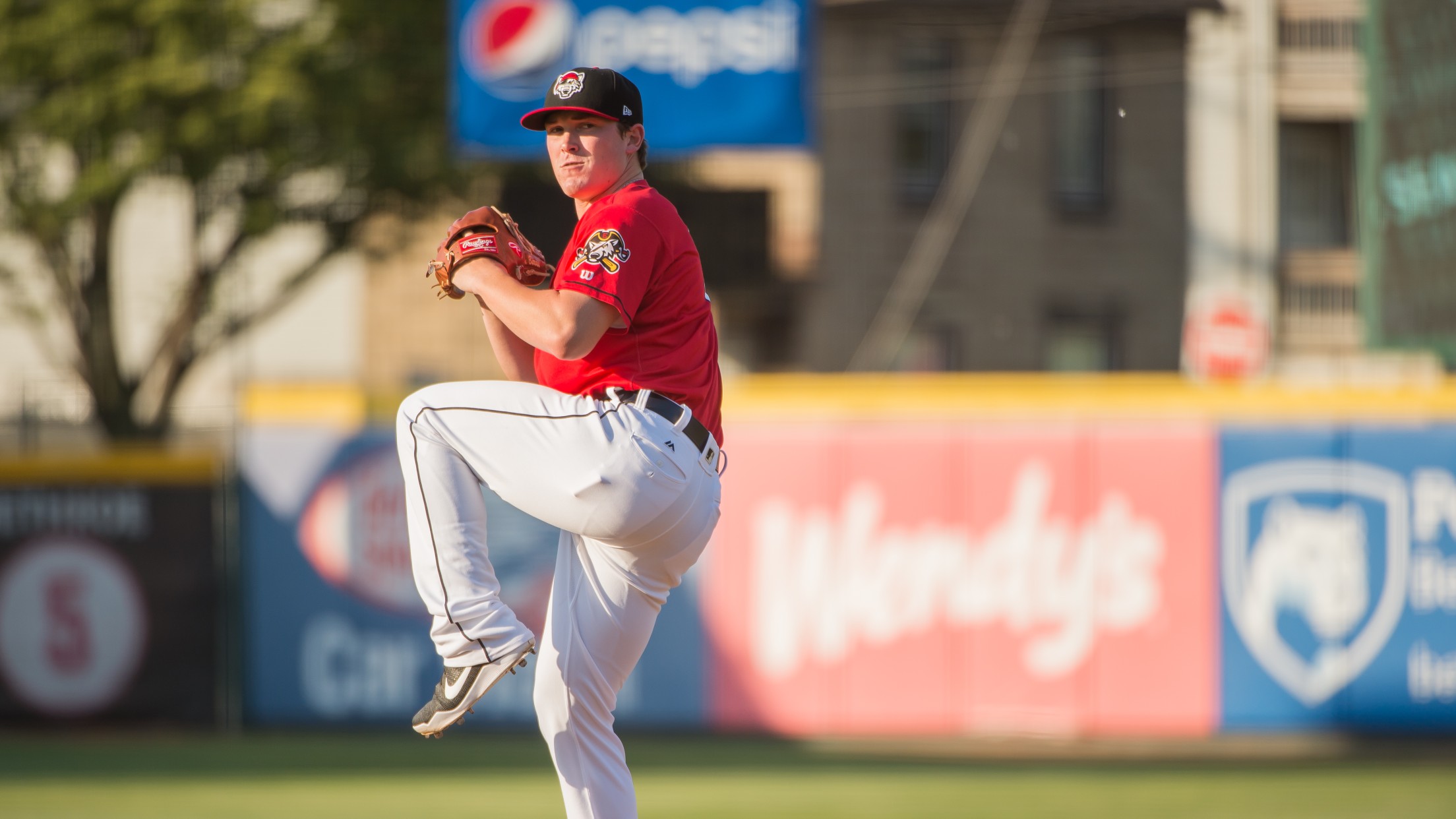 Beau Burrows is 4-0 with a 3.33 ERA and 33 strikeouts over 27 innings in his last five starts. (R. Frank Photography)
As Beau Burrows pitched deeper into the game Saturday and the opposition's hit column stayed at zero, he reminded himself to stay calm and keep working with the stuff that got him there in the first place. "I was in the dugout and I was thinking to myself, 'Don't look at
As Beau Burrows pitched deeper into the game Saturday and the opposition's hit column stayed at zero, he reminded himself to stay calm and keep working with the stuff that got him there in the first place.
"I was in the dugout and I was thinking to myself, 'Don't look at the scoreboard, don't think about it. Just keep doing what you've been doing,'" the Tigers' fourth-ranked prospect said. "I had it in the back of my head, but I try to not to let it get to me too much."
Burrows tossed six hitless innings, striking out eight and issuing a pair of walks, as the SeaWolves steamrolled New Hampshire, 11-0, at UPMC Park.
Erie pitching coach Willie Blair, who's worked with Burrows for two months, saw a hurler clicking on all cylinders for most of the night.
"It was definitely a dominant performance," Blair said. "It was probably the most consistent he's been with executing pitches. He located the fastball down in the zone early and on the edges. He then was able to elevate it late. It seemed like his fastball had an extra gear when he got to two strikes. He elevated it and it had a little extra life on it. It was probably the most consistent his breaking stuff has been since I've had him. He's shown times of having breaking balls -- the curveball and the slider. But tonight I think it was a little more consistent."
Burrows (6-3) has won consecutive starts, which he believes comes from the extra work he's put in during side sessions with Blair.
"I felt great tonight, he said. "It was a little frustrating to be taken out after the sixth inning, but it's long-term decision and I understand that completely. I felt good during the game. I wish I could've gone until I couldn't go anymore, but I felt good overall. I've been working on my consistency probably the whole year. Tonight was probably the best I've felt all year. It was good to see things working."
The right-hander walked Jonathan Davis to open the game but settled in and retired the next nine batters. Using his breaking stuff off his hard fastball, Burrows got ahead in the count against 13 of 20 batters. In all, he threw 53 of 83 pitches for strikes.
"One of the things we talk about is two out of the first three pitches being strikes," Blair said. "The difference in the count is enormous when it comes to batting average. We preach that as an organization and he did a good job of that tonight. For the most part, even when he didn't throw a first-pitch strike, he was able to get back into the count pretty quickly."
Gameday box score
With one out in the fourth, Tim Lopes reached on an error by third baseman Kody Eaves. Burrows quickly recovered by fanning No. 3 Blue Jays prospect Anthony Alford before inducing a fly out from 29th-ranked prospect Harold Ramirez.
Well aware of the no-hit bid, the 2015 first-round pick said it was important to stick to his game plan.
"It's super-important to me, once you can establish your fastball down and away, you can pretty much throw anything that you need to. I feel like what made my off-speed pitches better was keeping the fastball down in the zone," Burrows said "Once I got that down, it was pretty fun to pitch today."
The 20-year-old used 13 pitches to get through a perfect fifth. To start the sixth, Burrows struck out Gunnar Heidt on three pitches, then got Andrew Guillotte to fly to right. Davis drew his second walk but was stranded at first as Lopes bounced to second to close out another hitless inning.
"It felt so unbelievable," the Texas native said. "I wanted to come out for the seventh inning, but I came back to the dugout and they said I was done due to my innings limit. I was a little upset about it, but they gotta do what they gotta do, so I respect their decision. It was just fun to go out there and pitch."
Alford ended Erie's chance at history with an infield single leading off the seventh against reliever Adam Ravenelle. The right-hander worked three scoreless frames en route to his first save of the year.
Since a promotion from Class A Advanced Lakeland on June 5, Burrows has a 4.38 ERA and 1.43 WHIP in 12 starts. Across the two levels, the 6-foot-2, 200-pound hurler owns a 2.84 ERA and 1.20 WHIP with 126 strikeouts over 120 1/3 innings.
"He's been great to work with," Blair said. "He's obviously a very talented kid but still has a lot to learn. He's very receptive and he's a pretty good self-evaluator for a young kid, and he knows what he needs to work on. He's been a pleasure to work with and he has all of the intangibles -- hard worker, great competitor and obviously has a great arm."
• Get tickets to a SeaWolves game »
Eaves supported Burrows with a pair of homers, two doubles and five RBIs, while Harold Castro collected four hits and scored twice for the SeaWolves.
"It's a great feeling being a pitcher when your team scores 11 runs in game," Burrows said. "All of the home runs and the power of the offense is exciting. It's fun being in the dugout with those guys and seeing them crush the ball."
Andrew Battifarano is a contributor to MiLB.com. Follow him on Twitter, @AndrewAtBatt.