Mize unhittable in Double-A debut
Top Tigers prospect makes history in first start for SeaWolves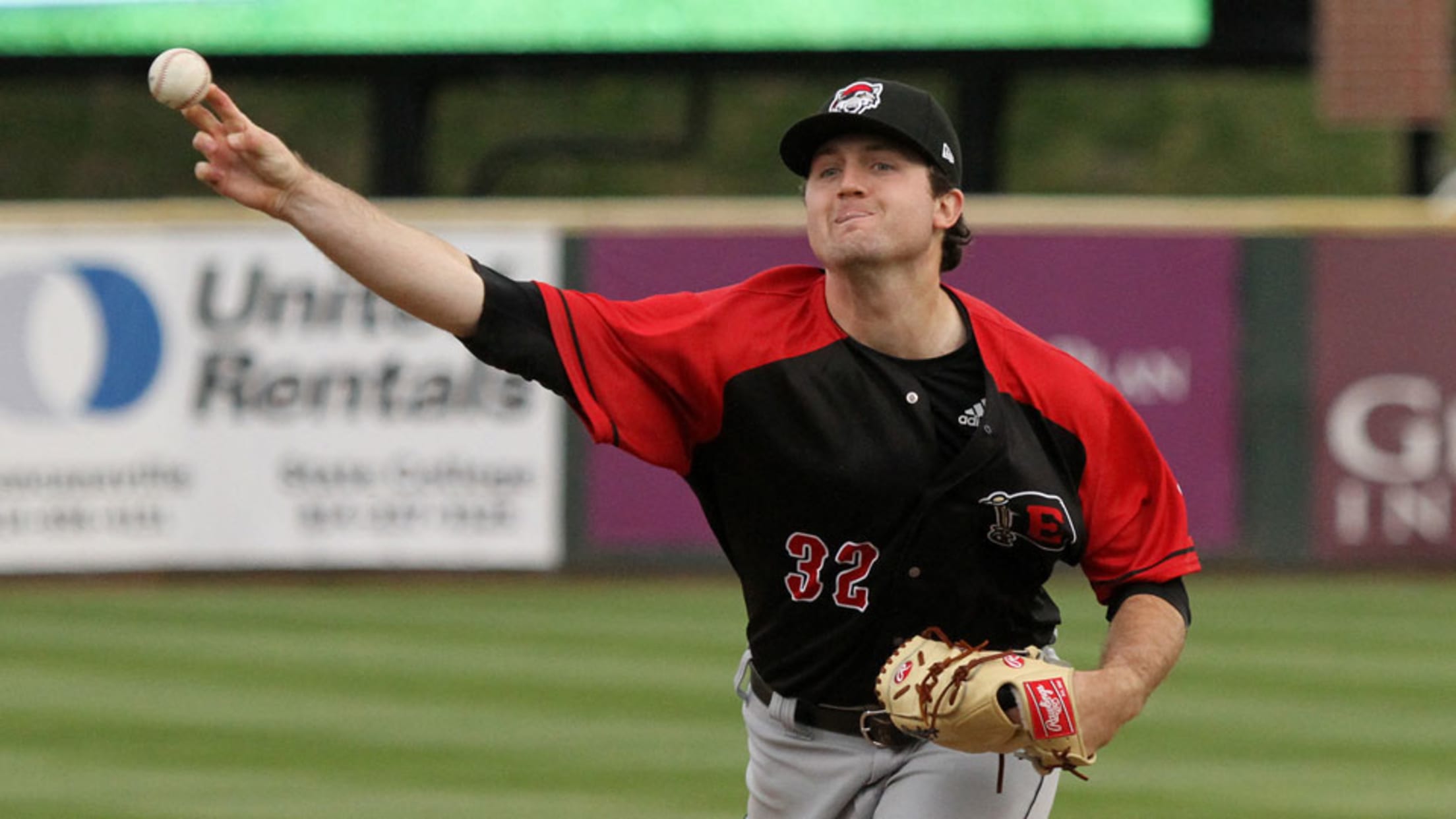 Casey Mize threw 70 of 98 pitches for strikes in his first outing for the SeaWolves. (Mark Olson/MiLB.com)
Casey Mize was at his best ... without his best Monday in his Double-A debut.Detroit's top-ranked prospect went the distance in a nine-inning no-hitter, striking out seven and facing one over the minimum, as Erie blanked Altoona, 1-0, at Peoples Natural Gas Field. Mize accomplished the feat on 98 pitches
Casey Mize was at his best ... without his best Monday in his Double-A debut.
Detroit's top-ranked prospect went the distance in a nine-inning no-hitter, striking out seven and facing one over the minimum, as Erie blanked Altoona, 1-0, at Peoples Natural Gas Field. Mize accomplished the feat on 98 pitches -- 70 strikes -- and admitted he did it without his complete arsenal.
"The fastball command was not good. The worst it's been all year," the right-hander told reporters after the game. "You can go look at the video, it wasn't good. So I threw a ton of cutters and just relied on that, and I just was able to throw that for a strike in a lot of counts. So I think that was kind of the biggest thing. Just trying to get early contact, and you know trying to get them to beat the ball on the ground or any contact to the infield. Being able to mix in the slurve and splitter in on them too, because I tried to make up for that fastball command."
Mize compensated for that lack of fastball command -- he plunked Jared Oliva with a 2-1 heater to start the game -- in a big way. A double play off the bat of Bralin Jackson erased Oliva from the basepaths and locked the 21-year-old in. The game's No. 16 overall prospect retired the next 19 in a row -- a stretch aided by a diving catch by center fielder Derek Hill off the bat of Adrian Valerio to end the third inning.
"He was complaining about his fastball command, but I think at the end of the day, it worked out all right," SeaWolves skipper Mike Rabelo told reporters with a smile after the game. "He was just in a groove, that cutter/slider was just magnificent."
Last year's No. 1 overall pick needed just four pitches to get through the sixth -- a first-pitch popup by Mitchell Tolman, a groundout by Arden Pabst on the second offering and Valerio's lineout on his first pitch -- before running into his only laborious frame of the evening in the seventh. After a four-pitch punchout of Oliva, Mize got Jackson to ground out weakly to second on a 1-1 off-speed offering before Bligh Madris worked a seven-pitch walk. It was the only other blemish of the game for Mize, who whiffed Logan Hill swinging to end the inning. The free pass was only the second of the season for the Auburn product, the fifth of his professional career spanning 48 2/3 frames and the first Madris took this year.
"A lot of credit to (Detroit's 13th-ranked prospect) Jake Rogers behind the plate, he called a [heck] of a game," Mize said. "Hats off to my defense and to our offense for scratching out a run. But I feel great, and it was definitely one of those days where I just felt like auto-pilot. I know I've said that before, but it was just a good day."
The Alabama native had never thrown more than eight innings or 89 pitches as a professional, and his pitch count was at 89 when he returned to the hill for the ninth.
"He was red-lining it," Rabelo said. "I was telling our pitching coach, Mark Johnson, the shoes I'm wearing right now, nobody wanted to be wearing those shoes in the ninth inning. So he got through it, and we can all breathe a deep sigh of relief."
Gameday box score
Mize navigated through the final frame on nine pitches -- his second-shortest of the game. Pabst's groundout to first, a weak comebacker to the mound by Valerio, and a popup to second by Oliva sealed it.
"That was something special, really fun to catch and really fun to be back there and watch him work," said Rogers, who was behind the plate for his first no-no. "He came out on all cylinders. He came out in the first inning and he was getting guys out and making guys kinda look silly. So ever since then, I just knew that if we just attacked them, something special was going to happen. He's smart up there. He knows what he wants to do and he trusted me a little bit tonight, and we just went after it."
"Not really much to say -- dominant," Rabelo added. "No deep counts, just a hit by a pitch and walk. He was absolutely electric tonight. That was fun to be a part of."
Mize extended his scoreless streak to 24 consecutive innings and has allowed one hit or fewer in four of his five starts (35 innings). In four appearances for Class A Advanced Lakeland, the right-hander went 2-0 with a 0.35 ERA, 25 strikeouts and one walk over 26 innings while holding opponents to a .085 average.
Mize tossed five complete games over his three-year college career -- including three last season -- and went the distance in a no-hitter on March 9, 2018 against Northeastern University.
"I'm going to enjoy this one, no doubt," he said. "I threw one last year in college and I wish I would have enjoyed it more, so I think I learned from that. So I'm gonna let this one sink in and enjoy it."
It marked the second Erie no-hitter in less than a week and the fourth in team history. Last Wednesday, Tigers No. 10 prospect Alex Faedo and Drew Carltoncombined on the feat against Bowie.
Erie scratched the only run it needed in the fifth. Rogers blooped a single to left on the first pitch of the frame, moved to second on a wild pitch and advanced to third on a single by Detroit's No. 30 prospect Jose Azocar. Chad Sedio plated the catcher with a groundout to first.
Rob Terranova is a contributor to MiLB.com. Follow him on Twitter, @RobTnova24.