Whitecaps' Soto tosses up six more zeros
Tigers southpaw extends his scoreless streak to 17 innings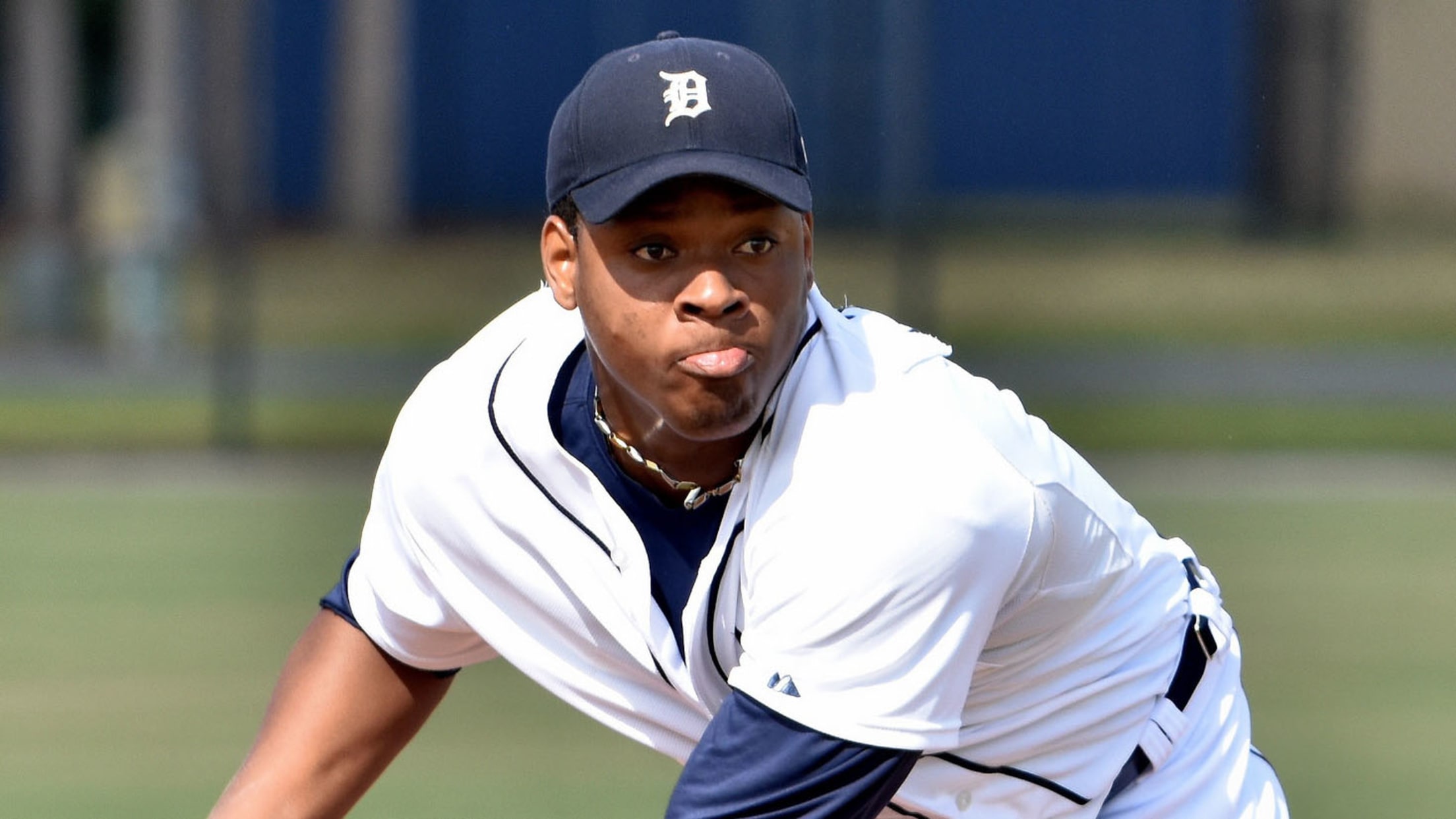 Gregory Soto posted a 3.03 ERA over 15 starts last season with Class A Short Season Connecticut. (Tom Hagerty/MiLB.com)
Class A West Michigan pitching coach Jorge Cordova believes Gregory Soto has all the tools to become a great pitcher, as soon as he learns to harness them better. Soto showed what that combination could look like again on Monday.The Tigers southpaw extended his scoreless streak to 17 innings with
Class A West Michigan pitching coach Jorge Cordova believes Gregory Soto has all the tools to become a great pitcher, as soon as he learns to harness them better. Soto showed what that combination could look like again on Monday.
The Tigers southpaw extended his scoreless streak to 17 innings with six more clean frames in the Whitecaps' 4-2 win over the Fort Wayne TinCaps at Fifth Third Ballpark. He allowed three hits and two walks while striking out eight.
Box score
"He's got big-league stuff," Cordova said. "He's got pro stuff. He has a fastball between 94-96 mph from the left side, which is so hard to make any contact with, and his curveball-slider hybrid is very hard and very tough to hit too. It has great action down in the zone. The big difference for him this season, though, is he feels more relaxed on the mound."
A rushed delivery and an aggressive approach tripped up Soto (1-0) at times last season, according to his coach, but now the 22-year-old left-hander is learning how to utilize his repertoire more effectively.
"He was getting a little bit out of control, but I got him to understand that he doesn't have to use that much effort to throw that hard," Cordova said. "It's more important to attack the hitters, work the zone and make them swing the bat. He has so much talent that he can get to the big leagues just because of his stuff, but he needs to learn how to be more consistent with that talent."
The Dominican Republic native seems to have made the adjustments for his spotless start to the season. Soto allowed one hit and two walks while striking out four over five innings in his season debut on April 11 and followed that up with a six two-hit innings on April 18.
"He's starting to understand that pitching is about making the hitters swing, not about throwing the ball hard and getting swings-and-misses," Cordova said. "It's about getting quick contacts and that's what he's doing now."
Soto's only 1-2-3 inning came in the fourth, when he struck out Padres No. 14 prospectHudson Potts and No. 30 Buddy Reed before getting Eguy Rosario to line out to left.
A four-pitch walk to lead off the sixth had Cordova slightly concerned his charge was losing his command, but after a quick mound visit, the lefty got Reinaldo Ilarraza and San Diego's No. 8 prospect Fernando Tatis Jr. to line out before fanning Potts again to end his night.
"I know him very well, and according to his body language, he was getting a little frustrated," Cordova said. "I didn't want him to get out of whack, so I just told him to trust his stuff and throw to the scoreboard because we were up by three runs. He just cruised after that."
Fernando Perez and Tigers No. 30 prospect Bryan Garcia each allowed a run in their respective innings of work, but they secured Soto's first win of the season.
"[Pitcher's] wins and losses are not a priority to him right now," Cordova said, "because he knows what we are working on. We are working hard on not walking people, we are working hard on attacking hitters and we are working hard on being able to throw any pitch in the strike zone at any count."
Will Savage paced the Whitecaps offense with two hits and two RBIs.
Michael Peng is a contributor to MiLB.com. Follow him on Twitter @MichaelXPeng.