Whitecaps' Soto dominates with 11 strikeouts
Tigers No. 29 prospect helps club post Minors-best 18th shutout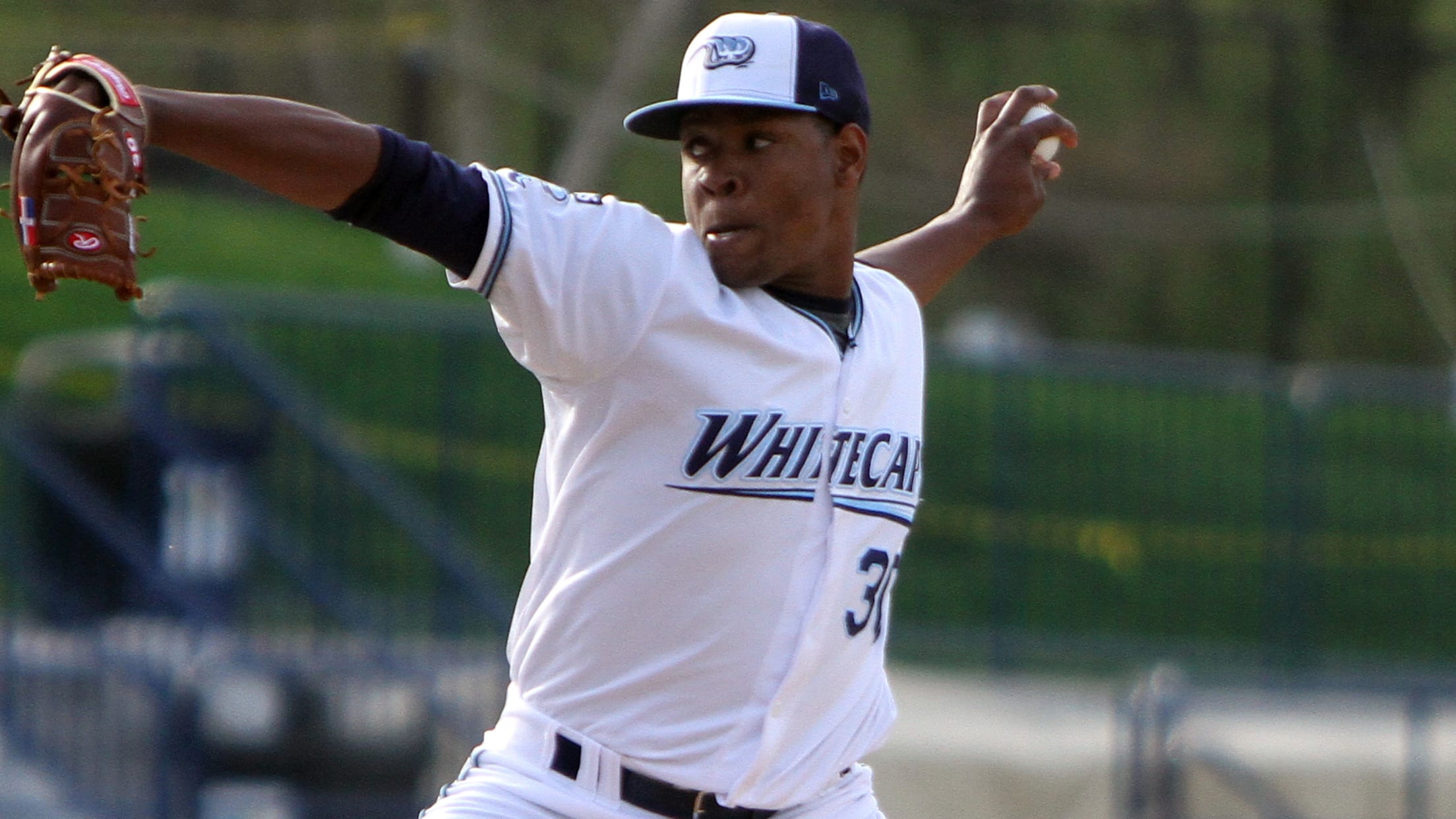 Gregory Soto is 5-0 with a 0.50 ERA and 42 strikeouts over 36 innings in six starts at home. (Emily Jones/MiLB.com)
When Gregory Soto is calm and confident, dominant outings are expected.Detroit's No. 29 prospect racked up 11 strikeouts over six innings as Class A West Michigan posted its Minor League-leading 18th shutout with a 3-0 victory over Cedar Rapids on Friday night at Fifth Third Ballpark. The left-hander scattered three hits
When Gregory Soto is calm and confident, dominant outings are expected.
Detroit's No. 29 prospect racked up 11 strikeouts over six innings as Class A West Michigan posted its Minor League-leading 18th shutout with a 3-0 victory over Cedar Rapids on Friday night at Fifth Third Ballpark. The left-hander scattered three hits and walked one.
Soto (8-1) retired the first seven batters before surrendering a single to Ben Rortvedt in the third. Though the native of the Dominican Republic allowed at least one runner to reach base in the fourth and fifth, none advanced beyond second base. He set down the side in order in the sixth before departing.
Gameday box score
The 6-foot-1, 180-pound hurler notched at least one strikeout in every inning and fanned multiple batters in five of them. The 11 punchouts fell one shy of his career high set on May 20 against Lake County.
"That's what we expect from Gregory Soto," Whitecaps pitching coach Jorge Cordova said. "The stuff he has is above-average to average, so he has a chance to have those kinds of outings once in a while when he's on and he's throwing strikes. That's the kind of outing we're expecting from him."
Soto came into Friday's outing having walked 11 in 12 innings over his last two starts. A rainout on Monday afforded the 22-year-old an extra day off, so he and Cordova spent additional bullpen sessions working on command.
"We focused on attacking the hitters, trusting his fastball, just letting the ball go," Cordova said. "We talk a lot about how important it is to trust his stuff, just to make him understand he's got big league stuff. He just needs to trust it and throw it over the plate."
Throwing more than 100 pitches in each of his previous two outings robbed Soto of the chance to go deeper into Friday's game. He was lifted after throwing 58 of 78 pitches for strikes. If not for an 80-pitch limit, Cordova believed Soto could have gone the distance.
"He could have gone a complete game," he said. "He was on a pretty good pace to go 105 [to]110 pitches."
Soto lowered his ERA to 2.44, the fifth-best in the Midwest League. He also moved into third on the circuit with 94 whiffs, leaving him 21 behind Dayton's Scott Moss in 11 fewer innings.
"He went out there today throwing every single pitch with confidence and conviction," Cordova said of Soto. "He wasn't overthinking anything. He was throwing the ball over the plate, and that's why we saw that kind of outing."
Zac Houston struck out three over two perfect innings and Eduardo Jiménez tossed a clean ninth to pick up his fifth save for the Whitecaps.
Cole Bauml collected two hits and drove in a run, while Tigers' No. 8 prospect Derek Hill doubled and scored.
Starter Clark Beeker (8-3) surrendered three runs -- one earned -- on four hits with two walks and five strikeouts over five innings for Cedar Rapids.