Diaz Delivers Walkoff Winner in Tenth Inning
Timber Rattlers beat Bees 3-2 in conclusion of Wednesday's suspended game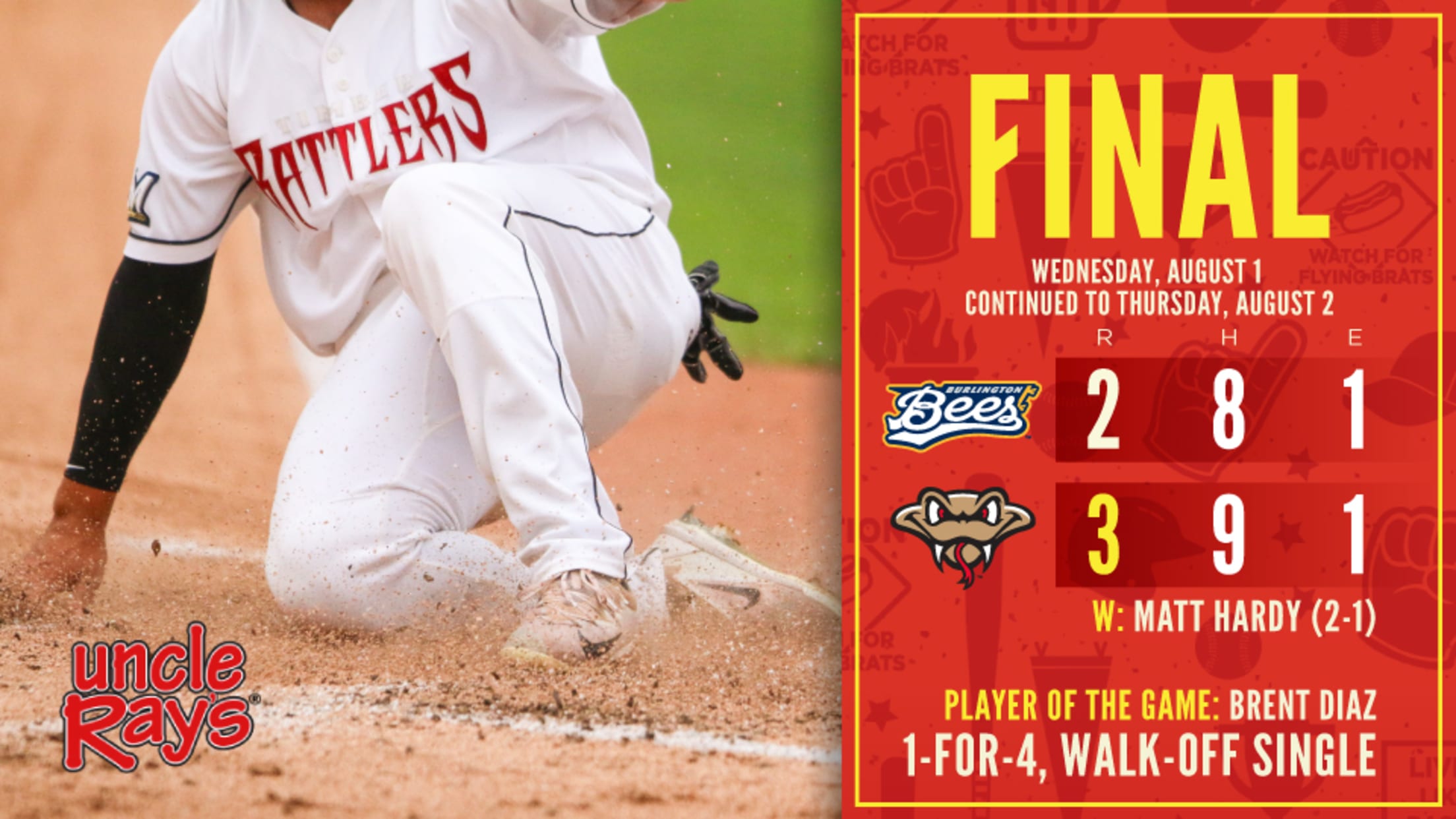 GRAND CHUTE, WI - The end of Wednesday's suspended game was worth the wait for the Wisconsin Timber Rattlers and Brent Diaz. The Wisconsin catcher cracked a two-out, walkoff, RBI single in the bottom of the tenth inning to lift the Rattlers to a 3-2 win over the Burlington Bees
GRAND CHUTE, WI - The end of Wednesday's suspended game was worth the wait for the Wisconsin Timber Rattlers and Brent Diaz. The Wisconsin catcher cracked a two-out, walkoff, RBI single in the bottom of the tenth inning to lift the Rattlers to a 3-2 win over the Burlington Bees on Thursday evening at Neuroscience Group Field at Fox Cities Stadium.
In action from Wednesday night, Darren Seferina doubled to start the Wisconsin half of the first inning. Zach Clark moved Seferina to third with a deep flyout to right. Tristen Lutz drove in Seferina with a sacrifice fly to right and the Rattlers (49-58 overall, 18-20 second half) had a 1-0 lead.

Wisconsin added to their lead in the bottom of the sixth. Seferina singled and took second on an error. Clark drove in Seferina with a single to right and the Rattlers had a 2-0 lead.

Rattlers starting pitcher Bowden Francis was cruising through six innings and got the first out in the top of the seventh inning, before walking Tim Millard on a 3-2 pitch. Keinner Piña was next and he singled off Francis's leg. Julio Garcia followed with a line drive single to right to load the bases.
Alexis Olmeda, who had struck out in his first two at bats of the night against Francis, stepped in and drove a double to the wall in left-center to score two runs and tie the game.

Robbie Hitt took over for Francis and got out of the inning with the score still tied. That was when the game was halted due to the downpour.

When the game resumed, neither team could score in regulation. That sent the contest to extra innings.

The Bees (41-64, 11-25) got the first crack with a runner a second to start the tenth inning, but reliever Matt Hardy retired all three Burlington batters he faced without letting that runner move past his starting point.

The Rattlers path to the winning run in the bottom of the tenth was rocky, but they got there. Pinch-runner Gabriel García was picked off second when Kenny Corey missed on a sacrifice bunt attempt. Then, Corey was retired and the Rattlers had two outs with no one on base. Jay Feliciano kept the inning alive by lining an 0-2 pitch to the wall in left for a double. Diaz was next and he swung at a 3-0 offering and dropped a single into center that allowed Feliciano to race home with the winning run.