Dodgers Prospect Primer: Bellinger on brink
With first baseman climbing toward bigs, talent abounds lower down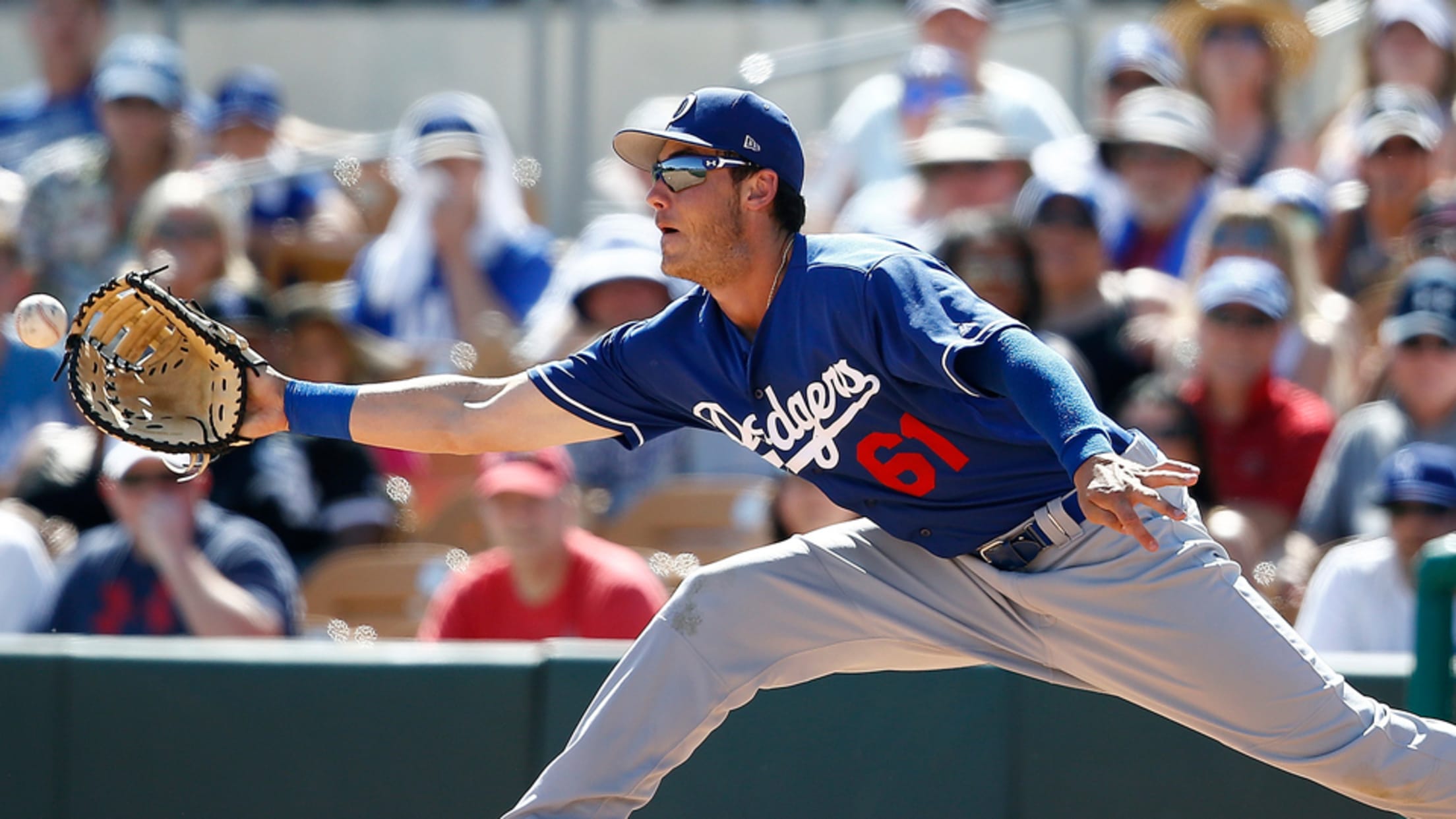 Cody Bellinger struggled during Spring Training, but should return to form in the Pacific Coast League. (Ross D. Franklin/AP)
Some players are on the verge of stardom, others are entering a crucial phase of their development and still others are getting their first tastes of full-season ball. With the 2017 season approaching, MiLB.com takes a look at the most intriguing prospects from each MLB organization.Shining star: Cody Bellinger ,
Some players are on the verge of stardom, others are entering a crucial phase of their development and still others are getting their first tastes of full-season ball. With the 2017 season approaching, MiLB.com takes a look at the most intriguing prospects from each MLB organization.
Shining star: Cody Bellinger , 1B
Bellinger was 9-for-43 (.209) through his first 19 Cactus League games, hitting one home run and one double over that span. Not the spring Dodgers fans might have expected. But chilly March or not, LA's top prospect and baseball's No. 12 prospect overall remains the crown jewel of one of the most talent-rich systems in baseball.
The 21-year-old slugger, who's capable in the outfield but can be a fantastic defensive first baseman, bopped 23 homers and 17 doubles while posting a .359 on-base percentage over 114 games in his first look at Double-A pitching. At the end of the season, he made the jump to Triple-A in the stretch run and went 6-for-11 with three dingers, six RBIs and five runs over three games before amassing nine hits and seven walks in the Pacific Coast League playoffs. Even with Adrian Gonzalez's elbow issues lingering, the Dodgers have the depth to give Bellinger whatever time he needs in the PCL. But things will get interesting if he finds his groove out of the gate and Gonzalez -- who'd played in just five Spring Training games through March 20 -- doesn't prove healthy and productive.
Loudest tool: Yadier Álvarez , RHP
Alvarez's fastball sits in the mid-90s, and the 21-year-old Cuban can ratchet it up into triple digits at his leisure. It's no wonder then that he coasted through Rookie and A ball over 14 starts in his first year as a pro, putting up a 2.12 ERA while striking out 81 over 59 1/3 innings. But there's more to that success than Alvarez bearing down and chucking. He throws his fastballs with solid mechanics, meaning he's should be able to develop strong command with it as he works more innings.
"It's a low-effort delivery," said Dodgers senior manager of player development Matt McGrath. "It's got some good run on it. Velocity is obviously a major part of it, but the fact that it's a repeatable delivery, it's low effort -- we're excited about it."
The offering rates a 75 on the 20-80 scouting scale.
At the crossroads: Willie Calhoun , 2B
The question concerning Calhoun is not whether or not he'll continue to be a valuable prospect, but rather whether his stock can continue to climb. A fourth-rounder in 2015, last year Calhoun finished second in the Texas League (to Oakland prospect Matt Chapman) with 27 home runs.
"I didn't think I was going to put up a lot of power numbers like I did, but I played with a chip on my shoulder every day, because I'm a very competitive guy," Calhoun said. "The past 12 months have been crazy, but it's been a blessing. Everything that's happened has been unreal, so I'm going to keep on pushing forward and trying to get better every day."
Calhoun's defense at second has been a work in progress, and that's the aspect of his game he focused on through the first three months of 2017, putting in time at Camelback Ranch with Dodgers infield coach Chris Woodward. He entered the year as baseball's No. 82 overall prospect after being unranked last year. If he's able to develop the range and quick feet to stick at second base for the long haul, he'll be worthy of an even higher ranking.
"I feel a lot more prepared going into this season than I did last year," he added.
Back-and-healthy: Walker Buehler , RHP
Buehler's been waiting for this season for a long time. The 22-year-old Vanderbilt product was taken with the 24th overall pick of the 2015 Draft despite an elbow injury during the college season that led to Tommy John surgery that August.
"The organization just wants me to be healthy, like I do. They were aggressive and took me where they took me, knowing that there could be some issues, and I think that shows how they feel," he said. "I've told people before, 'It's time to prove people right.' I don't buy that whole 'prove people wrong' mantra. The organization's been great and extremely supportive and given me everything I need to come back stronger."
In Minor League camp this spring, Buehler cut two pitches -- a slider and two-seam fastball -- at least temporarily.
"It's a good adjustment. It's one of those things where if you can learn to do it with less than if you end up doing it with more, it can be a little easier for you," he said. "You look at some of the best in the game, and it's two-pitch mix guys, or Kershaw throws three, really -- he doesn't throw many changeups. And when you change things up a little, you learn some things about yourself too, I think, so it's been kind of cool."
Full-season debutant: Gavin Lux , SS
A first-round pick out of a Wisconsin high school last year, Lux has been working to prove himself ready for a full-season assignment out of the shoot. Although he'll be a teenager until November, he believes he'll have an advantage in the Midwest League in April.
"Growing up in it, the weather sucks. The first month or so, it's always freezing," he said. "I'm used to it, the cold hands and all that. And obviously, the first full season, if that's where I'm at, the competition is really good in the Midwest League, so I'm pumped up if that's where I'm at.
"If that is [what happens], I'll be in Michigan, close to family and friends, so that would be awesome. That's what I'm striving for and that's what my goal is coming out of Spring Training."
His first crack at the pros was mostly about "learning how to take care of your body. You need to get your sleep, you need to eat right," he said, but the smooth-fielding shortstop also batted .296/.375/.399 with 18 extra-base hits over 56 games between two Rookie-level teams.
"If I'm striking out, it's more looking, so I think my contact skills are pretty good," he said. "I was happy with the way I matched up with pitchers, not swinging and missing too much."


Others to keep an eye on: Outfielder Alex Verdugo , who will turn 21 in May and is coming off a very strong Double-A showing, went 5-for-14 (.357) for Mexico in the World Baseball Classic and was 3-for-12 with a homer and a double over his first eight Spring Training games. Along with Bellinger and Calhoun, he'll make Oklahoma City an electric team early this season. ... Right-hander Brock Stewart earned the Top Starting Pitcher MiLBY with his breakout 2016. He was shut down on March 12 with shoulder tendinitis and may not be ready to go for the first couple weeks of the season, but he figures to be in the PCL before long. ... Righty Josh Sborz was also sidelined for a bit in spring camp. He told MLB.com he got a sore shoulder from "throwing too hard, too soon." The 2016 California League Pitcher of the Year figures to start this season in the Double-A Tulsa rotation. He finished in the bullpen there last year as the organization sought to limit his innings.
Josh Jackson is a contributor to MiLB.com. Follow and interact with him on Twitter, @JoshJacksonMiLB.