Dollard Deals, Leads Shutout Of Frisco
Rizzo homers twice among seven Arkansas extra base hits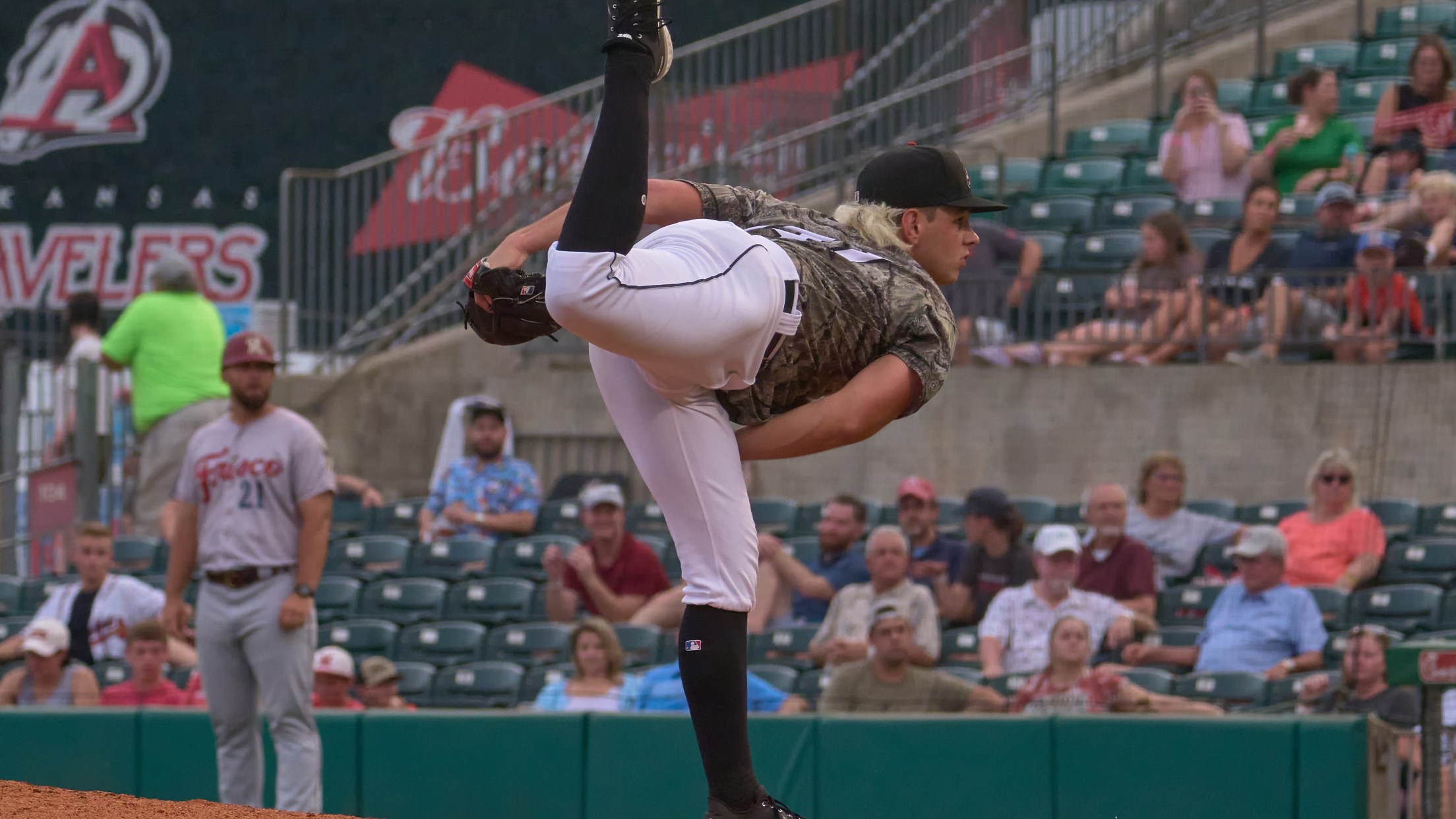 Taylor Dollard spun 7.1 shutout and lowered his ERA to 0.82. (Mark Wagner)
North Little Rock, AR—Taylor Dollard lowered his minor league leading earned run average to 0.82 and the Arkansas Travelers offense hit three home runs in a 9-0 shutout of the Frisco RoughRiders on Thursday night. Dollard fired 7.1 scoreless innings on four hits and a walk while winning his fifth
North Little Rock, AR—Taylor Dollard lowered his minor league leading earned run average to 0.82 and the Arkansas Travelers offense hit three home runs in a 9-0 shutout of the Frisco RoughRiders on Thursday night. Dollard fired 7.1 scoreless innings on four hits and a walk while winning his fifth consecutive start. Joe Rizzo led the home run barrage with a pair of blasts and Cade Marlowe added a three-run home run. All told, the Travs matched a season high with seven extra base hits among their 10 knocks.
Moments That Mattered
* Dollard got out of a two on one out situation in the third inning with a pair of groundballs to preserve an early one run lead.
* Rizzo blasted a two-run homer early in the fifth inning doubling the lead to four. Later in the same inning, Marlowe broke the game open with his smash off Frisco lefty starter Cody Bradford.
Notable Travs Performances
* DH Joe Rizzo: 2-4, 2 runs, 2 HR, 3 RBI
* RF Jack Larsen: 3-4, 2 runs, 2 2B
* RHP Taylor Dollard: Win, 7.1 IP, 4 H, BB, 3 K
News and Notes
* The shutout was the league leading 6th of the season for Arkansas.
* Rizzo has three two-HR games all in the past two weeks.
Up Next
The series with Frisco continues on Friday night with right-hander Connor Jones (4-4, 4.03) on the mound against righty Jack Leiter (2-6, 5.44). It is a Fireworks Friday with first pitch at 7:05. The game will also be broadcast on 93.3 The Fish, the First Pitch App and milb.tv.