Mazza's perfect game tops Pitchers of the Week
Augusta southpaw threw second perfecto of the month on April 25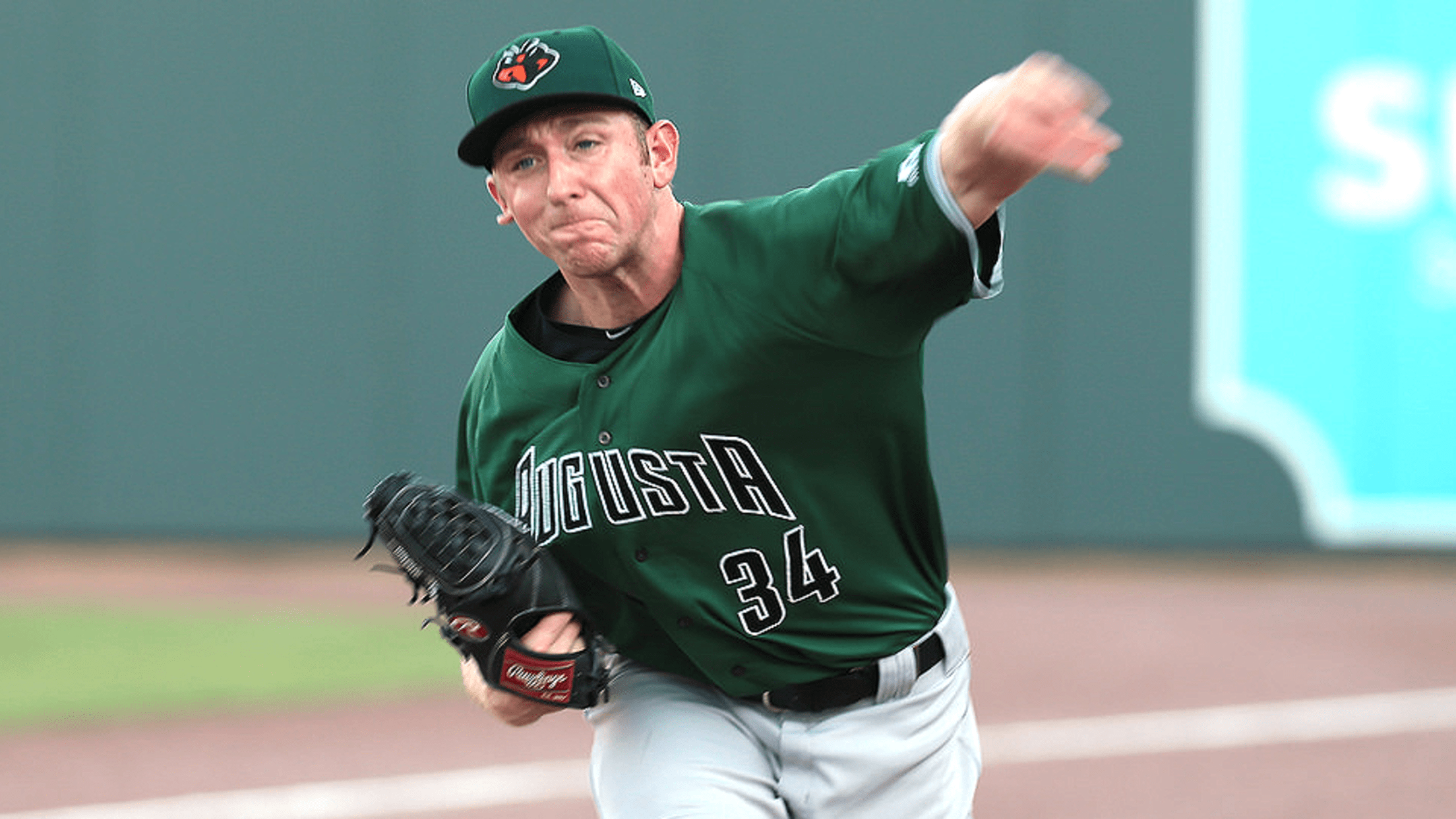 Augusta's Domenic Mazza threw the first nine-inning perfect game in South Atlantic League history. (Chris Baird/MiLB.com)
Domenic Mazza did something that had never happened in the South Atlantic League. That, safe to say, was more than enough to earn him a weekly award on Monday.The 22-year-old lefty was named the SAL's Pitcher of the Week following his nine-inning perfect game last Tuesday, highlighting the best pitching
Domenic Mazza did something that had never happened in the South Atlantic League. That, safe to say, was more than enough to earn him a weekly award on Monday.
The 22-year-old lefty was named the SAL's Pitcher of the Week following his nine-inning perfect game last Tuesday, highlighting the best pitching performances from around the Minors from April 24-30.
Mazza began the season on the wrong end of Tim Tebow's first Minor League at-bat -- a home run. A few weeks later, the Giants prospect was getting recognized for something entirely different.
"The first ['milestone'] was more of a negative for myself," he told MiLB.com with a laugh. "But this one's definitely a lot sweeter."
• View the Player of the Week winners »
Mazza struck out a season-high nine batters in Augusta's 9-0 win over Lexington at Whitaker Bank Ballpark. It marked the Minor Leagues' second perfect game in a week after Tyler Mahle tossed one for Pensacola on April 22, a feat that earned him weekly honors in the Southern League.
"It was just pure joy and happiness with my teammates," Mazza recalled.
San Francisco's 22nd-round pick in 2015, Mazza threw only 85 pitches in his gem, the first nine-inning perfecto in South Atlantic League history. (John Purdin tossed a seven-inning perfect game for Salisbury in 1964.)
"The Lexington hitters were aggressive, which I liked, just because it helped me pound the zone more and get quick outs, which allowed me to work deep into the game," the southpaw said. "My slider was better than it has been, and I was just able to mix speeds and keep them off-balance."
The effort also included a diving catch by GreenJackets right fielder Sandro Fabian to save the perfect game bid.
"I gave up a line drive to right field, and off the bat, I thought it was a single and my opportunity was over with, but [Fabian] made a great diving play" Mazza said. "I took my hat off to him and that was unbelievable."
Below are the rest of the Minor League Pitchers of the Week for April 24-30: