Doston's Career Night Drives Shuckers 5-3 Victory
Baker Records First Double-A Save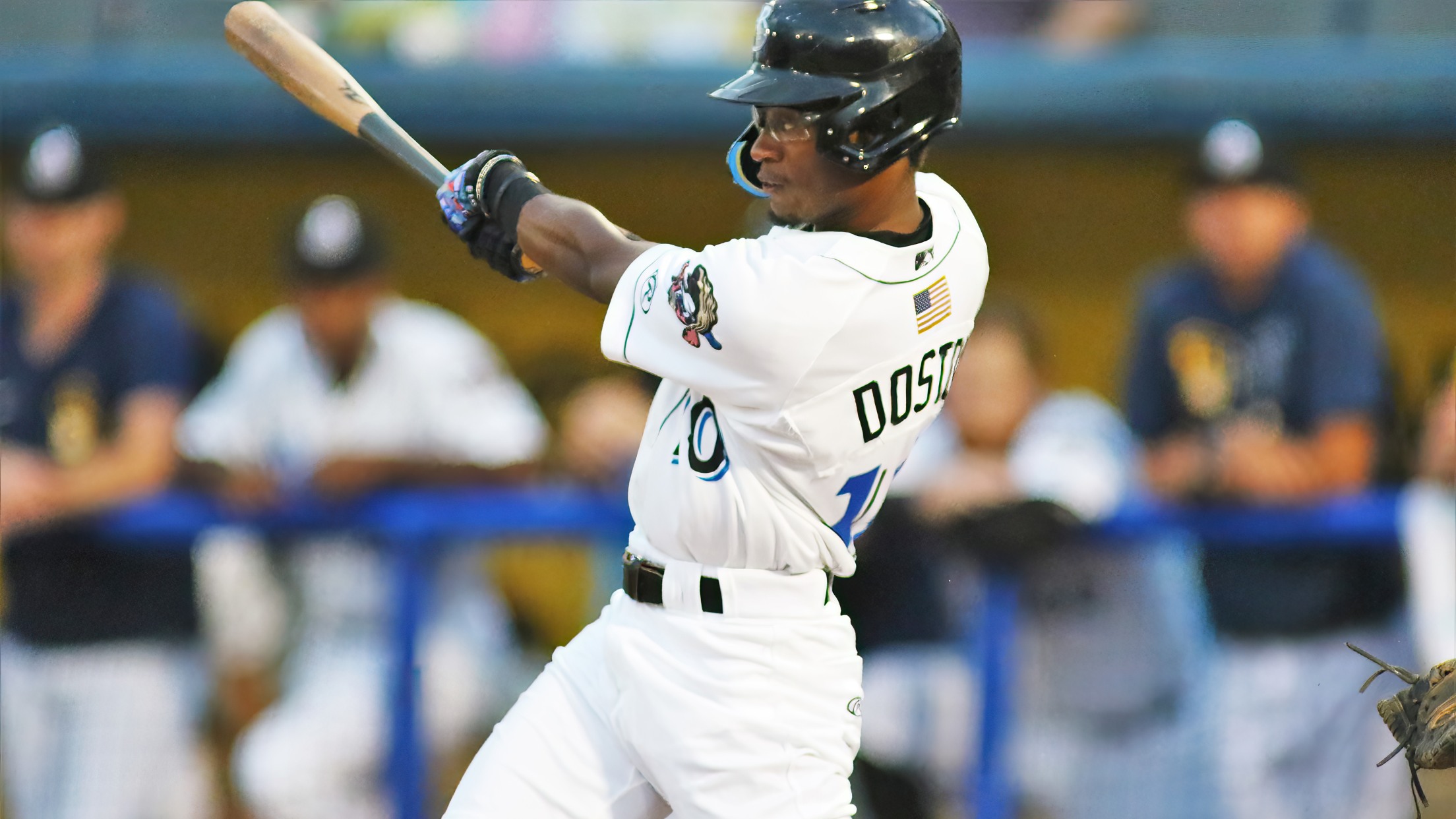 (Photo - Mike Krebs)
Behind a career night from outfielder Terence Doston, the Biloxi Shuckers (59-67, 25-34 2nd Half) picked up a 5-3 win over the Mississippi Braves (59-68, 30-28 2nd Half) on Thursday night at MGM Park. The Shuckers jumped out to a lead in the bottom of the first inning. Felix Valerio
Behind a career night from outfielder Terence Doston, the Biloxi Shuckers (59-67, 25-34 2nd Half) picked up a 5-3 win over the Mississippi Braves (59-68, 30-28 2nd Half) on Thursday night at MGM Park.
The Shuckers jumped out to a lead in the bottom of the first inning. Felix Valerio bunted his way on base with one out and a two-out single from Thomas Dillard put Valerio in scoring position. Wes Clarke delivered the first run of the game for the Shuckers with a single to center, making it 1-0 Biloxi.
.@wesesame drives home the Shuckers first run tonight! #ShuckYeah pic.twitter.com/Sj2yTdqLOU

— Biloxi Shuckers (@BiloxiShuckers) September 8, 2022
RHP Victor Castañeda (W, 3-6) allowed just one base runner in his first two innings but ran into trouble in the top of the third. Justin Dean and Logan Brown both singled and a walk to Cody Milligan loaded the bases with no outs. Castañeda coaxed a double play ball from Jalen Miller that brought in the tying run but put two outs on the board. The Shuckers' righty didn't allow another run over his five innings of work, limiting Mississippi to just three hits while striking out three.
Doston gave the Shuckers the lead for good in the bottom of the fifth. Leading off the inning against M-Braves RHP Tanner Gordon (L, 8-6), Doston launched a solo homer over the right-field wall, his first home run at Double-A and second of his career, to put Biloxi ahead 2-1.
A BIG spot for your first Double-A home run! Congrats @doston_terence! 🎉 #ShuckYeah pic.twitter.com/S7mV1PcUc6

— Biloxi Shuckers (@BiloxiShuckers) September 9, 2022
In the bottom of the sixth, Yeison Coca was hit by a pitch with one out and left the ball game with an apparent injury. Zavier Warren replaced Coca and advanced to second on a groundout before scoring on an RBI single to left by Doston, widening Biloxi's advantage to 3-1. Doston would steal third base but was left stranded.
.@doston_terence came to PLAY tonight as he drives home another run! #ShuckYeah pic.twitter.com/L4q5RCjziY

— Biloxi Shuckers (@BiloxiShuckers) September 9, 2022
LHP Clayton Andrews (H, 1) tossed a scoreless sixth with two strikeouts and RHP Ryan Middendorf (H,1) covered the seventh and eighth, allowing a run on an RBI single by Andrew Moritz in the eighth.
Doston capped his night with an exclamation point in the home half of the eighth. Warren drew a lead-off walk and stole second base to begin the frame. Doston then stepped up and crushed a two-run homer to right field, his second of the night, pushing Biloxi back out in front 5-2. All told, Doston went 3-for-4 with 4 RBIs and two runs scored. It is the first multi-homer game of his career, and the four RBIs are a new career high for the former 22nd-round pick by the Brewers in 2019 out of Hillsborough High School.
How about TWO in one NIGHT for @doston_terence! A career-night! #ShuckYeah pic.twitter.com/nLiOuqab8j

— Biloxi Shuckers (@BiloxiShuckers) September 9, 2022
Biloxi turned to RHP Robbie Baker (S, 1) to close out the contest. The righty struck out Milligan to begin his frame before Miller popped out for the second out. A single, a hit by pitch and a double brought in a run, but Baker finished off the game with a groundout to earn his first save at Double-A.
The Shuckers continue their series with the M-Braves on Friday night at MGM Park. Biloxi is set to send LHP Brandon Knarr (2-6, 3.87) to the hill against M-Braves RHP Alan Rangel (5-6, 4.94) for a 6:35 pm first pitch. The game can be seen on MiLB.TV and heard locally on WGCM AM 1240/FM 100.9 or online here. Individual tickets and group outings are available for the final home stand of the 2022 season by calling (228) 233-3465 or visiting biloxishuckers.com.
ABOUT THE BILOXI SHUCKERS:
The Biloxi Shuckers are the Double-A Affiliate of the Milwaukee Brewers. The Shuckers are members of the Southern League and play at MGM Park in Biloxi, Mississippi. For more information please visit biloxishuckers.com and follow us on Twitter @biloxishuckers and at facebook.com/biloxishuckers.