Dragons deep-six Lugnuts with six-run 2nd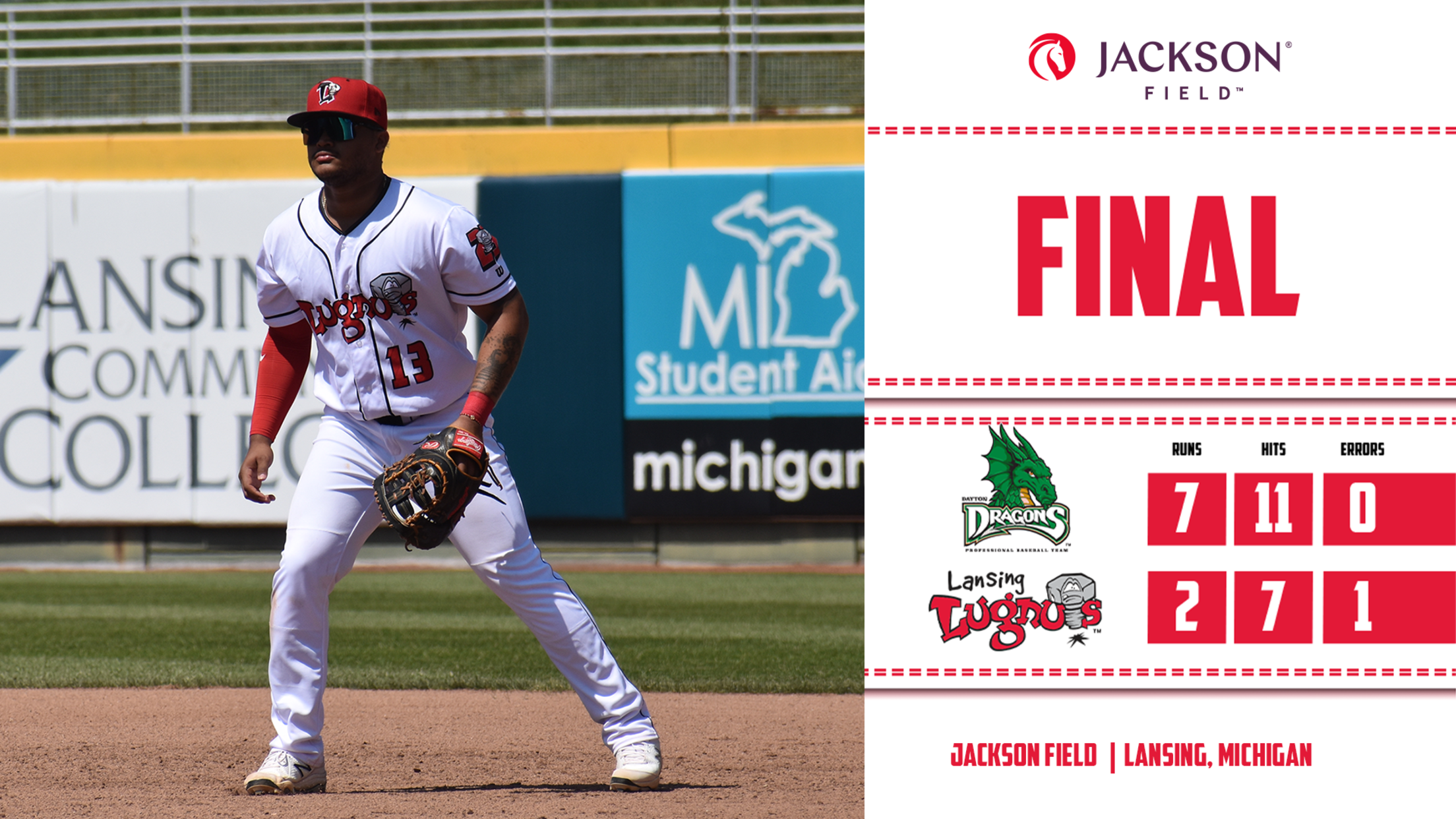 LANSING, Mich. – The Dayton Dragons (47-40) hit three home runs in a six-run second inning, capped by a Michael Siani grand slam, and cruised to a 7-2 win over the Lansing Lugnuts (41-46), on Thursday night at Jackson® Field™. In the loss, Lansing first baseman Jordan Díaz went 3-for-4
LANSING, Mich. – The Dayton Dragons (47-40) hit three home runs in a six-run second inning, capped by a Michael Siani grand slam, and cruised to a 7-2 win over the Lansing Lugnuts (41-46), on Thursday night at Jackson® Field™.
In the loss, Lansing first baseman Jordan Díaz went 3-for-4 with a double, the night before his 21st birthday.
Lugnuts starter Colin Peluse had won four consecutive starts coming in, and did toss four otherwise scoreless one-hit innings – but the second inning proved his undoing. Juan Martínez led off with a solo homer for the game's first run, and Quin Cotton following two batters later with a solo home run of his own for a 2-0 lead. A pair of singles and a catcher's interference loaded the bases for Siani, who hit his second home run of the series and his fifth of the season to give Dayton a 6-0 lead. All three home runs were hit to right field.
Leudeny Pineda followed Peluse to the mound, allowing a run on four hits and two walks in 1 2/3 innings. Dalton Sawyer tossed the next 1 1/3, striking out two, before Garrett Acton handled a perfect ninth with two strikeouts.
Lansing's only runs came via an Elvis Peralta, Jr. double and a pair of wild pitches in the second inning and a William Simoneit walk, Díaz double and Lester Madden, Jr. sacrifice fly in the fourth inning.
Simoneit finished 0-for-3 with a walk, ending his team-high 11-game hitting streak.
In their Lansing debuts, third baseman Brett Harris – the A's seventh-round pick in 2021 – went 1-for-4 with a single, plus a magnificent defensive play to rob Jonathan Willems of a base hit in the eighth, and shortstop Drew Swift – the A's eighth-rounder – was 0-for-3 with a walk.
Friday night, the fourth game of the six-game series, will see the Lugnuts honor Olympic medalist and Lansing native Taylor Manson with a ceremonial first pitch and a video tribute. First pitch is at 7:05 p.m. between Lansing right-hander Shohei Tomioka (4.59 ERA) and Dayton right-hander Lyon Richardson (4.82 ERA), with LAFCU Fireworks following the game. To purchase tickets, visit lansinglugnuts.com or call (517) 485-4500.
# # #