Dragons gain series split despite Soderstrom blasts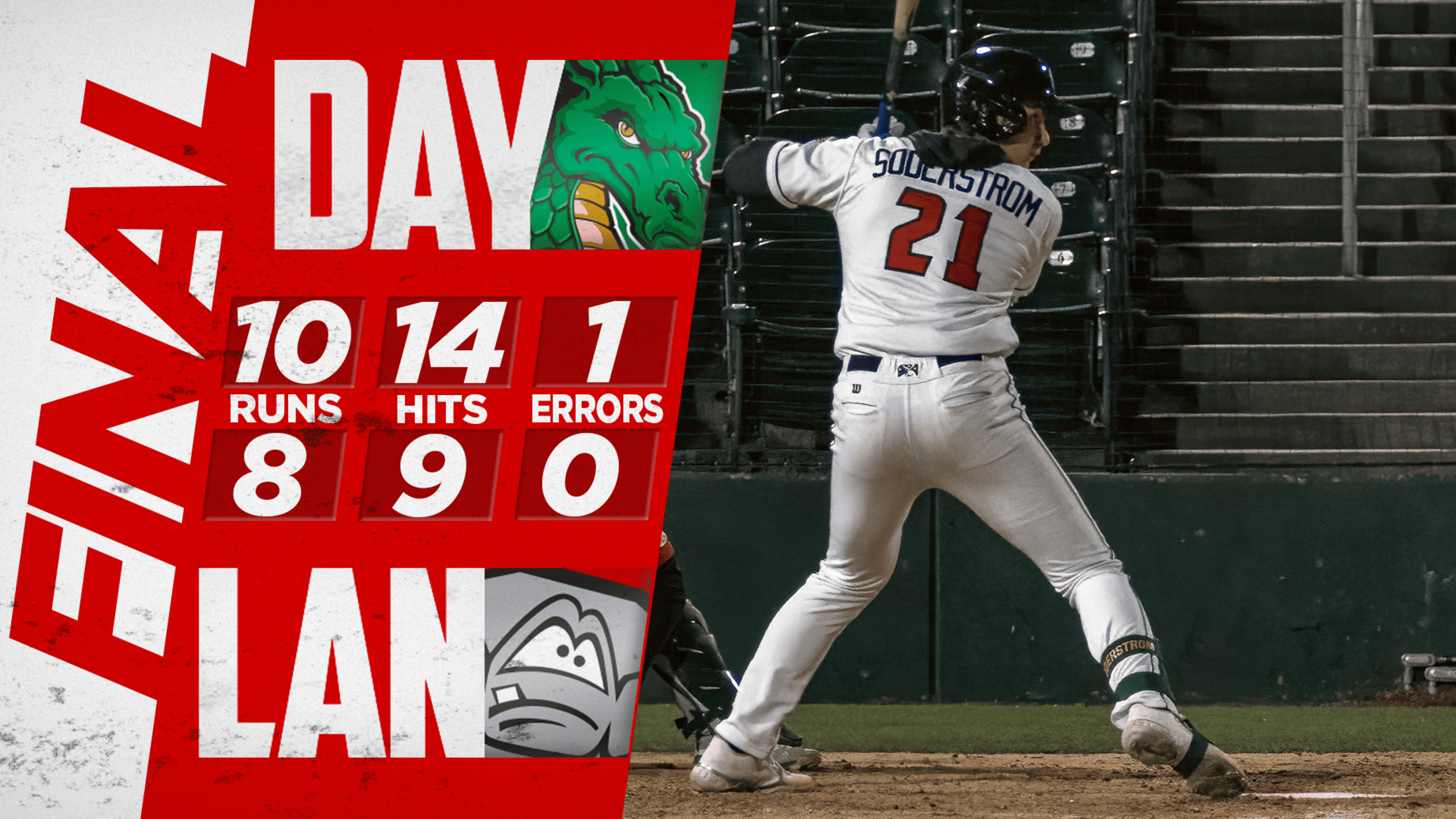 LANSING, Mich. – Tyler Soderstrom enjoyed his second two-homer game of the year, but the Dayton Dragons (22-10) pulled out a 10-8 victory over the Lansing Lugnuts (14-19) on Sunday afternoon at Jackson® Field™. With the result, the Lugnuts split the six-game series with the first-place Dragons and finished their
LANSING, Mich. – Tyler Soderstrom enjoyed his second two-homer game of the year, but the Dayton Dragons (22-10) pulled out a 10-8 victory over the Lansing Lugnuts (14-19) on Sunday afternoon at Jackson® Field™.
With the result, the Lugnuts split the six-game series with the first-place Dragons and finished their 12-game homestand with a 7-5 record.
Tyler Soderstrom was due for a longball – and delivered, waaaay out to right! pic.twitter.com/9qM7oqpPnz

— Lansing Lugnuts (@LansingLugnuts) May 15, 2022
The 20-year-old Soderstrom both opened and closed the scoring, drilling a home run in the second inning off Dayton starter James Proctor for the game's first run before wrapping the afternoon with a solo shot off closer Donovan Benoit in the bottom of the ninth. In between he added an RBI single and a run-scoring groundout, finishing 3-for-5 with four RBIs.
Tyler Soderstrom CRUSHES his second HR of the day! pic.twitter.com/3vFh1ctPfN

— Lansing Lugnuts (@LansingLugnuts) May 15, 2022
But Dayton countered with home runs from Jonathan Willems and its own 20-year-old top prospect, Elly De La Cruz, who also doubled twice in a three-hit performance. The Dragons scored five runs off Lansing starter Joey Estes in 4 2/3 innings, including four-run third featuring two-run roundtrippers from Willems and De La Cruz. They then added to their lead with three runs in the seventh and two in the eighth off Joe DeMers, putting the game out of reach.
Diego Granado tossed 1 1/3 innings in bridging between Estes and DeMers, with Daniel Martinez turning in a hitless ninth.
In the loss, Lansing shortstop Drew Swift went 2-for-3 with a walk and an RBI triple. Swift has nine hits in his last 14 at-bats, raising his batting average to .321 after an 0-for-14 start.
The Lugnuts enjoy a day off Monday before opening a 12-game, 13-day road trip Tuesday with the first of a six-game series at Midland. The next home game in Michigan's state capital arrives May 31, when the Nuts welcome in the Cedar Rapids Kernels. For more information or to purchase tickets, visit lansinglugnuts.com or call (517) 485-4500.
# # #