Drake, Arozarena Top the Hammerheads
Blake Drake Triple Shy of the Cycle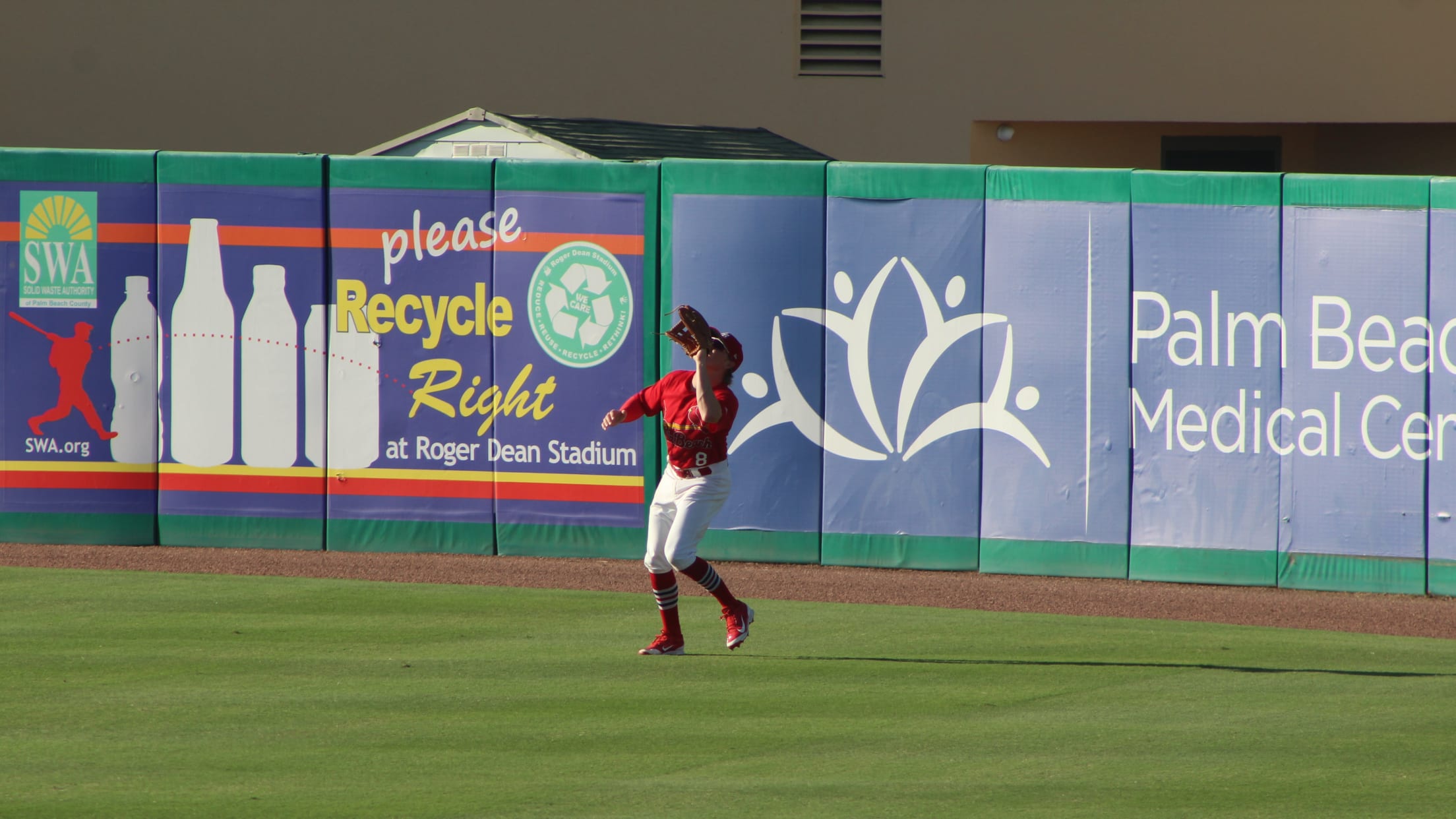 Jupiter, FL - Blake Drake and Randy Arozarena had three hits each as they helped lead the palm Beach Cardinals (41-27, 1-0) over the Jupiter Hammerheads (33-36, 0-1) 8-1 on Thursday evening.Ryan Helsley got the ball to start the first game of the second half for the Palm Beach Cardinals
Jupiter, FL - Blake Drake and Randy Arozarena had three hits each as they helped lead the palm Beach Cardinals (41-27, 1-0) over the Jupiter Hammerheads (33-36, 0-1) 8-1 on Thursday evening.
Ryan Helsley got the ball to start the first game of the second half for the Palm Beach Cardinals and went six innings, giving up one unearned run on six hits, while striking out four.
Palm Beach got on the board first in the second inning as the frame started with Thomas Spitz reaching on an error and got to second on a Leobaldo Pina single. Spitz moved to third on a fly ball off the bat of Austin Wilson and scored the first run on a Luke Dykstra foul ball.
Jupiter got the run back in the top of the third scoring on an errant throw from Dykstra. Palm Beach retook the lead in the bottom of the third as Arozarena started the third with a double and scored on a Drake double the very next at bat.
Palm Beach broke the game open in the fifth as they brought ten batters to the plate and scored five runs. Arozarena and Drake went back-to-back on a pair of singles. Andy Young laid down a bunt that new pitcher, Jorgan Cavanerio decided to go to third with and threw it down the left field line to allow Drake and Arozarena to score and Young to advance to second. Chris Chinea hit the next pitch to centerfield to drive in another run. Thomas Spitz hit a double down the line to put Young at third. Pina struck out before the bases got loaded on a hit by pitch with Wilson at the plate. Dykstra drove in Chinea on a sacrifice fly for the fourth run of the inning. Jeremy Martinez hit a single to center to drive in the fifth and final run of the fifth inning to give the Cardinals the 7-1 lead.
Blake Drake hit a home run to lead off the sixth inning to give the Cardinals the 8-1 lead through six. Brennan Leitao pitched a scoreless 1.2 innings and Chandler Hawkins tossed the final 1.1 innings also scoreless. They struck out two batters each to preserve the 8-1 victory in the first game of the second half or the season.