Drake Singles in Win in Eighth
Drake Goes 3-4 in Cardinals Victory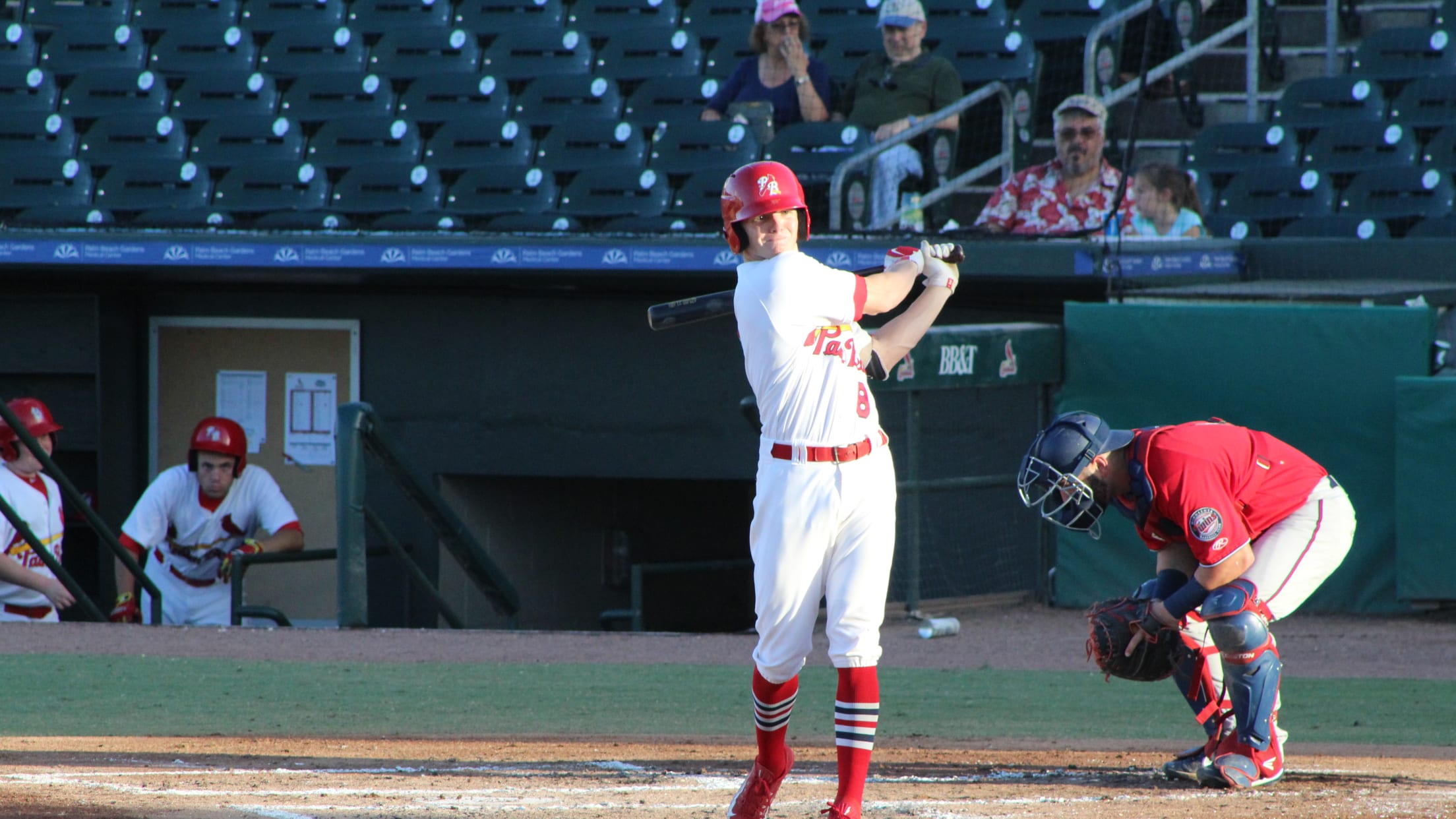 Jupiter, FL - Blake Drake drove in the winning run in the eighth inning as the Palm Beach Cardinals (67-53, 27-26) beat the Bradenton Marauders (65-56, 28-26) by a final of 2-1.Jake Woodford got the start tonight and threw eight innings of one run baseball giving up only four hits
Jupiter, FL - Blake Drake drove in the winning run in the eighth inning as the Palm Beach Cardinals (67-53, 27-26) beat the Bradenton Marauders (65-56, 28-26) by a final of 2-1.
Jake Woodford got the start tonight and threw eight innings of one run baseball giving up only four hits on the evening. He walked two and struck out five as well.
The Bradenton Marauders jumped on the board first in the eighth inning as Alfredo Reyes knocked in Casey Hughston on a 0-2 pitch with two outs in the eighth inning. The Marauders took the 1-0 lead into the bottom of the eighth, but it did not last long.
After not being able to get to James Marvel in the first seven innings, the Bradenton Marauders brought in Daniel Zamora to pitch the eighth. The Cardinals got started with Casey Grayson reaching first on an error as the first basemen pulled his foot off the bag with one out already on the board. Grayson reached second on a Chris Chinea single and scored as the runners were going on a Leobaldo single on a full count that tied the game at one. Blake Drake came up and tried to lay down a bunt on the first pitch, but the ball was too far inside and Chine got caught in a run down at third. Pina reached third as well and was called out being the trail runner with two runners standing on third base. Drake then took a pitch through the hole at short to give the Cardinals a 2-1 lead.
Dailyn Martinez took the mound in the ninth inning and made things interesting as he loaded the bases in the ninth with two outs. He got a ground ball to Pina to end the game and collect his fourth save of the season.