Ferguson goes 6-for-6 in Express' romp
Astros outfielder notches second six-hit game in team history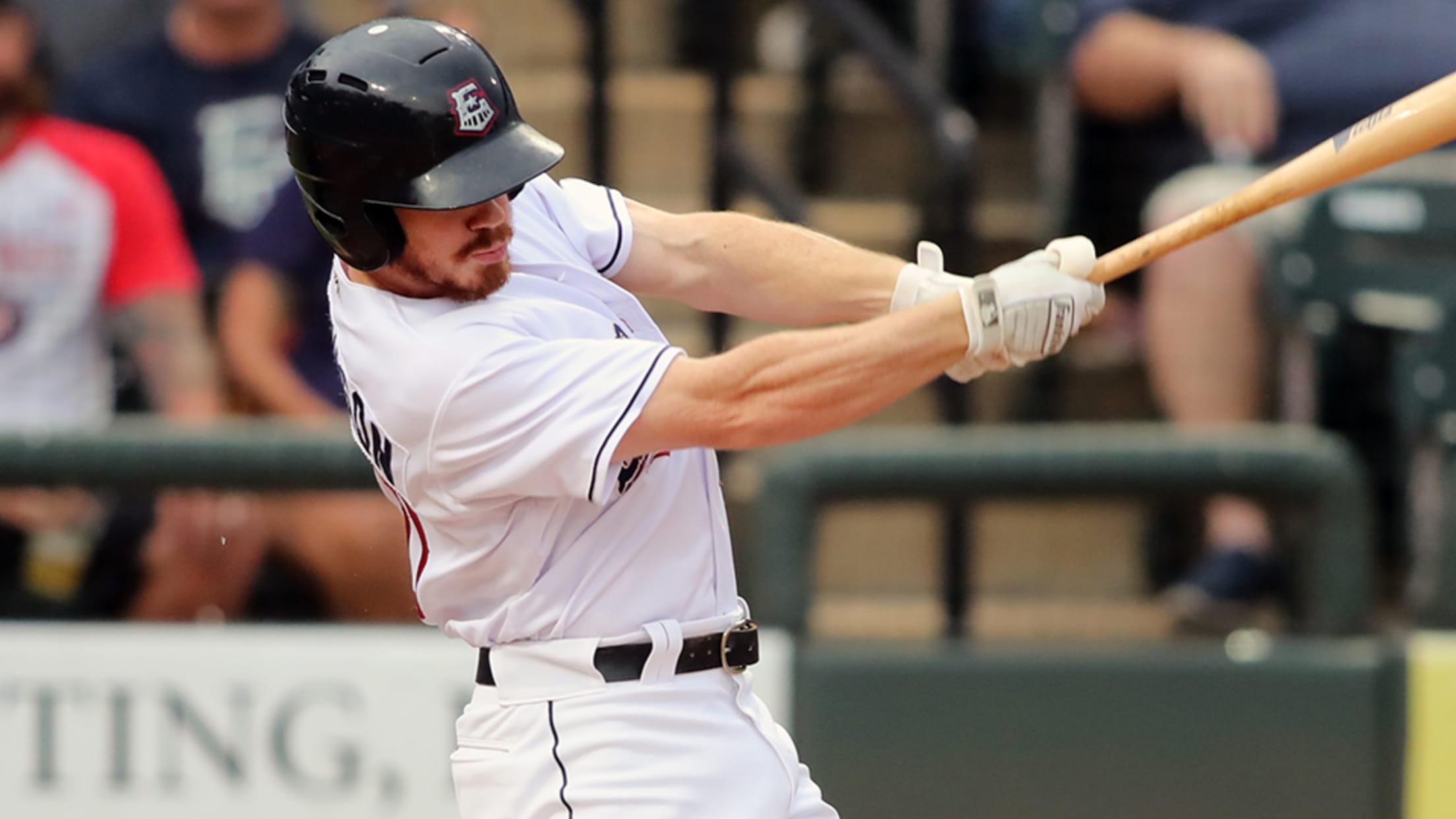 Drew Ferguson is 11-for-19 (.579) with 11 runs scored and six RBIs during a four-game hitting streak. (Jim Redman/MiLB)
Drew Ferguson made all kinds of history on Saturday night.The Astros outfielder capped a 6-for-6 night with a towering solo homer, becoming the second player in team history to collect six hits in a game as Triple-A Round Rock steamrolled Salt Lake, 19-5, at Smith's Ballpark. He doubled twice, fell
Drew Ferguson made all kinds of history on Saturday night.
The Astros outfielder capped a 6-for-6 night with a towering solo homer, becoming the second player in team history to collect six hits in a game as Triple-A Round Rock steamrolled Salt Lake, 19-5, at Smith's Ballpark. He doubled twice, fell a triple shy of the cycle, drove in four runs and scored four times.
"It's not too often that you even get six at-bats," Ferguson said. "To be able to get six hits like that is definitely pretty special. I think it's worth pointing out you have to be really fortunate to get six hits in a game. Even if you hit the ball hard six times, there's a great chance the stars aren't going to align for you like that."
Two nights after totaling 24 hits in a 26-11 rout of the Bees, the Express teed off against rehabbing Angels right-hander Matt Harvey, who was tagged for eight runs and eight hits in 2 2/3 innings.
Batting fifth, Ferguson was the first to record a hit off Harvey, tagging the 2013 National League All-Star for a one-out double to left field in the second inning. He reached Harvey again in the third, lacing a single to center that scored Astros No. 2 prospectKyle Tucker to open a 5-0 lead.
Harvey departed shortly after, but the hits kept coming for Ferguson and his teammates. In the fourth, the 26-year-old ripped a two-run ground-rule double off Jeremy Rhoades that extended the cushion to 10-1. He led off the fifth by ripping a single to center off Sam Freeman, then opened the seventh with a base hit off Taylor Cole, although he was thrown out trying to stretch it into a double.
Gameday box score
Unfazed, Ferguson saved his loudest hit for last. Facing catcher Mario Sanjur, the second position player employed by Salt Lake on the night, he crushed the second pitch to left-center field for a towering solo blast, his seventh of the year. He admittedly didn't shy away from the opportunity against Sanjur, who was making his second career appearance on the mound.
"Honestly, off a position player, I pretty much just try to make it into a home run derby," Ferguson said with a laugh. "It'd be kind of foolish to not try and take advantage of someone who doesn't have a lot of experience on the mound."
The solo shot completed his first six-hit game and Round Rock's first since Omar Quintanilla went 6-for-6 against Albuquerque on July 4, 2011. It also marked the first six-hit game ever recorded against Salt Lake.
Saturday marked the fourth game in a row that the Express have scored at least 10 runs. They pounded Las Vegas, 11-5, on Wednesday and 26-11 the following night before beating the Bees, 10-0, on Friday. The damage Saturday came without the help of Minor League home run leader and No. 23 overall prospectYordan Alvarez, who was called up to the Astros to make his Major League debut.
"There's no doubt we have a really good team," Ferguson said. "You can see that now in Houston, you see guys that started with our team contributing right now at the Major League level. I think that speaks to the depth of this organization. We still have a lot of really good players here."
Nick Tanielu came within a homer of the cycle for Round Rock, going 5-for-6. The third baseman scored three times and drove in three runs, giving him 12 RBIs in his last four games. Tucker slugged two doubles as part of a three-hit game and plated two runs. In June, MLB.com's No. 12 overall prospect has tallied 12 hits, including four homers, and 11 RBIs.
AJ Reed also homered and chipped in three hits. Express starter Cy Sneed improved to 4-6 after allowing four runs on five hits and four walks with six strikeouts over 5 2/3 innings.
Brennon Lund went yard, doubled and drove in three runs for Salt Lake, which got a solo homer from Justin Bour.
Katie Woo is a contributor to MiLB.com. Follow her on Twitter <a href="twitter.com/katiejwoo>@katiejwoo.