Dulin's 2 home runs complete DH sweep
First baseman mashes pair of home run, giving him 3 on the day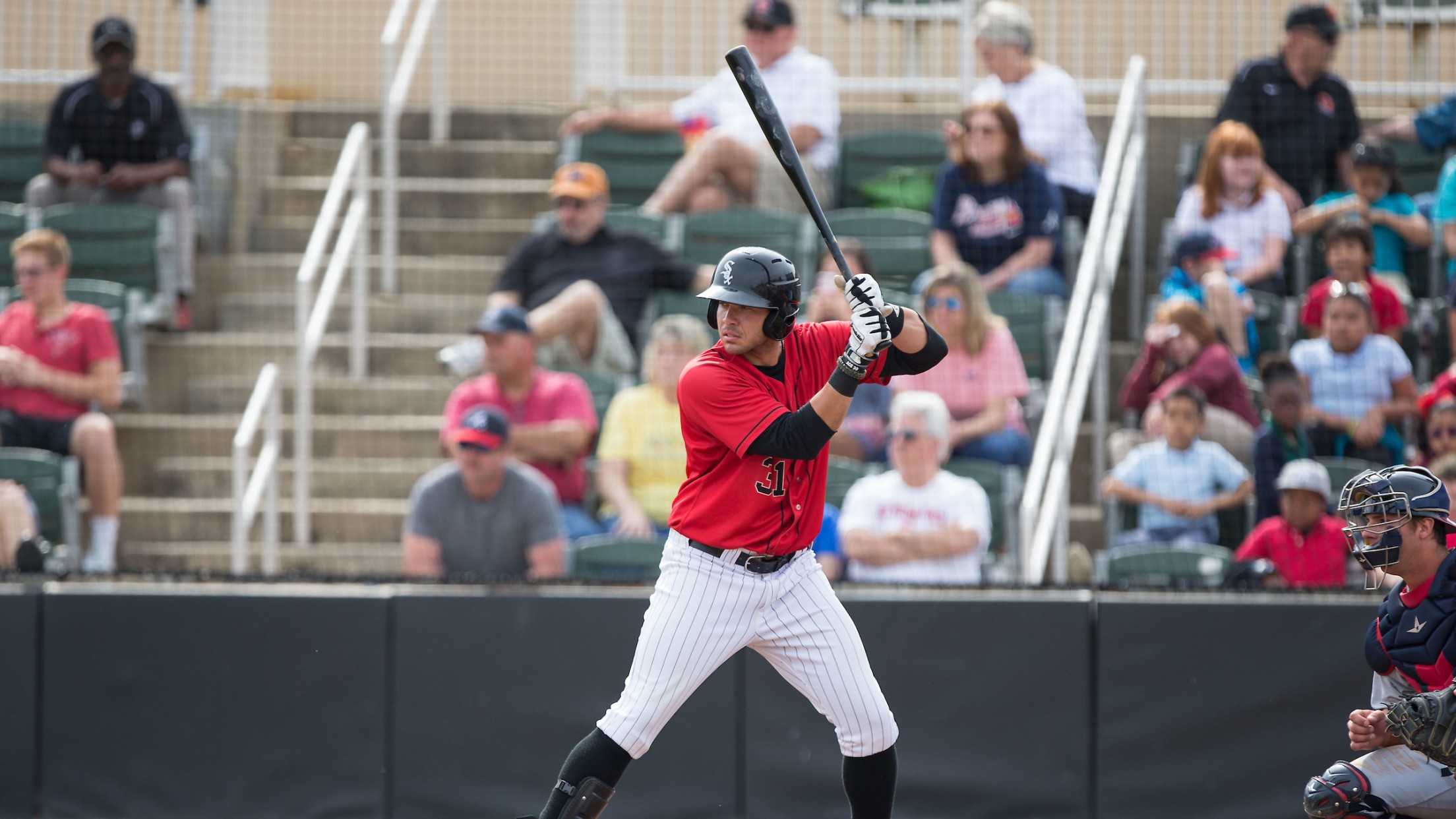 KANNAPOLIS, N.C. (June 14, 2017) - Brandon Dulin launched two home runs in his first two at-bats, and the Intimidators cruised to a 10-1 win over the first place Hagerstown Suns in the second game of Wednesday's doubleheader at Intimidators Stadium supported by Carolinas HealthCare System. Kannapolis (35-28) moved into
KANNAPOLIS, N.C. (June 14, 2017) - Brandon Dulin launched two home runs in his first two at-bats, and the Intimidators cruised to a 10-1 win over the first place Hagerstown Suns in the second game of Wednesday's doubleheader at Intimidators Stadium supported by Carolinas HealthCare System. Kannapolis (35-28) moved into second place in the Northern Division, 1.0 game back of Hagerstown with a chance to overtake the division lead if the Intimidators sweep a doubleheader against the Suns on Thursday.
HEAR THE HIGHLIGHTS: Brandon Dulin's first home run
Dulin, who homered in the Intimidators' 4-1 win in Game 1 of the twin bill, finished the game 2-for-3 with three RBI and two runs scored while recording the second multi-home run game of his career. He now has 10 home runs on the season, which ranks Top 10 in the South Atlantic League.
Kelvis Valerio (1-0) tossed 5.0 scoreless innings to earn the win, limiting the Suns to two hits while striking out three. Kyle Kubat allowed a run in the sixth, and Lane Hobbs struck out all three batters he faced to close the game with a clean seventh inning.
In the first inning, Micker Adolfo drove in Joel Booker with his team-leading 18th double, and Dulin followed with a 2-run blast for a 3-0 lead. Kannapolis made it 6-0 with three more in the second inning, highlighted by a Mitch Roman 2-run double. Dulin led off the third with his second home run of the game and third of the day for a 7-0 lead.
The Intimidators stretched the lead to 9-0 before the Suns got on the board in the seventh. Adolfo crossed the plate three times in the game while going 1-for-3. Roman finished 2-for-4 with two RBI and a run scored.
The teams wrap up this series with another doubleheader on Thursday with Game 1 starting at 4:30 p.m. and Game 2 starting no earlier than 7:00 p.m. on a Thirsty Thursday. Kannapolis is set to send RHP Yosmer Solorzano (RHP 1-5, 5.74 ERA) to the mound against Hagerstown's RHP James Bourque (1-3, 5.05 ERA) in the first game of the doubleheader. The home stand also features the second annual Disney Vacation Giveaway Night on Saturday, June 17, where one lucky fan will win a $2,500 vacation to the Magic Kingdom. Tickets are available by calling the F&M Bank Box Office at 704-932-3267 or by visiting IntimidatorsBaseball.com.