Dunn and Daytona dominate Jupiter, 9-2
Blake Dunn homers, reaches base four more times in Tortugas' triumph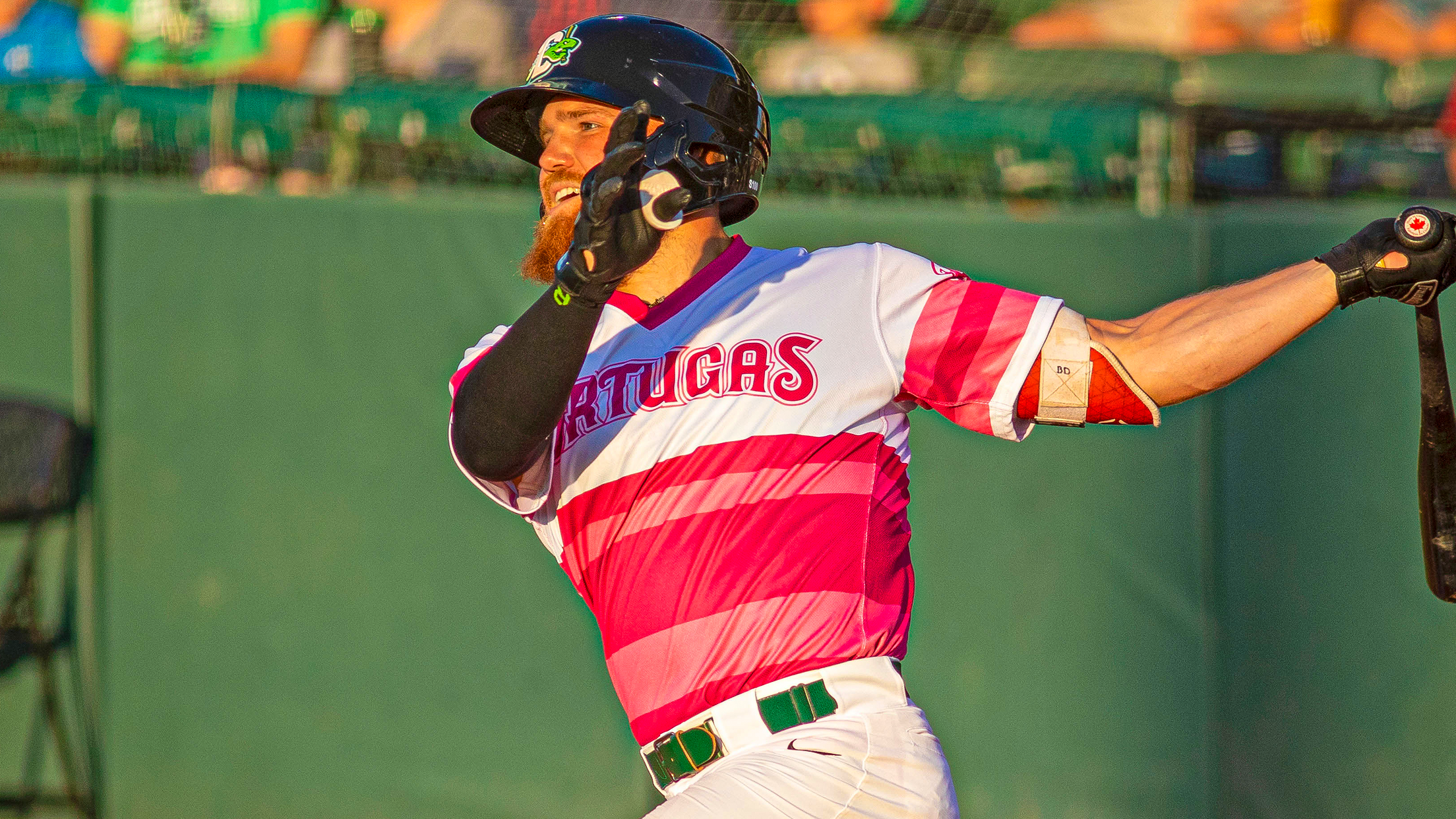 RF Blake Dunn extended his on-base streak to 10-straight plate appearances before it was snapped on Friday. The 23-year-old reached four times — adding a home run and two stolen bases — as the Daytona Tortugas dominated the Jupiter Hammerheads, 9-2, at Roger Dean Chevrolet Stadium. (Aldrin Capulong)
JUPITER, Fla. — RF Blake Dunn reached base in 10-straight plate appearances from Thursday night into Friday, adding a solo home run and a pair of stolen bases. Daytona utilized the offense of the 23-year-old and his teammates, as the Tortugas tamed the Jupiter Hammerheads, 9-2, on Friday night at
JUPITER, Fla. — RF Blake Dunn reached base in 10-straight plate appearances from Thursday night into Friday, adding a solo home run and a pair of stolen bases. Daytona utilized the offense of the 23-year-old and his teammates, as the Tortugas tamed the Jupiter Hammerheads, 9-2, on Friday night at Roger Dean Chevrolet Stadium.
Dunn (2-3, 3 R, HR, RBI, BB) — who reached base in all six of his plate appearances the night prior — wasted no time in extending his streak in the first inning. On the third pitch he saw, the Saugatuck, Mich. native powered a high fastball over the left-field fence for a solo home run. Dunn's third home run with the Tortugas (18-33, 47-69) jolted them to a 1-0 lead.
Daytona buoyed that lead until the bottom of the third. DH Javier Sanoja (2-4, R, 3B, SO) ignited a rally for Jupiter (23-29, 57-59) by slicing a triple into the right-center field gap to lead off the inning. Following a walk to 1B Torin Montgomery (0-2, BB), CF Angeudis Santos (0-2, BB) hit a ground ball to second. Daytona was able to turn two, but Sanoja crossed to tie the game at one.
It did not remain even for long. Jupiter's RHP Marcus Johnson (4.0 IP, 2 H, 2 R, 2 ER, 2 BB, 8 SO) retired eight straight batters after yielding the first-inning blast to Dunn but yielded a five-pitch walk to the outfielder beginning the fourth. Following an errant pickoff throw on an attempted steal that enabled the Western Michigan alum to advance from first to third, another wild toss gave Daytona the lead.
With one out and C Logan Tanner (1-2, R, RBI, 2 BB) at the plate, an offering was spiked in the dirt and kicked to the right of the catcher. While Dunn did not break initially, the backstop's flip to the pitcher covering home sailed over the latter's head. Dunn then bolted for the dish and scored without a play, giving the Tortugas a 2-1 advantage.
An inning later, Daytona erupted for their second six-run frame in as many days. 2B Johnny Ascanio (1-5, SO) reached with an infield single to start the fifth, but was quickly erased on a fielder's choice grounder. Alas, consecutive singles by CF Héctor Rodríguez (1-5, R, 2 SO) and Dunn filled the bases. SS Trey Faltine (0-2, RBI, 2 BB) tallied a sacrifice fly to center to grant the Tortugas a two-run edge, 3-1.
After a walk to Tanner reloaded the bases, DH Edwin Arroyo (1-5, R, 2 RBI, 4 SO) scalded a line drive past the diving glove of the shortstop. Two runs scored on the 19-year-old's one-base hit, ballooning the visitors' lead to 5-1.
Another free pass to LF Justin Boyd (1-3, R, 2B, 2 BB, 2 SO) not only re-saturated the pillows but brought upon a pitching change. 1B Wendell Marrero (1-5, 2B, 3 RBI, 3 SO) slapped the third pitch tossed by the new arm into shallow left field. The outfielder attempted to make a miraculous sliding catch, but the leather glanced off his mitt. Thanks to great hustle, all three baserunners chugged in to score, while the Dorado, P.R. native motored to second with a double, capping the six-run explosion with an 8-1 cushion.
Daytona finagled one last run of insurance in the sixth. Once more, the Tortugas managed to fill the bases courtesy of a 3B Braylin Minier (1-4, 2 R, 2B, SO) ground-rule double, a hit-by-pitch of Dunn, and a walk to Faltine. Tanner increased Daytona's separation to eight, 9-1, collecting his first career run batted in with a sacrifice fly to left.
Jupiter rallied in the bottom of the ninth inning, picking up a run on a SS Kahlil Watson (1-4, R, 3B, 2 SO) triple and a 3B Jacob Berry (2-4, RBI, 2 SO). However, LHP Joseph Menefee (1.0 IP, 4 H, R, ER, 2 SO) stranded the bases loaded in his team debut with a pair of strikeouts and a foul pop fly to first, securing the Tortugas' 9-2 win.
RHP Kevin Abel (4.0 IP, 3 H, R, ER, BB, 3 SO) collected his best start since being reinstated from the injured list on August 9, posting four innings of one-run ball. RHP Carson Rudd (4.0 IP, 1 H, 2 BB, 5 SO) tied a season-best with five punchouts over four frames, earning his second win since rejoining Daytona in July.
Johnson (4.0 IP, 2 H, 2 R, 2 ER, 2 BB, 8 SO) — the Marlins' fourth-round selection last month out of Duke University — performed admirably in his Florida State League debut, striking out eight. Despite the effort, the 21-year-old was saddled with his first loss.
Daytona will look to capture their first road series victory of the season in game six of the set on Saturday. RHP Julian Aguiar (7-7, 3.24) is scheduled to take the hill for the Tortugas. RHP Natanael Polanco (0-0, 0.00) is expected to make his second appearance and first start for the Hammerheads. Coverage on the Tortugas Radio Network will begin on the MiLB First Pitch app and www.daytonatortugas.com at 5:45 p.m. leading up to the 6 p.m. first pitch from Roger Dean Chevrolet Stadium.
The Tortugas will return to Jackie Robinson Ballpark on Tuesday, September 6, to open up their final homestand of the 2022 regular season against the Tampa Tarpons, the Florida State League affiliate of the New York Yankees. The series opens with another Shell Yeah Cookout. The $15 add-on includes the full "Bases Loaded" menu during a 90-minute buffet with hot dogs, hamburgers, pulled pork, baked beans, cookies, Pepsi products, and more. It is also a Breast Cancer Awareness Night presented by Radiology Associates Imaging. The Tortugas will don unique pink-clad uniforms that will be auctioned off at the end of the season with all proceeds to raise money and awareness in the fight against breast cancer. Silver Sluggers Night presented by Conviva is a part of the festivities. The exclusive 60-and-older club features deals at the team store, concession stands for members, and more. The series opener also marks a Taco Tuesday with options at the concession stands starting at just $3.
Multi-game plans, group packages, and single-game tickets are currently available and can be purchased online at www.daytonatortugas.com or by calling the Tortugas' Ticket Office at (386) 257-3172.
ABOUT THE DAYTONA TORTUGAS
The Daytona Tortugas are the Single-A Affiliate of the Cincinnati Reds and a member of Minor League Baseball's Florida State League. The Tortugas play at Jackie Robinson Ballpark in downtown Daytona Beach, Fla. Jackie Robinson Ballpark also plays host to Bethune-Cookman University, the Jackie Robinson Ballpark Museum, and many community events and initiatives of all sizes throughout the year.