Bulls go all in on 'Stranger Things' Night
Durham among Minors teams to get spooky on Friday the 13th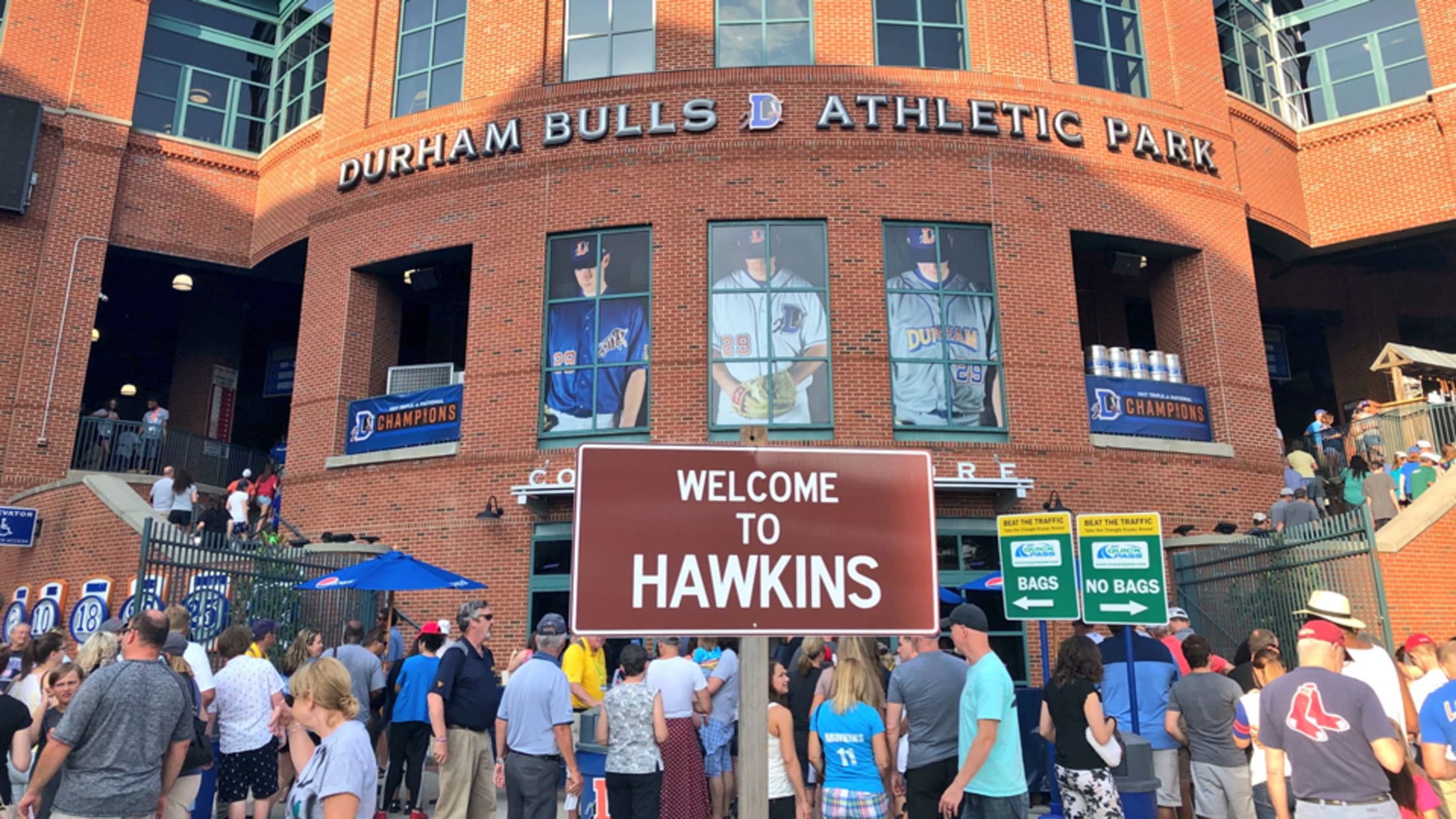 For one night, Durham Bulls Athletic Park took on the look and feel of fictional Hawkins, Indiana. (Durham Bulls)
When somebody suggested to Bulls promotions director Faith Inman that the team build a theme night devoted to the hit Netflix show "Stranger Things," Inman was not immediately sold, although the show's creators -- twin brothers Matt and Ross Duffer -- are from Durham."I said, 'I haven't seen the show.
When somebody suggested to Bulls promotions director Faith Inman that the team build a theme night devoted to the hit Netflix show "Stranger Things," Inman was not immediately sold, although the show's creators -- twin brothers Matt and Ross Duffer -- are from Durham.
"I said, 'I haven't seen the show. I'll need watch the show first,'" Inman recalled. "I made a point of watching it when I finally got some free time, and, of course, I binge-watched it and I loved it. When I got back to the office, I said, 'We have to do a Stranger Things Night!'"
Over the next several months, she worked with the passion of a convert to put together the promo -- one of several Stranger Things Nights around the Minors this season as well as one of many Minor League sci-fi/horror-themed promotions held on Friday the 13th. For the Triple-A affiliate of the Tampa Bay Rays, it was among their most detailed and successful theme nights ever.
"We put our heart and soul into this, the entire marketing team. We were so excited about it. ... This, Bull Durham Night and Star Wars Night are easily our top three [promos] of the season," Inman said. "This for sure, though.
"We were nervous, because we didn't know how well people were going to receive it. We knew the Duffer brothers [being from] Durham was going to have some pull, but we didn't know how much pull."
It's still hard to say how much hometown pride had to do with the night's success, but it's crystal clear that the staff's work was appreciated. A near-capacity crowd of 11,073 came out for Stranger Things Night at Durham Bulls Athletic Park and was immediately immersed in references to the show, walking by "Welcome to Hawkins" signs and "missing" posters featuring character Barbara Holland (Shannon Purser) before passing a "Now entering the Upside Down" sign and moving through a concourse spookified by a fog machine. Bulls players wore jerseys designed to match an outfit worn by Dustin Henderson (Gaten Matarazzo), complete with backpack, which were auctioned off to raise money for the UNC Children's Hospital.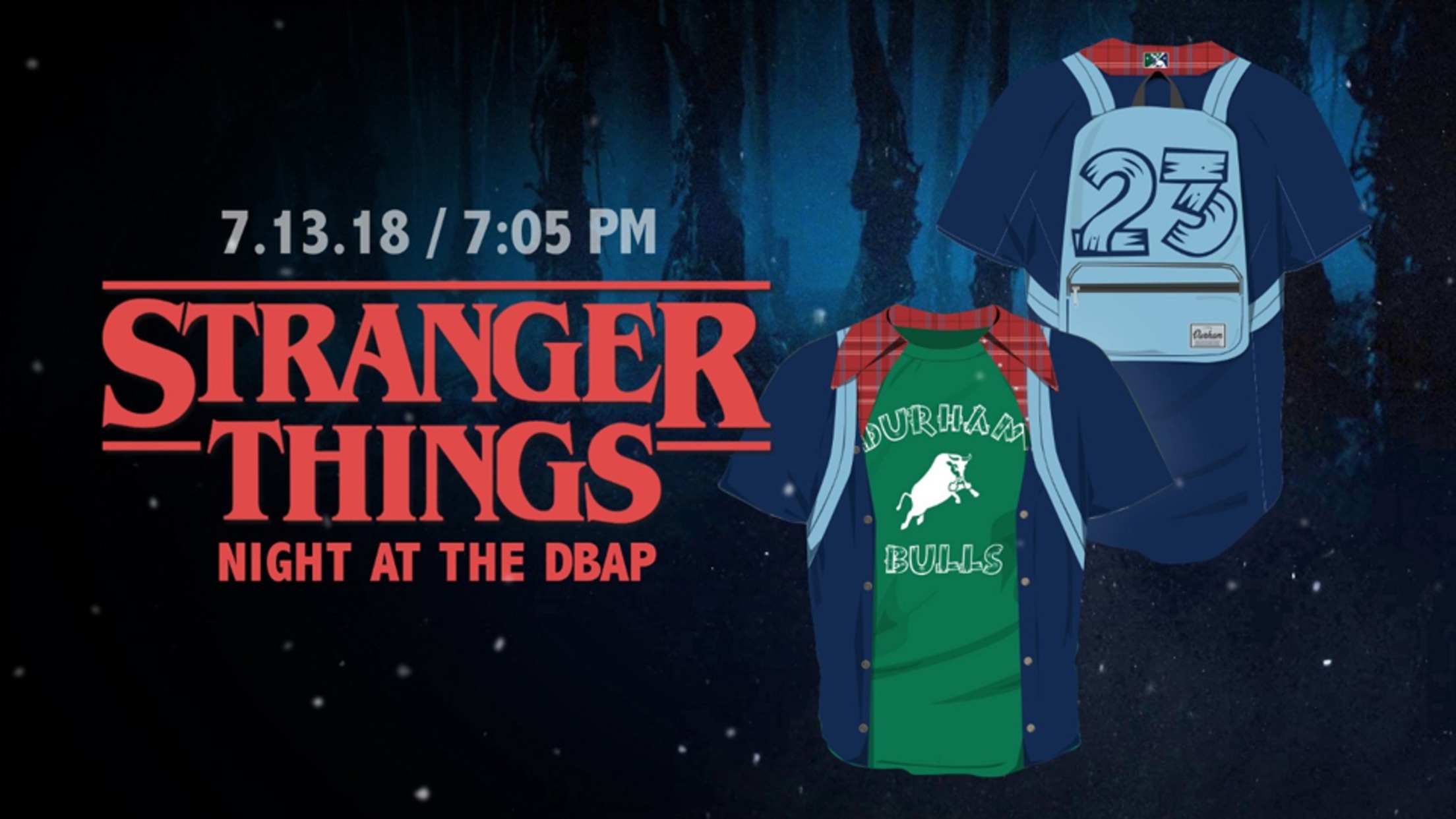 Before the game, the videoboard displayed trivia related to the show, and mascot Wool E. Bull made a grand entrance dressed as character Jim Hopper (David Harbour). During the game, Durham players' photos on the videoboard featured an Upside Down-ish filter. Visiting Charlotte Knights players were made up as demogorgons -- the show's signature monster. In a piece of animation, player names were spelled out via letters in an array of Christmas lights -- a reference to how Will Byers (Noah Schnapp) communicates across dimensions with his mother Joyce (Winona Ryder) in the first season.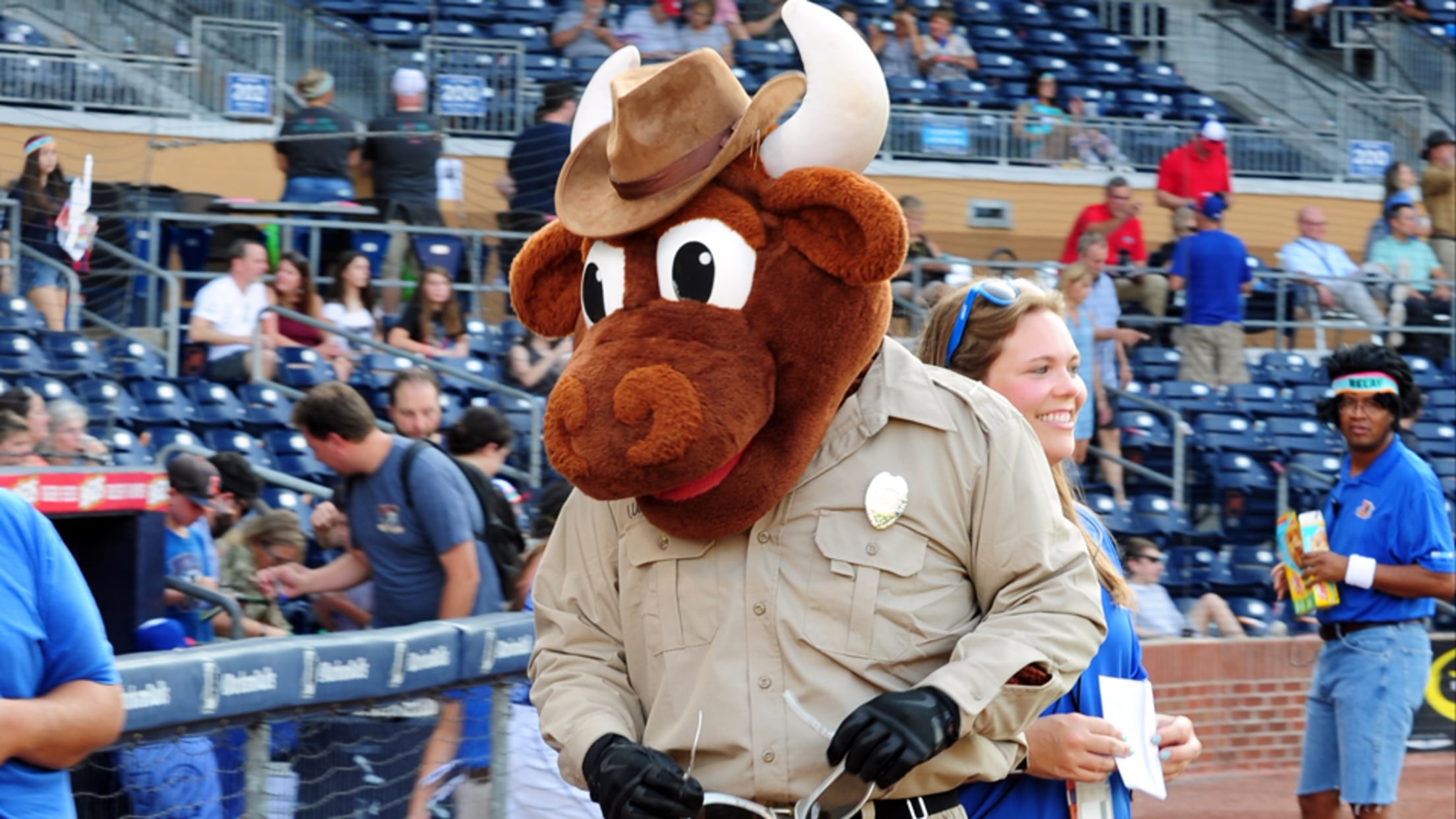 Wool E. Bull dressed up as character Jim Hopper for Stranger Things Night. (Durham Bulls)
The assembled crowd also broke a Guinness World Record for the largest gathering of people wearing sweatbands, an idea that came from game sponsor Relay by Republic Wireless and was executed in conjunction with Guinness.
The Bulls got a special video from the Duffer brothers, whose father, Allen, was in attendance with other family members to celebrate his birthday. Sadie Sink, who played Max in season two, is a relative of the Durham pitch-clock coordinator, and she sent in a video for fans, too.
The Duffer Brothers, creators of @Stranger_Things and proud Durhamites, had a special message for everyone at the @DurhamBulls' #StrangerThingsNight 🙃 pic.twitter.com/SQyJq2Bci6

— Durham, NC (@DurhamNC) July 14, 2018
"We tried to make it a point to have every half inning tie into the show and related to the show, whether with a graphic or a sound bite, or a popular song from the show … any little thing that we could theme out to add a sci-fi spooky factor to it," said Inman, whose personal favorite moment might have been the mascot's entrance.
"I think with Wool E., our mascot coordinator [Nicholas Tennant] hit it out of the park. He came out of a cop car instead of the usual go-kart run for his entrance. He had the lights going and everything, with the [Jim Croce] song from the show, 'You Don't Mess Around with Jim' playing. He had on a small, tan cowboy hat, sunglasses and a cop suit. And, of course, he was giving out autographs all during the entrance. That was pretty good."
The team had its infield-dragging dance team, the Diamond Cutters, don costumes from "Ghostbusters" (which some "Stranger Things" characters wear on Halloween in season two) and dance to the theme song from that film.
The Clash song "Should I Stay or Should I Go," which features prominently in the first season of "Stranger Things," played during visiting team mound visits and pitching changes. A "meatlaffle sandwich" -- that is, meatloaf between two Eggo waffles (which are one character's primary source of nutrition) -- was available throughout the homestand.
On Friday we're celebrating #StrangerThingsNight at the DBAP. Our front office is pumped, but that's not necessarily a good thing... pic.twitter.com/CDurJnCMfF

— Durham Bulls (@DurhamBulls) July 11, 2018
The night also featured a moment of silence for Bob Newby (Sean Astin) and Barb.
"Our PA announcer [Tony Riggsbee] came up to me and said, 'Who is Bob and Barb?' I said, 'Tony, they're characters from the show.' He [asked], 'So, we're doing a moment of silence for fictional characters?'" Inman said. "I have a huge amount of respect for him, so I got a little bit nervous [that he didn't seem to love the idea]. We were afraid we'd get some pushback, but fans really cracked up and seemed to get into that."
Putting together such an elaborate and thoroughly detailed theme night took not only a lot of work, but also a lot of time. Inman began trying to get in touch with Netflix back in November, and getting final approval took until March.
"We knew about how most teams partner with Lucasfilm to do a Star Wars Night, so I thought we could work out a partnership with Netflix," she said. "The last thing we wanted to do was a Stranger Things Night the wrong way."
Front office members discussed including a fan costume contest, but they weren't sure they'd get enough enthusiastic participants to make it worthwhile. As it happened, costumed fans turned out in droves.
"Other than the initial announcement and a bullet point on our website, we really didn't push [the costume element]," Inman said, "but people really went with it. Everyone was so excited about it."
"[One staff member] came up to me and said, 'There's a girl out there who looks like Eleven [Millie Bobby Brown] and she wanted to know how we got this idea -- I told her you made it happen,'" Inman said. "He brought her into the room and she just stared at me like Eleven. She looked just like Eleven and she was fully in character. She did not say a word. She totally spooked me out. There was a line of people waiting to get photos with her."
The @DurhamBulls knocked it out of the park for #StrangerThingsNight !!! Thanks for all the Upside Down fun! pic.twitter.com/pIemJrQpPa

— Andrea Osborne (@andreahosborne) July 14, 2018
The night concluded with a 5-2 win for the Bulls, and an all-red fireworks show set to the "Stranger Things" theme song.
"I would definitely say [it was one of our best promos ever], especially for the staff members who watch the show," Inman said. "When we announced the jerseys, we sold a good amount of tickets within hours. We'd sold 7,500 presale tickets a month ago. We rarely have presale numbers like that, that far in advance. I looked in the day on Friday, and we'd sold 9,800. The total number was 11,073. Counting standing room, [the venue can hold] between 11,000 and 12,000.
"It was huge. I had friends who were calling me last week: 'Faith, is it too late to get tickets?' 'Well, you're going to have to sit on the lawn or use standing room.'"

Equally strange things
Other teams to host a Stranger Things Night this season include the
Lansing Lugnuts
(July 21), the
Inland Empire 66ers
(July 6), the
Round Rock Express
(June 25) the
Potomac Nationals
(June 22) and the
Lakewood BlueClaws
(April 27).
We have a lot of fun plans for #StrangerThings Night! Our Eggo Waffle Eating Contest winner will take home this prize pack! @MiLBPromos pic.twitter.com/bJM4HEu3bw

— Inland Empire 66ers (@66ersBaseball) July 6, 2018
But even without a "Stranger Things" Night, still more teams marked the occasion of Friday the 13th. The Trenton Thunder held Halloween Celebration Night, adopting the Twitter avatar and name of "Spooky Pork Roll," and the Everett AquaSox also had Halloween Night. The Portland Sea Dogs' Hadlock Field became the Field of Screams, and the club hosted entertainment act the Maine Ghostbusters.
Josh Jackson is a contributor to MiLB.com. Follow and interact with him on Twitter, @JoshJacksonMiLB.