Duty, Honor, Baseball
New Hampshire's Chris Rowley goes from First Lieutenant to Fisher Cat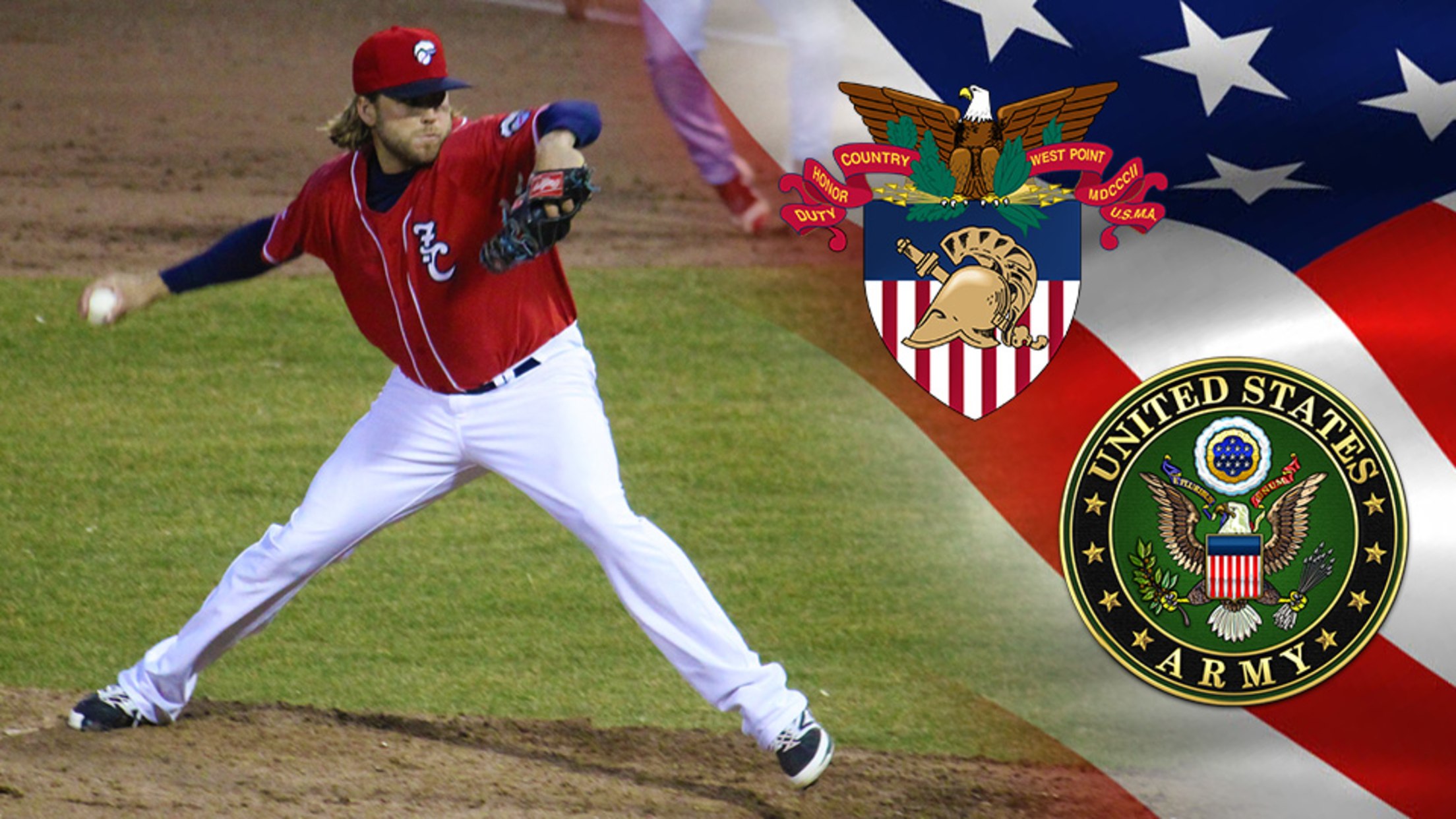 In an undisclosed location on a United States Army base somewhere in Bulgaria, a First Lieutenant is working closely with his company's Senior Medic. The circumstances that brought them together are dire: NATO countries had mobilized forces after Russia's aggression towards Ukraine, and these two men were stationed thousands of
In an undisclosed location on a United States Army base somewhere in Bulgaria, a First Lieutenant is working closely with his company's Senior Medic. The circumstances that brought them together are dire: NATO countries had mobilized forces after Russia's aggression towards Ukraine, and these two men were stationed thousands of miles from home as a part of America's ongoing effort to protect her allies. But the job they were working on together had nothing to do with Operation Atlantic Resolve; in fact, it wasn't an order handed down from any superior and the "work" was being done on their off time. That First Lieutenant was current Fisher Cats pitcher Chris Rowley, who was in the midst of his active duty service obligation after graduating from West Point, the prestigious military academy that has produced two U.S. Presidents, numerous famous generals and 76 Medal of Honor recipients, along with tens of thousands of young men and women who have gone on to serve their nation both on and off the battlefield.
Rowley wasn't simply playing catch; he was determined to keep his arm in shape while overseas so that when he returned stateside, he could set out on his second career after life in the military: that of a professional athlete. With a wealth of real-world experience and two years of military service under his belt, the 26-year old is far from being a "typical" minor leaguer. But here he is, two years removed from an overseas deployment as part of the world's largest fighting force and now just two steps away from a rank not even General Douglas MacArthur achieved: that of a big league baseball player.
As a kid growing up in Forsyth County, Georgia, Chris Rowley had no intention of joining the Army or even going pro in baseball. He just loved to play, no matter what the sport.
"I was a kid who was fortunate enough to have parents where I didn't have video games or TV," he said. "I'd get up and if it was the school year I'd go to school and if it was the summer my mom would kick me out of the house until the sun went down. I definitely appreciate that from my parents; I love to be outside doing things."
With dad Darryl and mom Dawn encouraging young Chris to stay active, he spent countless hours playing baseball, football and basketball. Baseball, however, held a special place in his heart, and it was his love of the game that fueled his desire to keep playing at the next level, whatever that level may be.
"I never really got ahead of myself in terms of wanting to play pro ball," Rowley continued. "I just wanted to play. I played in high school and thought 'Hey, maybe I'm good enough to play in college.' I played in college and thought 'I could potentially play pro ball.' Now I'm playing as a pro and perhaps I'm good enough to make it to the big leagues. I've always been grounded that way; I didn't come out of the womb wanting to be a professional baseball player. I've always loved the game and love being here, but I wasn't thinking about it too early."
Rowley's journey as a pitcher didn't begin in earnest until after his sophomore year at South Forsyth High School, when he began pitching consistently and with increasing success. By the time he was a senior, plenty of top colleges - including the University of Georgia, Georgia Tech, Clemson, South Carolina and others - were showing interest, but none of them made any sort of formal offer to the young hurler. With his prep career coming to a close, Rowley was presented with two options to play at the next level: accept a 50 percent scholarship to Mercer University and pitch in relief during the week, or go to West Point and start weekend games for Army. While the choice he made was life-changing, he didn't truly realize the scope of his decision until arriving on the shores of the Hudson River to begin his tenure as a cadet.
"The coaches at Army saw something in me and said they projected me to be a front of the rotation weekend starter," Rowley reminisced. "I knew I was going to go there while I was still on my official visit. I remember telling my mom in the Visitor's Center, 'I'm gonna go here.' As a 17-year old kid, I had no idea the significance of what I was doing."
Chris knew he was in for an experience of a lifetime from the first day on campus, officially known as Reception Day (R-Day).
"I remember the first day of basic training," he added. "When I say I remember it, I remember that it happened. I blacked it out. To this day - I'm 26 and was 18 back then - I do not remember a single detail of it. I remember hugging my father, and I don't remember anything else."
Looking back on his non-traditional college experience, Rowley can see how everything he took in at West Point has affected his post-military life.
"I just think it made me grow up," he said when asked about how his time as a cadet changed him. "I like to have fun as much as anybody, but when it's time to work it's time to work. There are certain ways you have to go about your business. Being in school at West Point and being in the Army taught me how to be a professional. At 18, most guys have all of college to find themselves and figure it out. I had to do that in 90 seconds on day one. It definitely forced me to grow up VERY quickly."
And grow up he did. After a slow start to his collegiate career, he took off in his junior and senior seasons. His athletic accolades included a spot on the Louisville Slugger All-America second team, a second-team All-American selection by the National Collegiate Baseball Writers Association, the Patriot League Pitcher of the Year award after his junior season and much more. But despite that success, Rowley was passed over in the 2013 draft and thought he was going to go unsigned… until the Blue Jays called his college coach and offered Rowley a spot on their Gulf Coast League roster before his mandatory deployment.
With only one team of the thirty big league clubs interested in his talents, Chris took the opportunity and ran with it. He went 4-0 in nine games (five starts) with a 1.10 ERA for the GCL Blue Jays then shipped out to Eastern Europe for two years before returning stateside in time for Spring Training 2016. After a banner year with Advanced-A Dunedin - which included a 10-3 record to go with a 3.49 ERA in 31 games (14 starts) - Rowley began 2017 with the Fisher Cats, where he's been a steady presence out of the 'pen and a spot starter when needed. For Chris, it all comes down to keeping himself in the moment, pitch by pitch.
"A turning point for me was a conversation with [two-time Cy Young Award winner] Roy Halladay," Rowley concluded. "I told him of my struggles of carrying a bad pitch or a bad outing into the next one and how I care about this game so much and want to be successful so badly. He told me his philosophy on pitching: to prepare as hard as you can prepare, compete as hard as you can compete and care like a Little Leaguer. I thought that was incredible advice from him. I took that and began to focus on caring less - forcing myself to care less - but competing three to five seconds at a time. That's all that matters, those three to five seconds during each pitch. I take out the surrounding noise - ERA, WHIP, other stats - and focus on executing my pitch in the moment. So far this year, that's been the biggest difference for me: competing in the moment and not worrying about the noise."
Rowley's path to New Hampshire is far from typical. It's a journey that began on the playing fields of Forsyth County, continued on the hallowed grounds of West Point and overseas in Eastern Europe, and now has him just two steps away from a different kind of deployment. When his call comes, Chris Rowley will be ready.