Eastern League playoff preview
Trenton opens against red-hot Binghamton; Altoona faces Bowie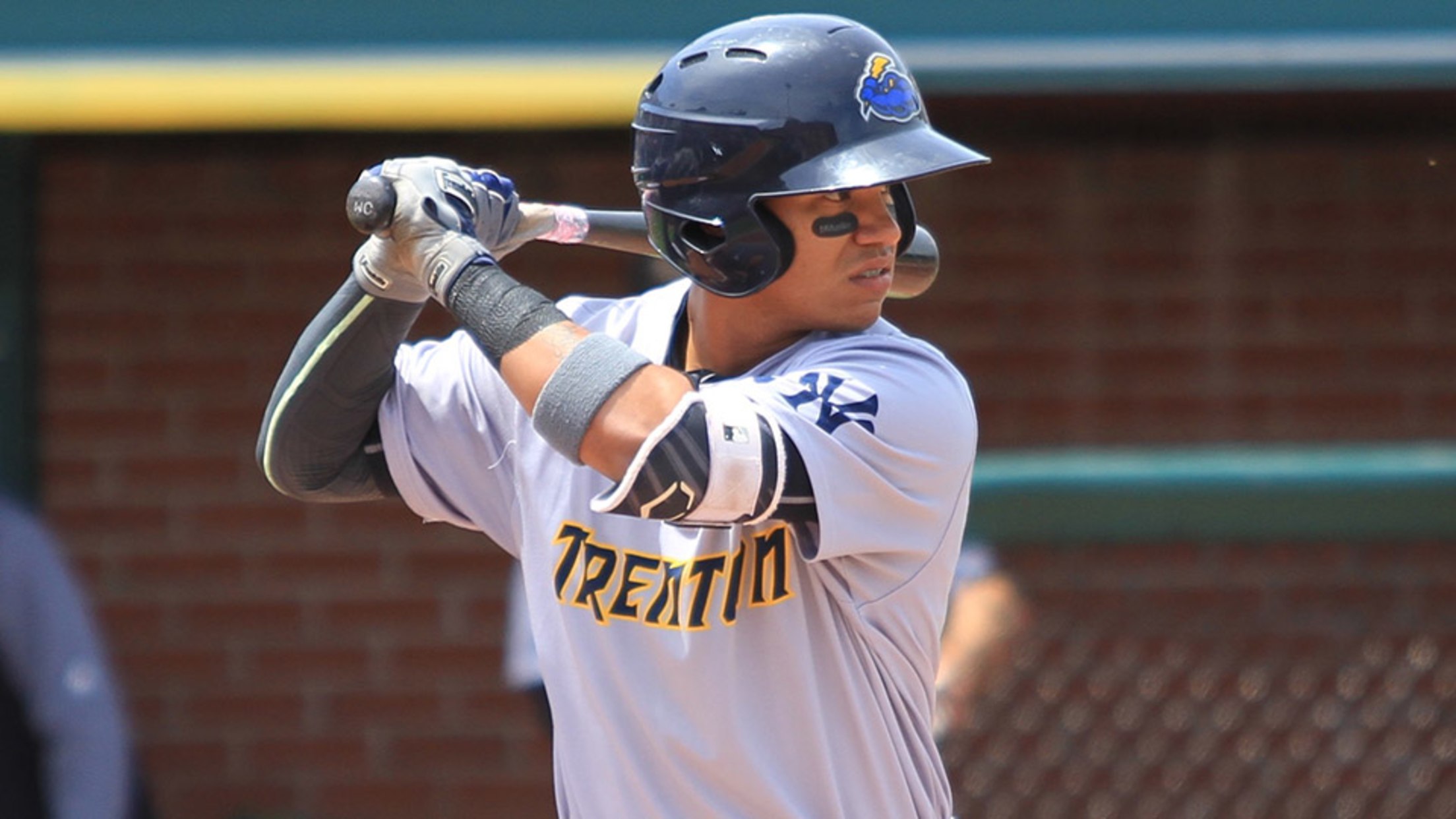 Versatile infielder Thairo Estrada has played 122 games for the Thunder in 2017, leading the team in hits and runs scored. (Lynn Chadwick/MiLB.com)
This year's Eastern League playoffs features a four-pack of teams that have all captured one title each over the last seven seasons.Out of the Eastern Division come the two teams with the best records in the entire league in Trenton and Binghamton.
This year's Eastern League playoffs features a four-pack of teams that have all captured one title each over the last seven seasons.
Out of the Eastern Division come the two teams with the best records in the entire league in Trenton and Binghamton.
The Thunder (2013 champions) ran away from the pack with a 92-48 record that allowed them to begin postseason ticket sales in July.
In its first season under the Rumble Ponies banner, Binghamton (2014 champions) enters the fray as the hottest team down the stretch, having won nine of its last 10 games and finishing with the best road record (43-30) in the league.
The Western Division saw Altoona (2010 champs) and Bowie (2015) going toe-to-toe for home-field advantage until the final day of the season, as the Curve held off the Baysox by two games.
Trenton Thunder (92-48, Eastern Division champion) vs.
Binghamton Rumble Ponies (85-54, Eastern Division runner-up)
Season series tied, 3-3
Game 1 at Binghamton, Sept. 6 at 6:35 p.m. ET

Game 2 at Binghamton, Sept. 7 at 6:35 p.m. ET

Game 3 at Trenton, Sept. 8 at 7:00 p.m. ET

Game 4 at Trenton, Sept. 9 at 7:00 p.m. ET (if necessary)

Game 5 at Trenton, Sept. 10 at 7:00 p.m. ET (if necessary)

On April 3, Thairo Estrada was assigned to Trenton to open the season.
After a dizzying roster turnover -- some 207 transactions in all -- the 21-year-old infielder has remained the lone constant throughout a season in which the Thunder have dominated the competition.
Not once did the Yankees' No. 18 prospect move up, down or land on the DL. He has simply remained with Trenton for the entire season, and he's looking forward to seeing things through to the end.
"I've worked very, very hard all year," said the Venezuelan native with translation by coach Lino Diaz. "It's meant a lot to me to see all the players who have been here. But it's especially meant a lot to be with the team the whole year and now get the opportunity to go into the playoffs and play for something more. I'm very excited for that."
Having had the comfort of sticking in one place, Estrada has proved a consistent presence in EL Manager of the Year Bobby Mitchell's daily lineups, hitting .298 on the season while earning mid- and end-of-year All-Star nods.
He's also provided flexibility to the group -- he's capable of playing second and third on top of his 89 games at short this year.
"His work ethic is unbelievable," said Diaz. "He's a guy who comes ready to work every day. He has an open mind to everything. He not only listens, but it's got to make sense for him. He's done a tremendous job at that."
In his first season at Double-A, Estrada has found that success begins with preparation, including everything from studying both pitchers and hitters in an effort to be sharp both at the plate and in the field.
Being in Trenton the whole way has also provided opportunities for him to remain consistent with his day-to-day objectives and goals, something he credits to the routine set forth by the organization.
Now, after seeing a 90-plus win regular season to its finale, Estrada is primed to keep rolling, confident in the current state of the Thunder roster, which besides himself, is a bit different than what it was on April 3, though equally capable.
"We're just going to stay the same, continue to play hard and we've got to continue our preparation and routine," said Estrada, who finished second behind Francisco Mejía for league Rookie of the Year. "We know what they've got, we know they can play. We don't have any secrets to it. We're just going to prepare well and go out and have fun."
Altoona Curve (74-66, Western Division champion) vs.
Bowie Baysox (72-68, Western Division runner-up)
Bowie won the season series, 14-5
Game 1 Altoona at Bowie, Sept. 6 at 7:05 p.m. ET

Game 2 Altoona at Bowie, Sept. 7 at 7:05 p.m. ET

Game 3 Bowie at Altoona, Sept. 8 at 6 p.m. ET

Game 4 Bowie at Altoona, Sept. 9 at 6 p.m. ET (if necessary)

Game 5 Bowie at Altoona, Sept. 10 at 1 p.m. ET (if necessary)

Yefry Ramírez was enjoying a fine season with the Thunder before the Yankees decided to trade him to Baltimore for international bonus pool money at the deadline.
Remaining in the Eastern League with Bowie, he didn't skip a beat and went 5-0 with a 3.55 ERA in six starts for the Baysox, saving his best for his last start of the season when he allowed just three hits and a walk over seven innings against Richmond, striking out nine in the process.
In his last 12 starts, the Orioles' No. 23 prospect has gone 9-0 with a 3.48 ERA, and his league-best 15 wins are the most since Bowie's Brad Bergesen won 15 in 2008.
Ramirez, an Eastern League All-Star selection while with the Thunder, has made three starts versus Altoona on the season, with mixed results.
In his two starts versus the Curve while with Trenton, the right-hander had a loss and a no-decision, throwing a combined 8 1/3 innings in which he yielded 12 earned runs on 13 hits and three walks.
He scattered seven hits and three runs in his penultimate start of the regular season versus Altoona but managed to pick up the win for Bowie after forcing 13 fly ball outs in 5 1/3 innings.
As it stands, Ramirez should slot in as the Game 3 starter for the Baysox, tasked with stopping a lineup that boasts No. 5 Pirates prospect Cole Tucker and could also benefit from the return of No. 10 prospect Kevin Kramer, who is working his way back from a broken hand.
In brief
Akron powers up:
For the first time since the organization moved to Akron in 1997, the RubberDucks finished with three players who hit 20 or more home runs. Indians No. 3 prospect
Bobby Bradley
(23), No. 4 prospect Yu-Cheng Chang (23) and
Eric Haase
(26) helped the Ducks tally 141 long balls, the most since they blasted 151 in 2005. The last time two Akron players hit 20 or more homers in the same season was when Victor Martinez (22) and Corey Erickson (20) did so for the Aeros in 2002.
Never gonna give you up:
Altoona's
Tanner Anderson
allowed only five home runs in 132 1/3 innings this season. The right-hander had 10 wins, tied with
Alex McRae
for most on the Curve, and hit just one batter while walking only 33. The only other pitcher in the league who gave up five or fewer home runs over 100 or more innings was Erie's
Artie Lewicki
, who allowed five in 110 frames.
Bowie bats mash:
The Baysox offense outpaced the rest of the league considerably this season. Bowie (1,354 hits) had over 100 more hits than the next team, scored over 30 more runs (688) than any other team and had a team OPS (.781) that was 25 points ahead of the competition. Their league-leading .283 team batting average marked the first time since 2003 that a team finished with an average over .280. That year, the New Haven Ravens led the league with a .293 team average, while the New Britain Rock Cats (.282) and Binghamton Mets (.280) also reached the mark.
Filled to the brim:
Proving it was worth the wait, baseball-hungry fans in Hartford came out to the inaugural season at Dunkin' Donuts Park in full force. A year after the Yard Goats were forced to play all of their games on the road, the fans packed the brand-new ballpark, selling out 41 of their 68 home dates, including 21 straight to close out the season. The 395,196 total attendance number was second highest in the league this year (Reading, 411,698) and the most ever by a professional baseball team in Connecticut.
Craig Forde is a contributor to MiLB.com.