Olmos, PawSox almost work no-hitter
Left-handed reliever pitches five frames, carries no-no into seventh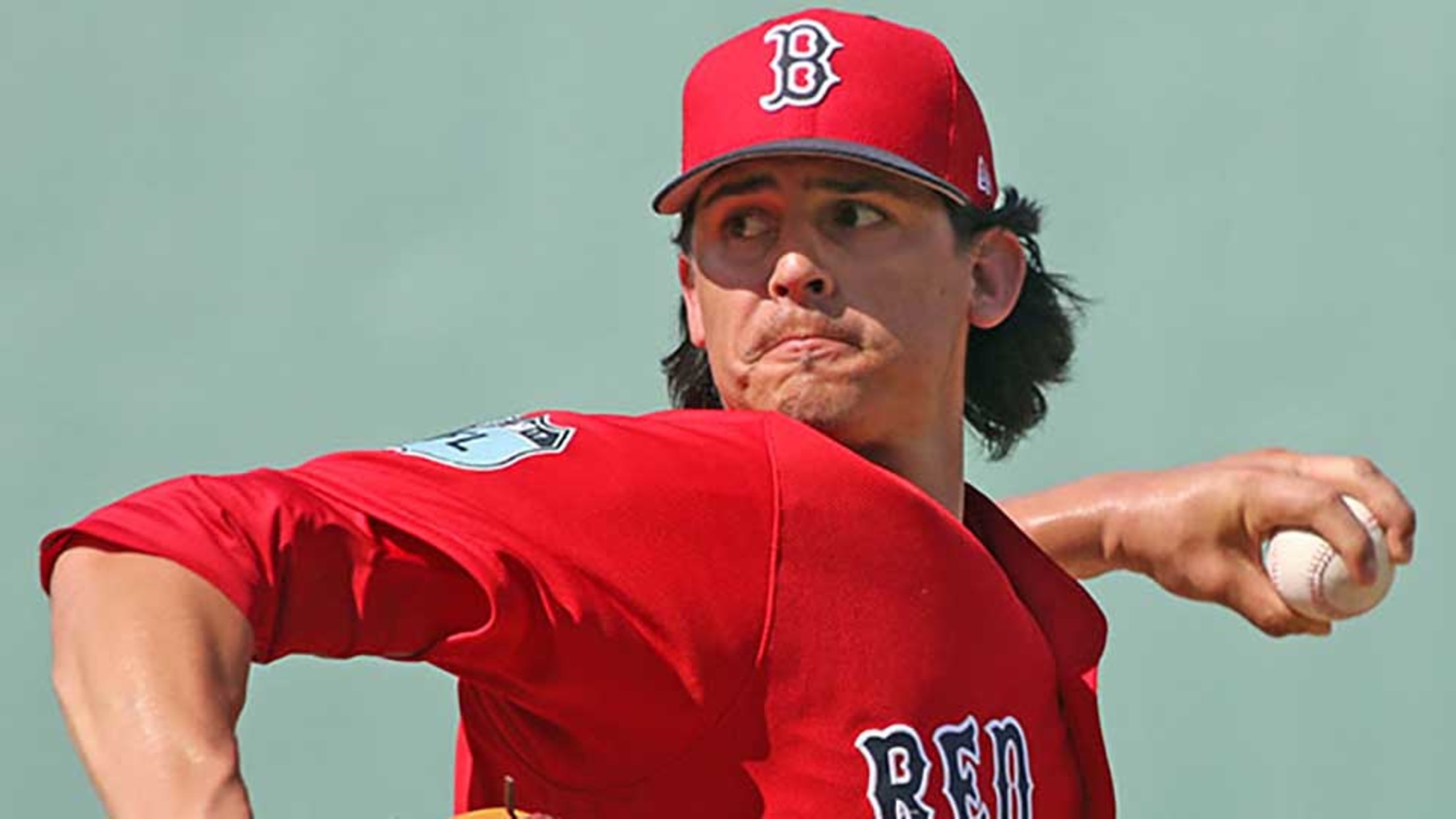 Edgar Olmos hadn't pitched more than three innings in a single 2017 appearance before going five Wednesday. (Kelly O'Connor)
Edgar Olmos wasn't meant to carry a heavy load in the second game of Triple-A Pawtucket's doubleheader with Syracuse on Wednesday. He just needed to eat some innings when starter Hector Velazquez was lifted after one perfect frame -- in an effort to keep him fresh for a potential Major
Edgar Olmos wasn't meant to carry a heavy load in the second game of Triple-A Pawtucket's doubleheader with Syracuse on Wednesday. He just needed to eat some innings when starter Hector Velazquez was lifted after one perfect frame -- in an effort to keep him fresh for a potential Major League call-up -- and then hand the ball to the next guy. Olmos, a left-hander, came on when zeros still made up the entirety of the Syracuse side of the scoreboard.
He did his best to keep them there.
Olmos went on to toss a season-high five innings, carrying a no-hitter into the final frame of a scheduled seven-inning game. Fellow reliever Kyle Martin gave up a single to open the seventh, but Pawtucket still took the contest, 3-0, at McCoy Stadium.
Gameday box score
The appearance was the longest relief outing of Olmos' 10-year Minor League career and his longest performance of any kind since a start on Aug. 11, 2015 for Triple-A Tacoma in the Mariners system. The 27-year-old southpaw needed only 50 pitches to complete his five frames with 30 going for strikes. His previous season high for both pitches and innings came on May 28, when he threw 46 pitches over three scoreless innings against Durham.
Despite his stellar final line, Olmos' outing got off to a shaky start -- the PawSox reliever plunked Clint Robinson with the first pitch he threw. He closed out the inning unscathed on a lineout and a 4-6-3 double play. One frame later, he opened with eight straight balls to Andrew Stevenson and Mario Lisson before another 4-6-3 twin killing and groundout to short ended the Chiefs' threat.
Olmos retired the final 11 batters he faced and exited following the sixth. The left-hander, who signed a Minor League deal with the Red Sox this past offseason, improved to 3-1 with a 2.51 ERA, 1.22 WHIP, 20 strikeouts and a .224 average-against over 13 appearances (28 2/3 innings) with Pawtucket.
Brandon Snyder broke up the potential no-hitter with a soft liner off Martin to lead off the seventh. The ball went up the middle but glanced off shortstop Ryan Court's glove just behind second base. Second baseman Heiker Meneses gathered the stray ball and attempted to catch Snyder at first, but his throw was just late. Robinson also singled off Martin -- that one a liner to right -- and Irving Falu walked to load the bases before Snyder got Stevenson to strike out swinging, preserving the shutout.
Pawtucket pitchers Henry Owens, Marcus Walden and Jamie Callahan also combined on a two-hitter in the opening game of the twin bill between Pawtucket and Syracuse -- that one a 6-1 win for the home side. Had the PawSox pulled off the feat in Game 2, they would have been the second team to no-hit the Chiefs in 2017; Lucas Giolito tossed a no-hitter against his old club back on May 25.
Sam Dykstra is a reporter for MiLB.com. Follow and interact with him on Twitter, @SamDykstraMiLB.