Fermin's career day powers Kingsport
Mets infielder sets career highs with five hits and five RBIs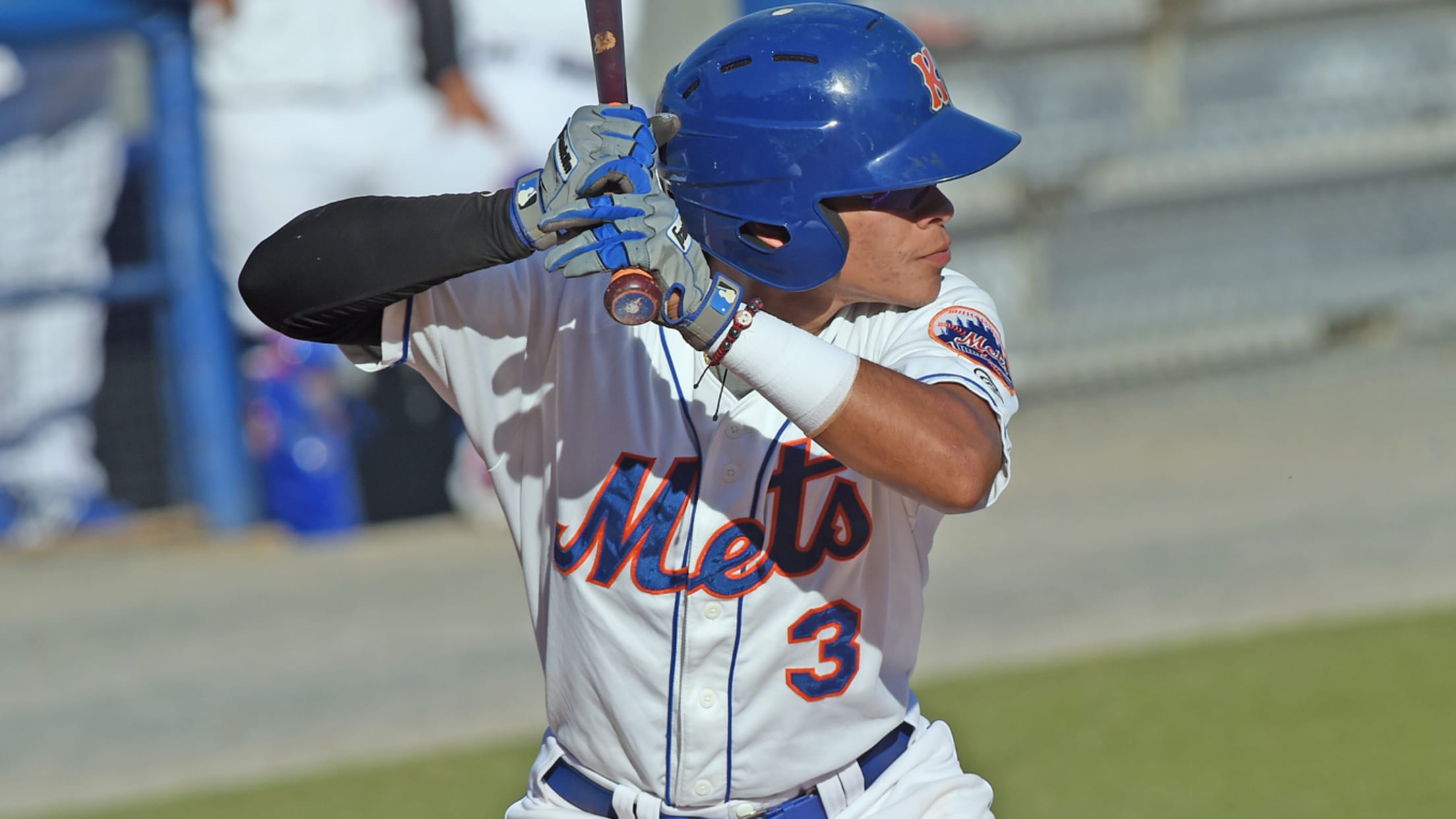 Edgardo Fermin is seventh in the Appalachian League with a .349 average through 10 games. (Brian McLeod/MiLB.com)
Even though Edgardo Fermin is just 19 years old, Rookie-level Kingsport manager Luis Rivera sees him as a mature, patient hitter who can whack the ball gap to gap.The Mets prospect put all those attributes on display Thursday night. Fermin set career highs with five hits and five RBIs as the
Even though Edgardo Fermin is just 19 years old, Rookie-level Kingsport manager Luis Rivera sees him as a mature, patient hitter who can whack the ball gap to gap.
The Mets prospect put all those attributes on display Thursday night.
Fermin set career highs with five hits and five RBIs as the Mets rolled to a 17-3 win over the Bristol Pirates at Boyce Cox Field. The Venezuela native collected two doubles, three singles and scored three times.
Gameday box score
"He's been working really hard on his hitting," Rivera said. "Today, he was ready to hit. He had a really good approach. He put in the right swings at the right moments and he did really well."
Fermin amassed a .246 average with two home runs and 43 RBIs in 104 games over the previous two seasons in the Rookie-level Dominican Summer League. Through 10 games in the Appalachian League, the infielder has produced a .349 average, good for seventh on the circuit.
The extra batting practice he's used to adjust his timing is starting to pay off, according to Rivera.
"He's working on his rhythm to be able to hit early," the Mets manager said. "And he's been staying behind the ball. Sometimes he drapes forward. So starting early and having a better separation is helping him stay to the ball better. He put that to work today and hit the ball well."
Fermin whiffed to lead off the game, but lined a single to left field off Bristol starter Hunter Stratton in the third inning. Rivera was proud of the way Fermin didn't stray from his approach after he fanned.
"That's why he's here, because he's shown a level of maturity at this age," Rivera said. "In extended spring training, he showed that to all of the coaches. Everybody strikes out. We'll always tell him 'It's not how you start, it's how you end. You've got to keep fighting in all your at-bats.' He keeps fighting and made adjustments for the rest of the game through his at-bats."
In the fifth, Kingsport sent 11 batters to the plate in an eight-run frame, and the teen was in the thick of it. He led off with a walk and scored later on Juan Uriarte's single. With the bases full in his second at-bat of the inning, Fermin cracked a three-run double to left to break the game open.
"He was looking for a fastball," Rivera said. "I know they threw him a couple of sliders earlier and he didn't swing at them. The pitcher came with a fastball in and he got the barrel out and hit it down the left-field line. It was a really hard drive to left."
After collecting an RBI single to center in the seventh, Fermin drove in two more runs with his second two-bagger of the evening to left in the eighth. The 6-foot, 145-pound shortstop capped off his near-perfect night in the ninth by reaching on an infield single.
In the last two at-bats, Fermin was in a two-strike hole before delivering base knocks.
"He said he likes to take one strike, he doesn't get nervous to hit with two strikes -- good hitters do that," Rivera said. "That shows you that he has confidence in his hitting. It doesn't bother him to hit with two strikes. He waits for his pitch, and that's what he did. He put the pitcher in a situation that he got the fastball in a spot where he wanted, and he took advantage of that."
Rivera believes Fermin has much more room to grow, both physically and in his general approach at the plate.
"There's no limit, the limit is the sky," Rivera said with a big laugh. "Showing this maturity so far, he's projecting to be a really good hitter. He's so young, he's going to put on a couple of pounds on his body. His body is really athletic and when he puts more on that body, I think he can do more damage. But he's still a kid. He's going to learn and do even more damage later on."
Wagner Lagrange collected three hits while Uriate, Grabiel Jimenez, Kevin Hall and Danny Hoy each added two hits for Kingsport. Jimenez also plated three runs.
Bristol's Yondry Contreras went 3-for-5 out of the leadoff spot and Johan De Jesus had a two-run single.
Andrew Battifarano is a contributor to MiLB.com. Follow him on Twitter, @AndrewAtBatt.