Jimenez among five suspended following brawl
West Michigan reliever handed 30-game ban for role in MWL fight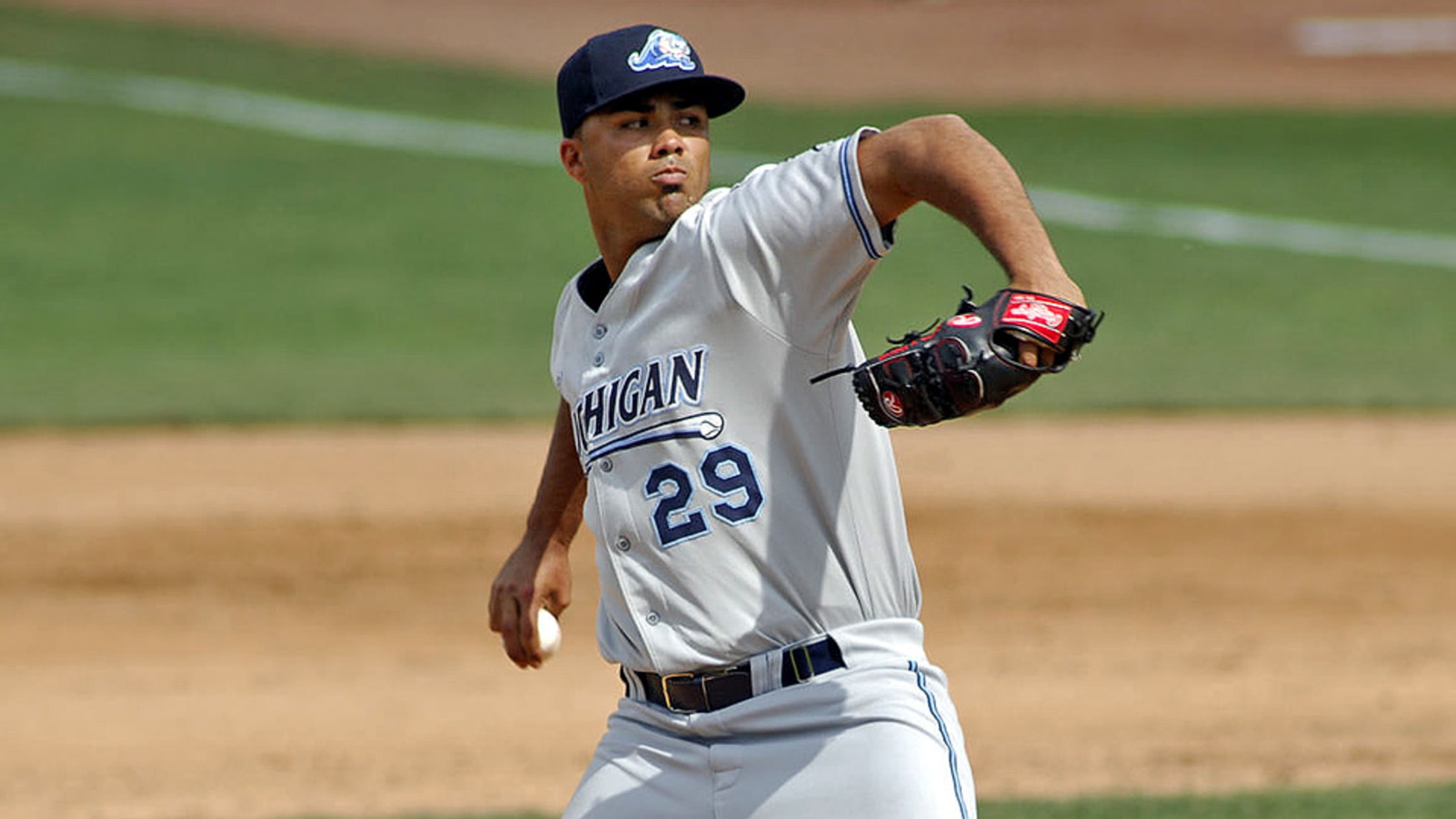 Eduardo Jimenez was suspended 30 days retroactive to May 29 for throwing a ball during a benches-clearing fight Sunday. (Lianna Holub/MiLB.com)
Tigers prospect Eduardo Jiménez received a 30-game suspension this week when the Midwest League issued punishments to five players for their roles in Sunday's brawl.Jimenez, a 22-year-old reliever, received the biggest suspension handed out by the league after he ran onto the field and threw a ball at an opposing
Tigers prospect Eduardo Jiménez received a 30-game suspension this week when the Midwest League issued punishments to five players for their roles in Sunday's brawl.
Jimenez, a 22-year-old reliever, received the biggest suspension handed out by the league after he ran onto the field and threw a ball at an opposing player during a melee between Class A West Michigan and Dayton on May 28. The Whitecaps said his punishment is retroactive to May 29.
Whitecaps shortstop Daniel Pinero was suspended five games and pitcher Spenser Watkins received a one-game ban, which he is set to serve on June 10. Pinero's suspension begins tonight and the team said he's expected back on June 8.
Dayton's Jose Siri was issued a three-game suspension and pitcher Wennington Romero is slated to sit for four games, according to MLive.com. Neither the league or the Dragons have confirmed those bans.
In addition, West Michigan said left fielder Jacob Robson was suspended four games for a separate incident when he bumped an umpire a day earlier on May 27. He's expected to begin serving that ban on June 13.
Sunday's brawl occurred in the bottom of the sixth inning when Siri, a Reds prospect, stole second base with one out. Pinero appeared to intentionally step on Siri's left ankle when he stood up after applying a late tag, prompting Siri to charge the shortstop and shove him from behind. Siri was quickly ejected, but by then, both benches had cleared and the brawl was under way.
Jimenez, who was not in the game, ran onto the field and hurled a ball toward a crowd of Dayton players, striking reliever Jesse Stallings in the leg. Stallings, the Reds' 15th-round pick in last year's Draft, was not injured.
Jimenez was physically restrained by a coach as the fight cooled down. Both he and Siri appeared to continue exchanging words across the diamond as players separated.
The right-hander, signed out of Venezuela in 2011, has been an important part of West Michigan's bullpen this season. In 13 outings, he's 1-0 with a 1.50 ERA and 33 strikeouts in 24 innings. He's walked eight and has not allowed a home run since 2013.
Siri, a 21-year-old signed out of the Dominican Republic in 2014, is hitting .264 with four homers, 23 RBIs and 19 steals in 46 games.
Pinero, 23, was the Tigers' ninth-round pick last summer out of Virginia. The Canadian infielder hitting is .218 with no homers and 15 RBIs in 45 games.