Power's Vera rebounds, flirts with history
Pirates righty loses seven-inning no-hit bid with one out to go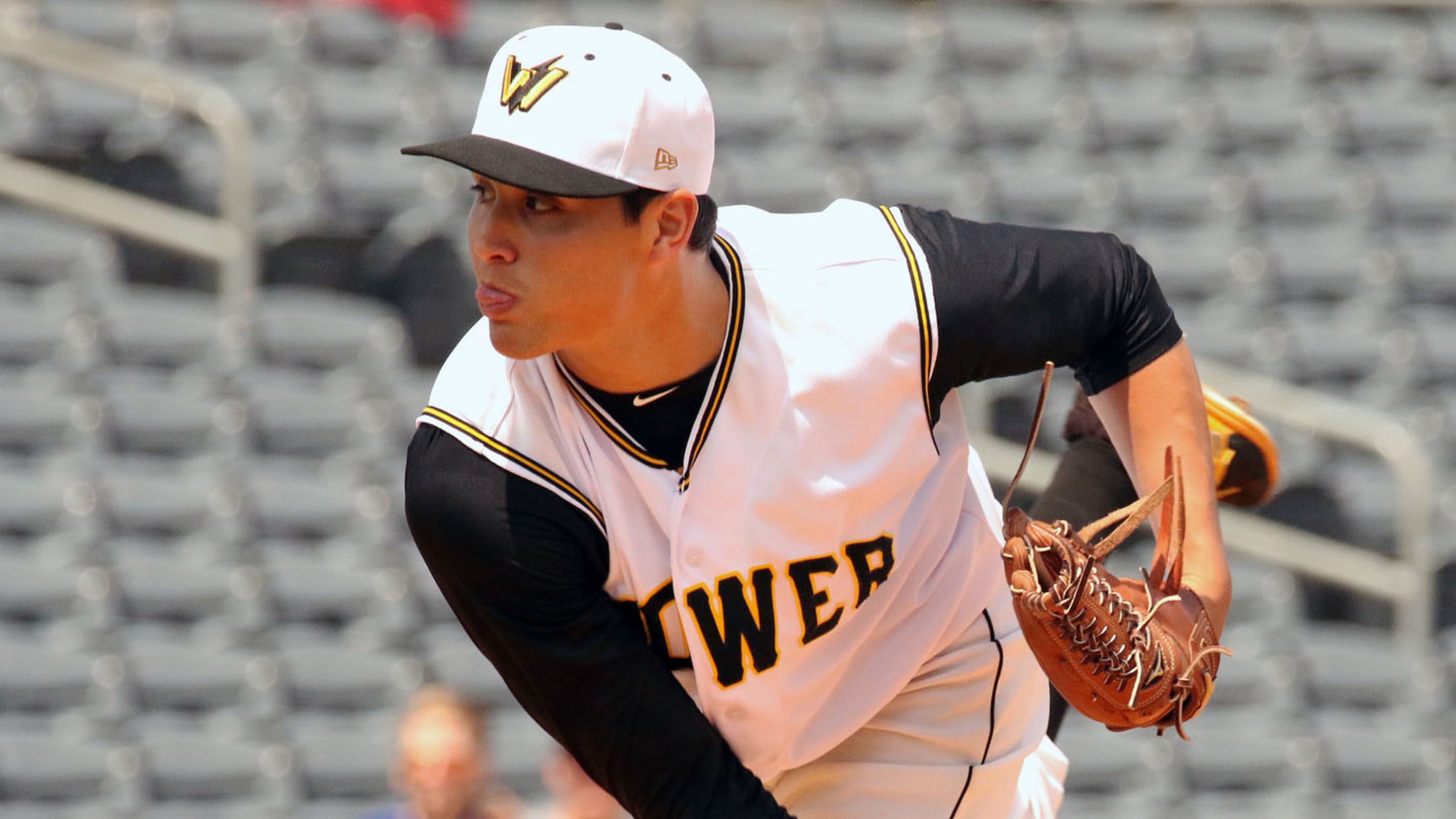 Eduardo Vera turned in his third seven-inning outing, lowering his ERA to 3.50 over 118 1/3 innings. (Carl Kline/MiLB.com)
Getting tagged for 11 earned runs over his past two starts taught Eduardo Vera a hard lesson."My last two outings, I was throwing a lot of pitches on the outside," he said. "The other teams knew I was coming with fastballs outside, so this time, I was just trying to
Getting tagged for 11 earned runs over his past two starts taught Eduardo Vera a hard lesson.
"My last two outings, I was throwing a lot of pitches on the outside," he said. "The other teams knew I was coming with fastballs outside, so this time, I was just trying to go in and attack the zone. I know I can throw strikes and I can throw the ball wherever I want, so I just took advantage of it."
The Pittsburgh right-hander came within an out of a seven-inning no-hitter Wednesday before finishing Class A West Virginia's 7-0 shutout of Charleston at Appalachian Power Park. Vera ended up allowing two hits without a walk while striking out six.
Gameday box score
"I knew some of those guys were power guys, so I just tried to pitch in against lefties and I saw that they were struggling against those pitches," Vera said. "I just tried to throw my changeup, which is my good pitch, and then strike them out with fastball or curveball. It just worked."
The 23-year-old was staked to a three-run lead in the first inning and retired the first 10 batters he faced before hitting Brandon Wagner with a pitch in the fourth.
"It's always great to have some runs to support you, especially in the first inning," Vera said. "After that, I was more relaxed. I was just focusing on my pitching because I didn't care about the hitting any more. They did a great job and I was just trying to do mine."
• Get tickets to a Power game »
After getting Steven Sensley to fly out and Isiah Gilliam to ground out to finish the fourth, Vera began to realize what he was brewing out there.
"The first four innings I was just throwing the ball," he said. "And then in the fifth inning, I was like, 'Damn, I'm throwing a no-hitter.' So I just tried to keep it there and the next three innings I started to keep track on that and just executed my pitches."
The Mexico native got Wagner to pop out and Sensley to fly out to begin the fifth, but Gilliam dropped an 1-1 offering into center field to keep Vera from history.
"It might've been the wrong pitch, but he didn't hit it well," Vera said. "It was a blooper, so I felt kind of disappointed because I was so close. But at the same time, I was like, 'I'm still having a great outing and I'm not going to let this ruin my whole outing. I'm just going to keep going and get my last out and get out of here.'"
Vera then gave up another single to Oswaldo Cabrera to put runners at the corners, but he got Yankees No. 22 prospectDermis Garcia to fly out to center to complete the shutout. He finished with 90 pitches, 67 for strikes.
Albert Baur paced the Power offense with two doubles during a 4-for-4 game. Kevin Mahala and Henrry Rosario both went deep for West Virginia. Adrian Valerio and Clark Eagan added two hits and an RBI apiece.
Charleston split the doubleheader by allowing just two hits during a 3-0 victory in the nightcap. Righty Christian Morris (5-2) gave up a hit and two walks while striking out five in five frames. Matthew Wivinis allowed one hit and fanned four in two innings for his first save.
Michael Peng is a contributor to MiLB.com. Follow him on Twitter @MichaelXPeng.