Eight JetHawks named Cal League All-Stars
Lancaster to be well represented in All-Star Game at The Hangar June 19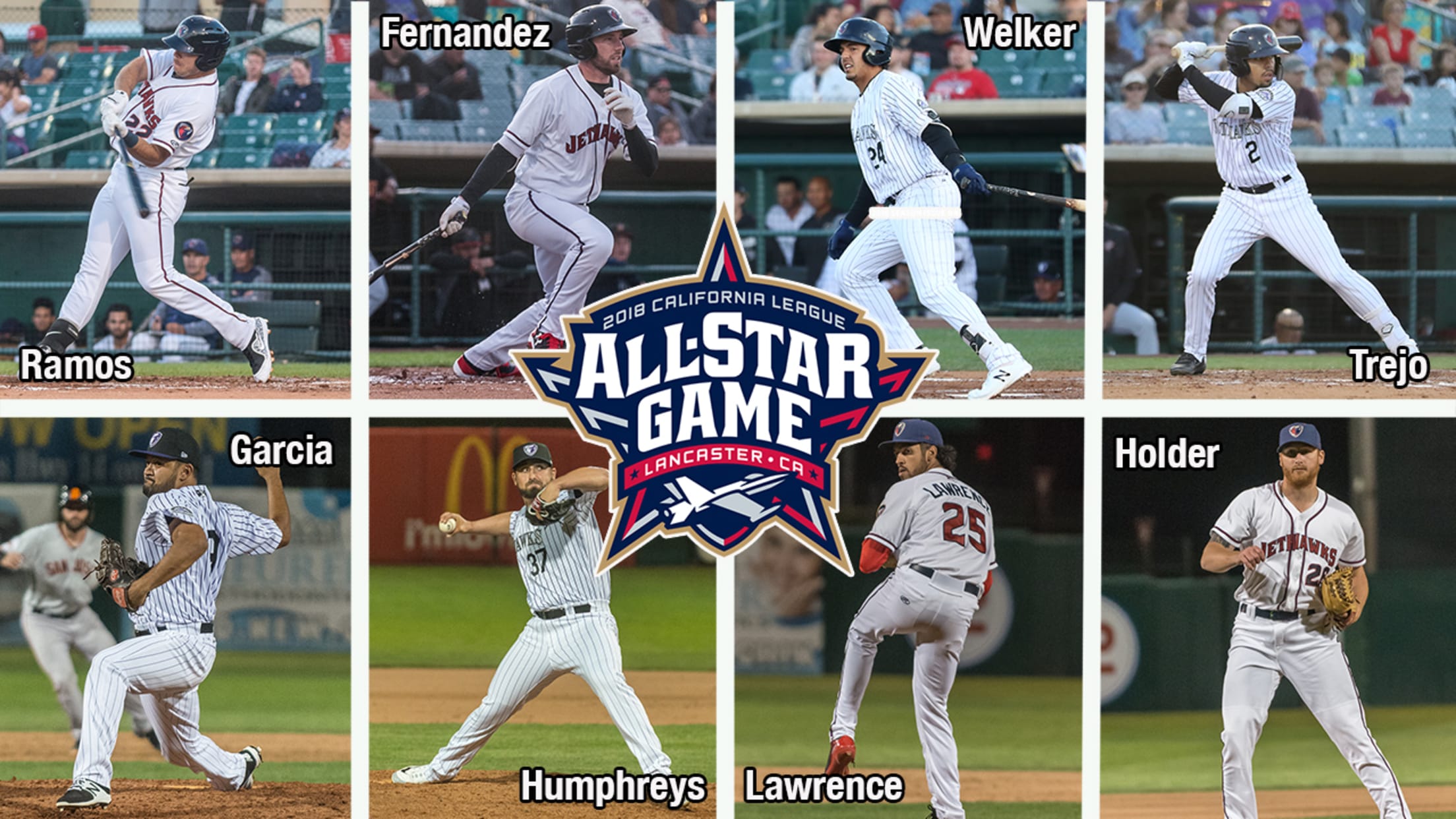 LANCASTER, Calif. - Mid-Season All-Stars were announced by the California League Monday, and the JetHawks have eight players that will represent the South Division June 19 at The Hangar. Infielder Roberto Ramos, outfielder Vince Fernandez, infielder Colton Welker, infielder Alan Trejo, right-handed pitcher Rico Garcia, right-handed pitcher Reid Humphreys, right-handed
LANCASTER, Calif. - Mid-Season All-Stars were announced by the California League Monday, and the JetHawks have eight players that will represent the South Division June 19 at The Hangar. Infielder Roberto Ramos, outfielder Vince Fernandez, infielder Colton Welker, infielder Alan Trejo, right-handed pitcher Rico Garcia, right-handed pitcher Reid Humphreys, right-handed pitcher Justin Lawrence and right-haned pitcher Heath Holder were all selected as California League All-Stars.
2018 California League All-Star Rosters: North Division | South Division
Roberto Ramos is having a stellar season for the JetHawks. He currently leads the California League in home runs (16), OPS (1.038), and slugging percentage (.644). His 40 RBI and 31 extra-base hits are tied for the league lead. He won a Player of the Week award in early May, and he was named the California League Player of the Month for May as well.
Vince Fernandez has been among the best at getting on base all season. He is currently second in the league in on-base percentage (.421) and tied for fourth in walks (30). He's also fifth in the circuit with a .310 batting average, which leads the JetHawks. Fernandez hit .373 in May, taking home a Cal League Player of the Week award for his work May 14 - 20.
Colton Welker has lived up to his billing as one of Colorado's top prospects. The 20-year-old got off to a great start, winning the first Cal League Player of the Week award of the season. He currently ranks seventh with a .302 batting average. Welker's 15-game hitting streak from April 22 to May 9 is the third-longest in the league this season.
Alan Trejo has been a force on the left side of the infield for the JetHawks. Playing shortstop and third base, Trejo has played tremendous defense to go along with 18 extra-base hits at the plate. Over a 23-game stretch from April 21 to May 23, Trejo hit .376 with 20 RBI.
Rico Garcia got the nod on Opening Night for the JetHawks, and he has been the team's top starting pitcher all year long. He leads the California League with 79.1 innings pitched, and his 84 strikeouts rank second. In seven starts away from The Hangar, Garcia has a 2.05 ERA.
Reid Humphreys has been one of the most dominant relievers in the league this season. As of Monday, his 12 saves put him second in the California League. In 20.1 innings, Humphreys has a 2.21 ERA and a 0.98 WHIP to go along with 31 strikeouts.
Justin Lawrence has been a stellar setup man for the JetHawks. He has pitched in a league-high 26 games this season, posting a 2.45 ERA and six holds. He also has five saves. Opponents are batting just .184 against the righty this season, second best among California League relievers.
Heath Holder has put up elite strikeout numbers out of the Lancaster bullpen. He leads Cal League relievers with 14.88 strikeouts per nine innings. Holder has struck out 64 in 40 innings of work so far. His record is a perfect 4-0, and he has made a pair of starts as well.
The eight JetHawks will play for the South Division against the North in the California League All-Star Game Tuesday, June 19 at The Hangar. The game starts at 7:00 pm after the conclusion of the Home Run Derby. The fun starts Monday, June 18 with an all-day tailgate and 38 Special concert.