Jimenez turns on the power for White Sox
Club's top prospect homers again, triples in third spring outing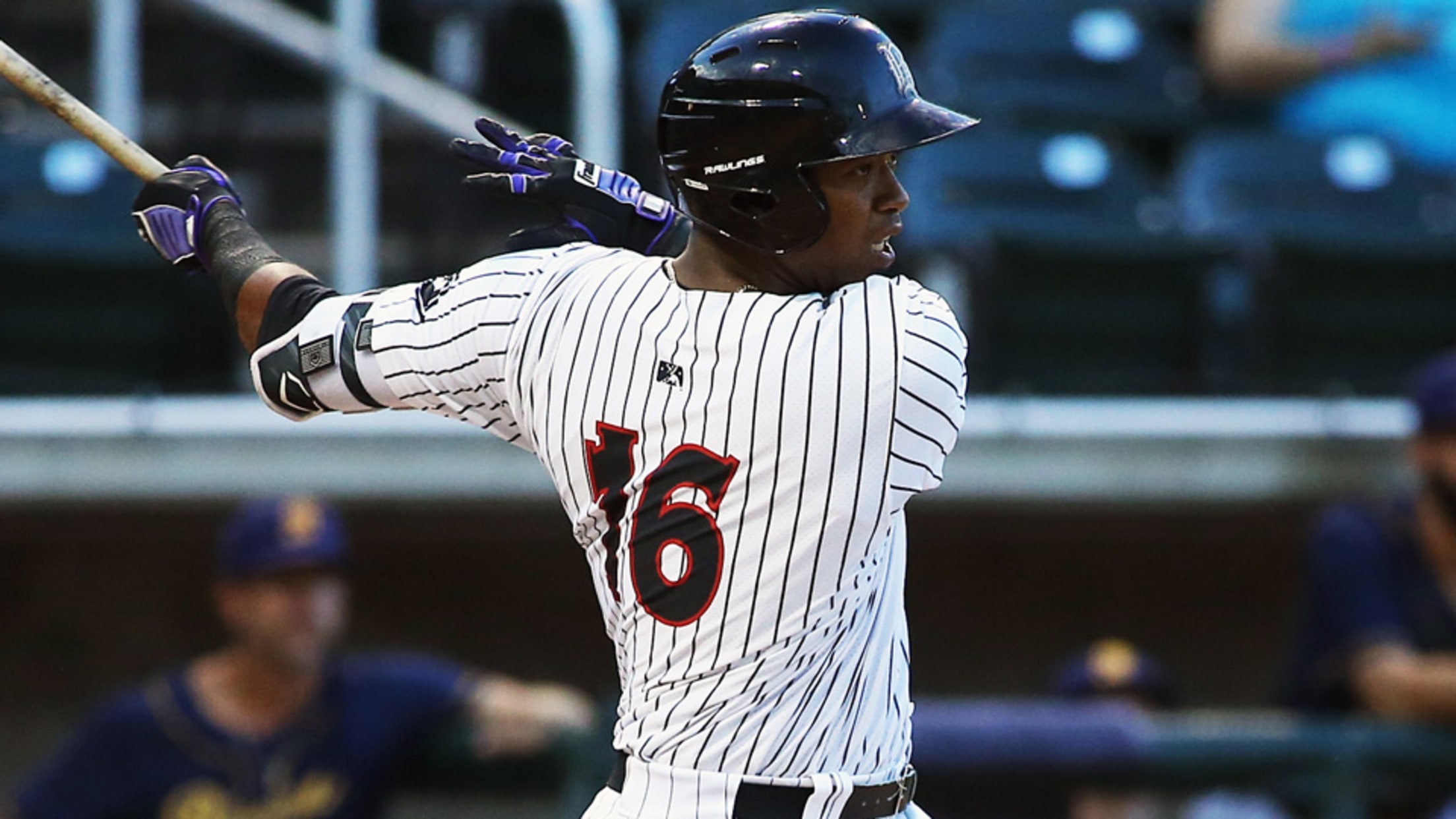 Eloy Jimenez hit 19 home runs and posted a .379 on-base percentage in 89 games across two levels last year. (Jimmy Mitchell/Birmingham Barons)
Just after an injury sidelined one top White Sox prospect, another has proven healthy and belted his way into the spotlight.Coming off a left knee issue, Eloy Jiménez delivered his first home run of the spring Saturday and followed that with another roundtripper, a triple, a walk and two runs
Just after an injury sidelined one top White Sox prospect, another has proven healthy and belted his way into the spotlight.
Coming off a left knee issue, Eloy Jiménez delivered his first home run of the spring Saturday and followed that with another roundtripper, a triple, a walk and two runs scored as the White Sox beat the D-backs, 6-5, at Camelback Ranch in Glendale, Arizona on Sunday.
The outburst provides a jolt to a system that lost
Luis Robert
for 10 weeks
with a thumb ligament sprain
Saturday while asserting Jimenez's status as one of the most promising young hitters in the Cactus League. His tender knee limited him to one at-bat (a strikeout against the Dodgers'
Brian Moran
on Feb. 23) before he talked his way into coming off the bench to hit a go-ahead homer against the Cubs -- his former organization -- on Saturday.
"I was asking [White Sox manager Rick Renteria] the whole game," the
No. 4 overall prospect
told MLB.com. "He said, 'OK, let's do it.'"
In the starting lineup Sunday, the right-handed hitter went yard in his first at-bat, socking an opposite-field jack off lefty Patrick Corbin in the second inning. Facing Corbin again two frames later, Jimenez smoked a one-out triple to center field. Righty
Silvino Bracho
walked him in the fifth, at which point
Daniel Palka
replaced 21-year-old outfielder on the basepaths.
Reigning Pacific Coast League MVP
Christian Walker
went 2-for-4 with an RBI for Arizona.
In other spring action:Twins 6, Rays 5 (Box)
Fernando Romero
didn't finish last season on his strongest note, but he's opening 2018 the right way.
The Twins No. 2 prospect tossed three perfect innings, striking out two while earning his third hold of the spring. Baseball's
No. 68 overall prospect
came on as the third pitcher out of the Twins bullpen. Romero fanned the Rays'
Joey Wendle
to open the sixth. After getting three flyouts in the seventh, Romero struck out Nathaniel Lowe to begin his final 1-2-3 frame in the eighth.
Romero turned in a stellar 2017 season with a career-high 24 appearances (23 starts) for Double-A Chattanooga. The Dominican Republic native totaled an 11-9 record and 3.53 ERA over 125 innings, striking out 120 while walking 45, but Romero was even better before his final stretch. The right-hander went 11-6 with a 2.60 ERA after allowing one run on six hits over five innings at Montgomery on Aug. 2. Over his last three starts, Romero allowed six earned runs twice and five in his final outing of the year to send his ERA spiking to its final mark.
The 23-year-old finished last year on the disabled list with a right shoulder impingement, but Sunday's outing kept his spring ERA at a perfect 0.00 to start the new campaign.
Minnesota's No. 4 prospect Nick Gordon went 1-for-1 with a single and a run scored. The No. 80 overall prospect is batting .462 with a 1.192 OPS this spring.
Marlins 7, Yankees 5 (Box)
Ninth-ranked prospect Brian Anderson led Miami to victory with a homer, a double, three RBIs and three runs scored while top prospect Lewis Brinson singled and scored. In his fourth spring appearance, Sandy Alcantara (No. 3) gave up home runs to big bats Aaron Judge and Didi Gregorius. The right-hander secured the save, though, after allowing the three runs -- two earned -- on three hits and a walk with three punchouts in four innings. Yankees No. 4 prospect Miguel Andújar collected a triple, a sacrifice fly and a free pass. Cody Carroll (No. 17) lowered his ERA to 1.80 by working around a walk with three strikeouts in the seventh.
Pirates 5, Blue Jays 0 (Box)
Pittsburgh's No. 19 prospect Clay Holmes picked up his second spring win, allowing one hit and striking out two in three scoreless innings in the start. Kevin Kramer (No. 9) laced an RBI triple and came around to score while Austin Meadows (No. 2) walked and scored a run.
Astros 5, Mets 2 (Box)
Top Houston hitting prospect Kyle Tucker continued his torrid spring with a go-ahead sacrifice fly, a single, a stolen base and a run scored as he played left and right. Catcher Garrett Stubbs (No. 24) slugged a solo shot for his first camp homer. Right-hander Rogelio Armenteros (No. 12) yielded a hit and a pair of walks with two strikeouts in two scoreless innings. Mets No. 30 prospect Jacob Rhame pitched a scoreless eighth, working around a hit and a walk.
Orioles (ss) 7, Red Sox 3 (Box)
After singling in his first at-bat, No. 98 overall prospect Ryan Mountcastle slugged a three-run jack in the ninth to pad the Orioles' lead. Chance Sisco, the club's third-ranked prospect, knocked an RBI single in the first and scored the go-ahead run in the fourth. Starting for Baltimore, Hunter Harvey (No. 4) earned his first win at camp after allowing two runs (one earned) on four hits and a walk with three strikeouts in three innings. Tanner Scott (No. 6) yielded one run on two knocks and a free pass with one punchout in the fourth, Keegan Akin (No. 9) fanned one in a perfect fifth, Michael Baumann (No. 15) and Brenan Hanifee (No. 10) each allowed a hit in a scoreless inning, and Zac Lowther (No. 17) walked one and fanned one while securing two outs in the eighth.
Tigers 6, Braves 3 (Box)
No. 2 overall prospect Ronald Acuña Jr. worked a walk while Braves No. 16 prospect Dustin Peterson drilled a two-run homer and Alex Jackson (No. 14) singled.
Orioles (ss) 4, Phillies 0 (Box)
Top Baltimore prospect Austin Hays went 1-for-2 with an RBI, a run scored and a walk while No. 7 Cedric Mullins added a single. Pedro Araujo (No. 27) tossed a perfect sixth, striking out two. Second-ranked Phillies prospect Scott Kingery singled in his lone at-bat to raise his Grapefruit League average to .391.
Angels 4, Rangers 3 (Box)
Serving as designated hitter, top overall prospect Shohei Ohtani singled in his first at-bat against Rangers starter Bartolo Colon. He finished the afternoon 1-for-3.
Brewers 5, Indians (ss) 4 (Box)
No. 56 overall prospect Keston Hiura went 2-for-2 with the go-ahead RBI single for Milwaukee in the top of the ninth. The perfect day at the dish gives him a .409 average in the Cactus League. No. 6 Brewers prospect Brett Phillips cracked an RBI triple and raced home on a throwing error by No. 25 Indians prospect Tyler Krieger. At the plate, Krieger went 1-for-1 with a run while No. 37 Cleveland prospect Mitch Longo scored a run.
Reds 6, Mariners 4 (Box)
Cincinnati's No. 19 prospect Alex Blandino delivered an RBI single and scored a run during his club's ninth-inning rally. Mariners second-ranked prospect Evan White singled home a run while Daniel Vogelbach had an RBI single and a walk in four plate appearances. Seattle's No. 11 prospect is batting .478 with a 1.570 OPS in 23 Cactus League at-bats.
Dodgers 13, Rockies 7 (Box)
Garrett Hampson, Colorado's seventh-ranked prospect, singled and scored while Ryan McMahon (No. 2) singled in two at-bats to lift his average to .366. Sam Howard struck out four and allowed two hits in three scoreless innings. The Rockies No. 17 prospect has surrendered two runs and struck out nine in nine Cactus League frames.
Indians (ss) 3, Royals 1 (Box)
No. 22 Cleveland prospect Ryan Merritt opened with two scoreless frames, shaking off a hit and striking out a pair, and No. 30 Shawn Morimando followed with two punchouts over three shutout innings. Royals No. 6 prospect Nicky Lopez and Hunter Dozier (No. 7) both went 1-for-2. No. 10 Foster Griffin turned in a scoreless inning of relief, as did No. 20 Richard Lovelady.
Giants 5, Padres 4 (Box)
Tyler Herb, San Francisco's No. 15 prospect, posted his first spring save, working around one hit and fanning two over two shutout innings. No. 27 Giants prospect D.J. Snelten also made a scoreless appearance, notching a strikeout in a 1-2-3 frame.
Athletics 7, Cubs 2 (Box)
Eighth-ranked Oakland prospect Sean Murphy homered in his only trip to the plate.