Jimenez, newcomers drive Dash to victory
Top prospect reaches four times; Flete, Yrizarri score five runs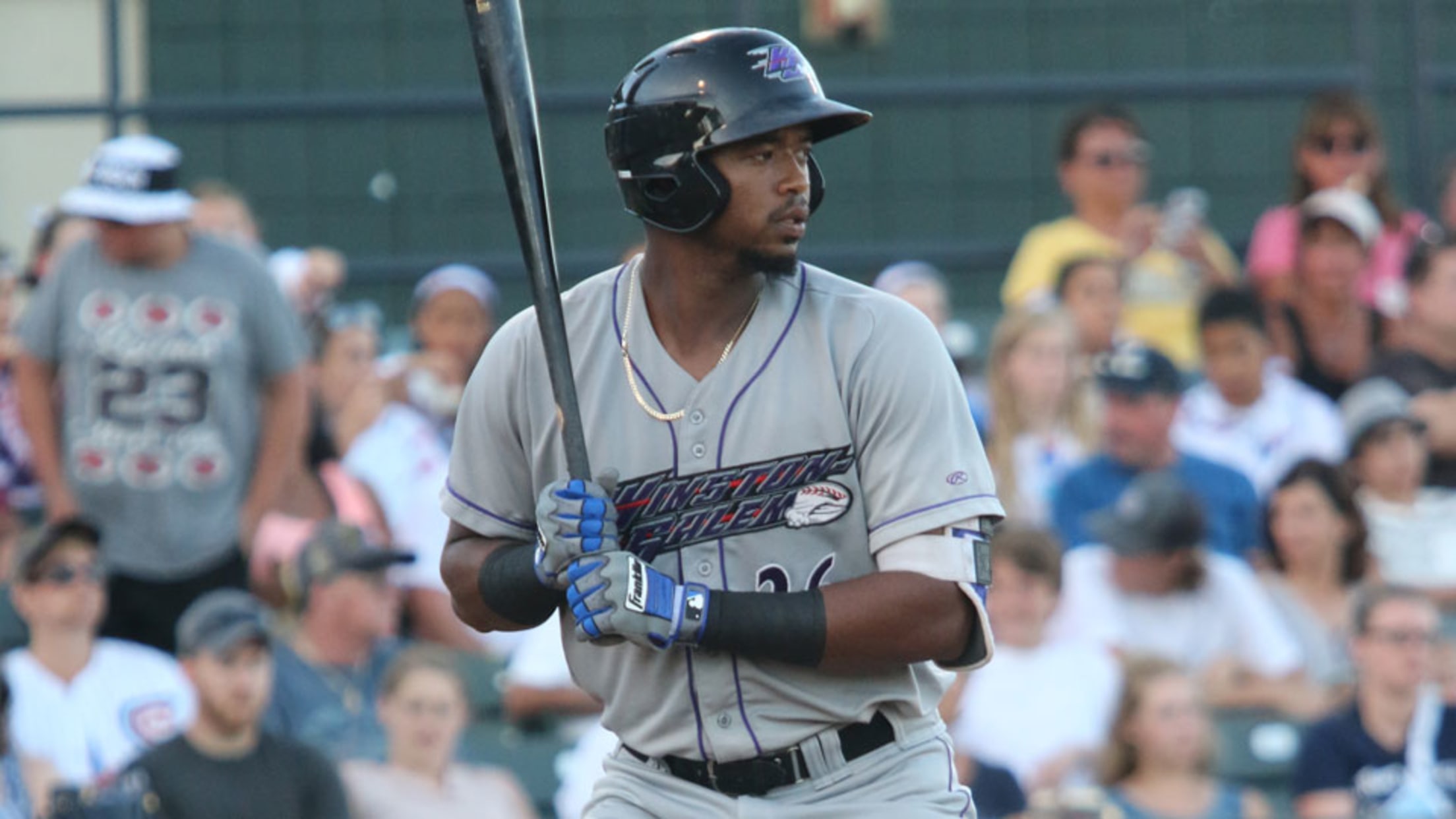 Eloy Jimenez is batting .308 with 11 RBIs in 10 Carolina League games in July. (Larry Kave/Myrtle Beach Pelicans)
Three of the four players at the top of the Class A Advanced Winston-Salem lineup -- Bryant Flete, Yeyson Yrizarri and Eloy Jimenez -- are new arrivals, but they were right at home on Sunday.Jimenez, the second-ranked White Sox prospect, reached base four times and provided a go-ahead knock in
Three of the four players at the top of the Class A Advanced Winston-Salem lineup -- Bryant Flete, Yeyson Yrizarri and Eloy Jimenez -- are new arrivals, but they were right at home on Sunday.
Jimenez, the second-ranked White Sox prospect, reached base four times and provided a go-ahead knock in the ninth inning to cap a three-RBI performance in the Dash's 9-7 win over Lynchburg at Calvin Falwell Field. Flete scored four times and Yrizarri was 2-for-4 with a run scored.
Gameday box score
Jimenez (who was 2-for-3 with a double, two walks and a run scored) and Flete (2-for-3 with two walks) joined the club after Thursday's José Quintanablockbuster trade. Yrizarri, the 30th-ranked White Sox prospect, came from the Rangers on Saturday for international bonus pool money and made his organizational debut on Sunday.
"Playing with Yrizarri and Flete, I said to them before, 'Hey, this is the game. We just need to enjoy it,'" Jimenez said, "And that's what we did today. We just put the ball in play today and we were happy that we did."
The 20-year-old outfielder batted .271/.351/.490 with eight homers, two triples and six doubles in 42 games with Myrtle Beach. And he's 4-for-10 with a double and five RBIs since putting on a Dash uniform in time to deliver the game-winner against his old club on Thursday night.
"The first two games versus my old team was a little [uncomfortable] for me, but it felt normal after the game started," he said. "[Being traded] was kind of sad but more good than the sad. The day they told me, I was getting breakfast and the Cubs called and it was like, 'Whoa, what happened?' It was kind of a surprise for me. I was a little sad, but at the same time, you know this is the business.
"[It's been] pretty fun meeting new guys, the new manager. All the guys in the game, they support me, and that's been really cool for me."
The right-handed hitter walked in the first, hit an RBI double to left field in the fifth and was intentionally walked by right-hander Justin Garcia in the seventh. In that frame, No. 18 White Sox prospect Jameson Fisher followed with an RBI single that tied the game, 5-5.
Two innings later, Jimenez stepped in against Paul Hendrix with no outs and the bases loaded. The native of the Dominican Republic fouled off the righty's first offering and banged the second into left for a two-run single. Although he boasts 60-grade power, he didn't have a difficult time staying calm and trying for a simple line drive.
"In that situation for me, that's not easy but not hard. I don't put any pressure on myself," he said. "I say, 'Hey, this is the game. Just put the ball in play and no matter what happens be happy for that.' I tried to put it in play and I did it and got the two RBIs. I was enjoying the game like I was doing before [the trade], and today I got a pretty good game. I thank God."
Ian Hamilton (1-2) allowed two hits and struck out two in two innings of scoreless relief for the win. Jack Charleston recorded the final out for his ninth save.
Gavin Collins was 3-for-5 with a double and three RBIs for Lynchburg.
Josh Jackson is a contributor to MiLB.com. Follow and interact with him on Twitter, @JoshJacksonMiLB.