Escobar ties Curve record with five hits
Pirates prospect falls homer shy of cycle, scores three times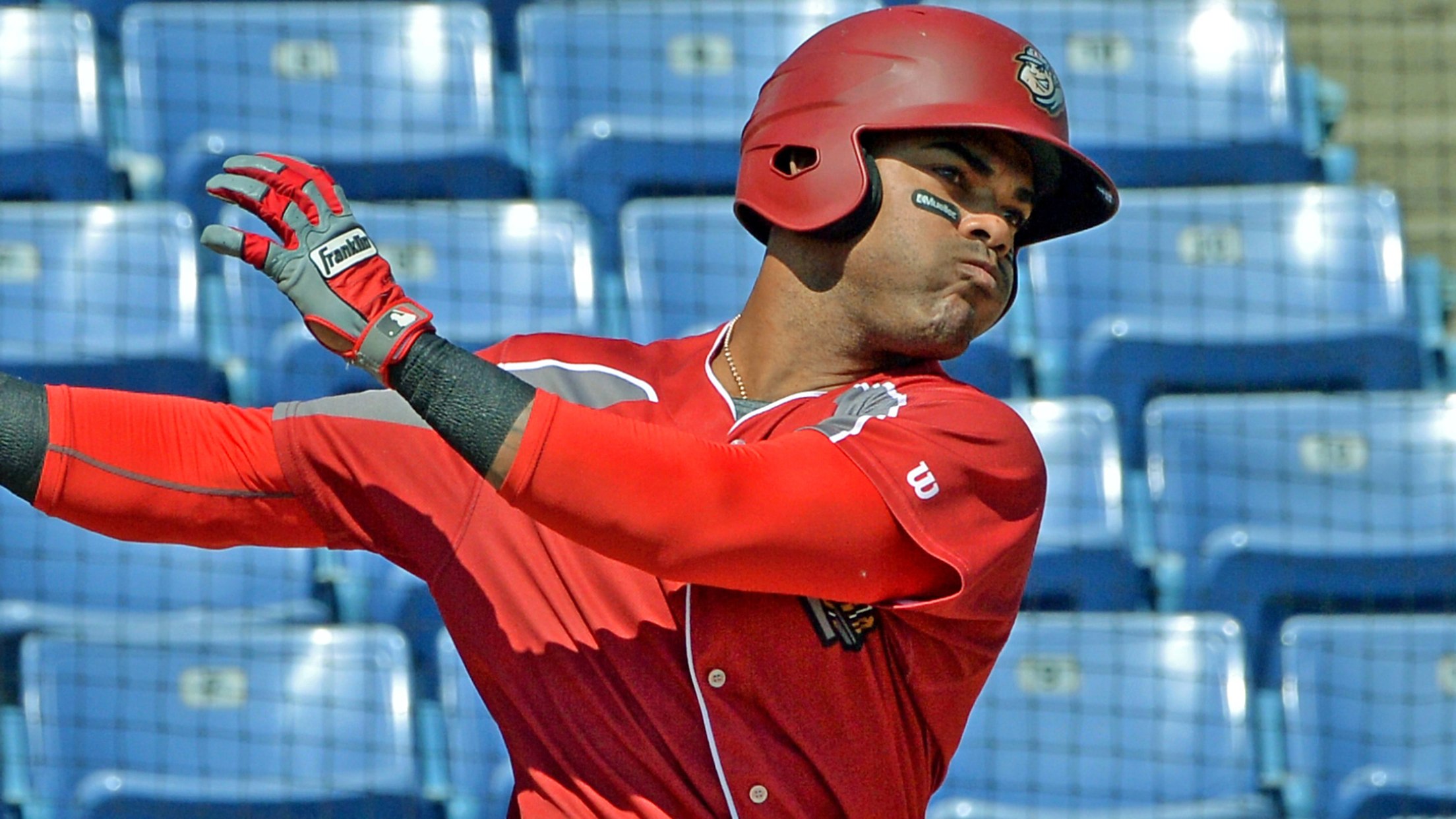 Elvis Escobar is batting .435 with four extra-base hits, five RBIs and seven runs scored in 15 games in June. (Rick Nelson/MiLB.com)
Elvis Escobar had been building confidence at the plate for some time. It reached its apex in historic fashion.The Pirates prospect prospect became the 14th player in team history to record a five-hit game, going 5-for-5 and finishing a homer shy of the cycle in a 14-4 rout of Trenton
Elvis Escobar had been building confidence at the plate for some time. It reached its apex in historic fashion.
The Pirates prospect prospect became the 14th player in team history to record a five-hit game, going 5-for-5 and finishing a homer shy of the cycle in a 14-4 rout of Trenton on Tuesday night at Peoples Natural Gas Field.
Escobar, who drove in two runs and scored three times, tied the club record for hits in a game. Stetson Allie last accomplished the feat for Altoona on July 27, 2016 against Erie.
Gameday box score
Tuesday was Escobar's sixth multi-hit performance in his last 11 games, during which he owns a .486 average (17-for-35).
"His work has been focused," Curve hitting coach Kevin Riggs said. "You can see the confidence growing in the individual daily. This game is all about confidence. When you're feeling it, it comes out in those at-bats."
The 22-year-old outfielder led off the second inning with a triple to center, then lined another triple to right in the third. In two at-bats, he doubled his triple total from the first 53 games of the season.
"He's a plus runner, he has speed," Riggs said. "Not only that, but he has impact in the barrel. The ball comes off his bat -- when he stays in his zone -- as hard as any player we have."
Escobar singled to right in the fifth and doubled to left in the seventh to move within a homer of the cycle. With a chance to complete the feat in the eighth, the Venezuela native poked a one-out RBI single to left off reliever Cale Coshow.
"That's one of those things that you don't really talk about," Riggs said with a laugh, referring to the cycle. "The manager, Michael Ryan, and I were laughing about it. He said [Escobar] probably doesn't even know he needed that for the cycle. But it's one of those things if it's meant to be, if it's going to happen, it's going to happen. Don't try to make it happen."
Escobar's performance produced personal bests in hits, triples and total bases (10).
"He's seeing the ball well, staying within the strike zone and taking what's given to him and putting a good swing on pitches pretty consistently right now," Riggs said.
Pirates No. 30 prospectJordan Luplow was 3-for-5 with a homer and two RBIs for the Curve. Anderson Feliz also collected three hits, while third-ranked Pirates prospect Kevin Newman singled twice, scored two runs and drove in another.
Altoona starter Alex McRae (6-2) got the win after allowing four runs -- three earned -- on nine hits and four walks four over 5 2/3 frames.
Thunder starter Yefry Ramírez (6-3) surrendered seven runs on eight hits and three walks while striking out two in 2 1/3 innings.
Abiatal Avelino went 4-for-4 with two doubles, two runs scored and an RBI for Trenton.