Emanuels, Nuts shut down Dayton to earn split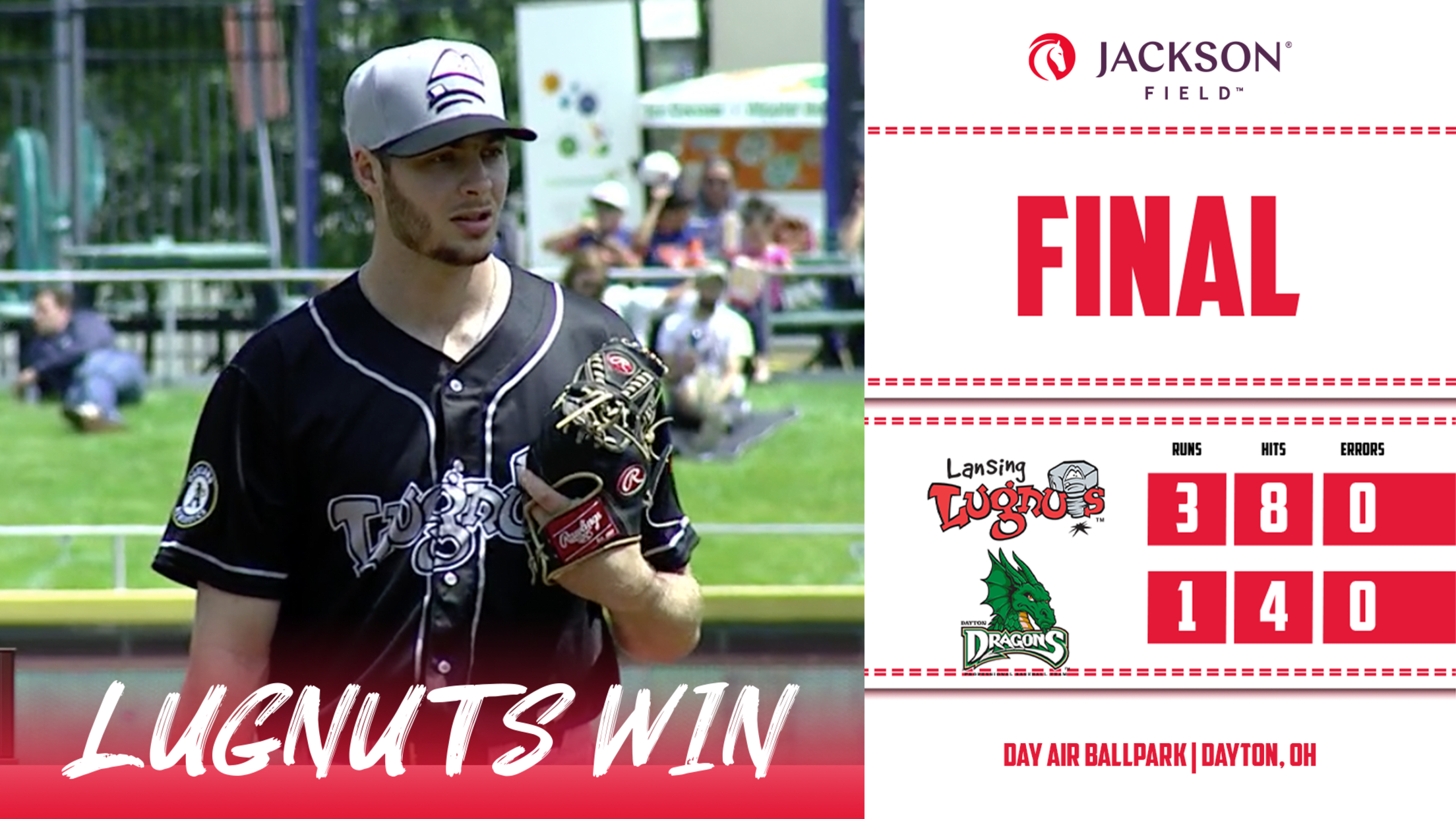 DAYTON, OH – 2020 fifth-rounder Stevie Emanuels tossed five commanding shutout innings and the Lansing Lugnuts (6-6) used another dominant performance from their pitching staff to defeat the first-place Dayton Dragons (8-4), 3-1, on Sunday afternoon at Day Air Ballpark, earning a six-game series split. The Dragons entered the series
DAYTON, OH – 2020 fifth-rounder Stevie Emanuels tossed five commanding shutout innings and the Lansing Lugnuts (6-6) used another dominant performance from their pitching staff to defeat the first-place Dayton Dragons (8-4), 3-1, on Sunday afternoon at Day Air Ballpark, earning a six-game series split.
The Dragons entered the series with the best offense in the High-A Central, but were held to run totals of 4, 2, 4, 3, 3 and 1 in the six games, as the Lugnuts lowered their league-leading team ERA to 2.38, third-best in Minor League Baseball.
Lansing received all the offense it would need in the fourth inning. Jake Suddleson led off with his league-leading sixth double. Three batters later, Austin Beck drove in Suddleson with an RBI double and Ryan Gridley followed with an RBI single for a 2-0 lead.
Emanuels set the tone, giving up an infield single to Brian Rey leading off the bottom of the first inning before erasing him with a double-play ball on his way to facing the minimum through the first four innings, including four straight strikeouts from the second through the third innings.
He ran into a brief spot of trouble in the fifth after a two-out double by Mariel Bautista and a walk of Bren Spillane, but catcher Drew Millas picked Spillane off first base to end the inning and Emanuels's outing.
Dalton Sawyer handled the next 1 1/3 innings, assisted by left fielder Lester Madden, Jr., throwing out Rey trying to stretch a single into a double to end the sixth inning.
Aiden McIntyre succeeded Sawyer and set down five in a row in perfect fashion, striking out two.
A Shane Selman bases-loaded walk in the eighth added an insurance run to the Lugnuts' lead.
In the bottom of the ninth, Jack Weisenburger hit Jacob Hurtubise with one out and allowed an RBI double to Rey to end the shutout before striking out Michael Siani and José Tello to conclude the game.
Weisenburger has struck out 12 batters in five innings this season.
In the win, Gridley finished 3-for-4 with a double and Millas went 2-for-5 with two singles.
After an off day on Monday, the Lugnuts open a six-game series on Tuesday night at the Fort Wayne TinCaps at Parkview Field. The next Nuts homestand will run from Tuesday, May 25, through Sunday, May 30, against the Great Lakes Loons. To purchase tickets, please visit lansinglugnuts.com or call (517) 485-4500.
# # #