De Jesus anchors third Drive no-hitter
Red Sox prospect combines with Fisher, Feltman on gem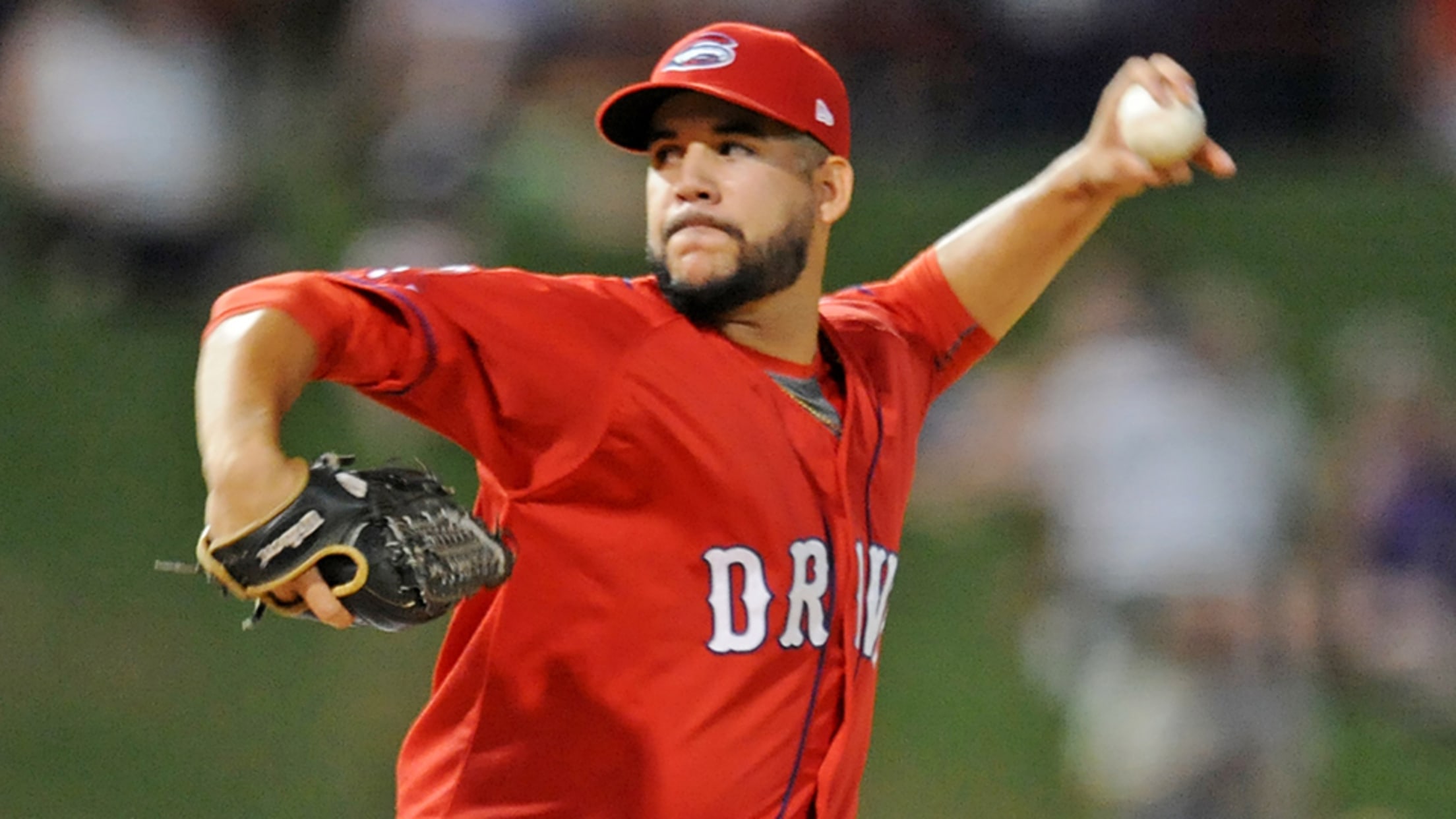 Enmanuel De Jesus signed with the Red Sox as a 16 year old for a $787,500 bonus on Aug. 9, 2013. (Gwinn Davis/Greenville Drive)
Enmanuel De Jesus took his plan of pitching inside against the South Atlantic League's best offense a bit too far on Thursday night at McCormick Field, and it cost him a shot at perfection. But he was able to follow the strategy to a spot in the record book for
Enmanuel De Jesus took his plan of pitching inside against the South Atlantic League's best offense a bit too far on Thursday night at McCormick Field, and it cost him a shot at perfection. But he was able to follow the strategy to a spot in the record book for Class A Greenville.
De Jesus pitched 7 2/3 nearly perfect innings before Devon Fisher and Durbin Feltman finished off the third no-hitter in team history as the Drive beat Asheville, 5-1.
"Obviously, it's a great feeling. No-hitters are, in my opinion, a collective effort," Greenville pitching coach Bob Kipper said. "Obviously, you have to pitch well, but you also have to defend the baseball and, collectively, we did all those things tonight."
De Jesus (4-2) retired the first 22 batters before plunking Todd Czinege with one out in the eighth. Asheville's only other baserunner came after Sean Bouchard swung over what should have been the final strike of the inning, but a wild pitch and throwing errors by catcher Samuel Miranda and second baseman Everlouis Lozada allowed a run to score, put a runner in scoring position and spelled the end of De Jesus' night.
Kipper said that De Jesus set the tone against a team that leads the Sally League in batting, runs, homers and slugging by effectively commanding the inside part of the strike zone in a park that plays a little hitter-friendly to right and right-center. The southpaw also was able to change speeds and keep the Tourists from getting comfortable by mixing three secondary pitches, particularly a slider he's worked diligently to develop.
"He did a good job of not allowing hitters to get extended and drive the ball to right-center field and right field," the pitching coach said. "[The slider] was a really big player and a really big pitch in his game tonight: his ability to throw it back foot to a right-handed hitter, obviously away to a left-handed hitter. He had a nice changeup complement to go along with that. His curveball had strike-stealing value."
The 21-year-old Venezuelan struck out five and lowered his ERA to 3.39 in the second straight start in which he hasn't yielded an earned run. De Jesus held Rome to an unearned run on four hits and a walk over seven innings his last time out on July 13.
Gameday box score
The series of miscues had no bearing on the team's plan for De Jesus, who gave way to Fisher after throwing 68 of 96 pitches for strikes.
"We're in the South Atlantic League, we're dealing with young pitchers that are still developing and growing into their bodies and, I know as an organization, we're trying to do the right thing," Kipper said. "[Bouchard] was going to be his last hitter, just because he had ran out of pitches. ... And he was just really excited that he was able to go out and perform at the level he did tonight."
Fisher entered to face Matt McLaughlin, who rolled over a 1-2 pitch to Lozada for the final out in the eighth. Feltman struck out Nic Motley and Bret Boswell around a groundout by Ryan Vilade in the ninth.
The 22-year-old Fisher has a 2.01 ERA in 41 1/3 innings out of the bullpen to rank second on the Drive behind Denyi Reyes' 1.79 mark, which is third-best in the Sally League. Feltman, a third-round pick in last month's Draft out of TCU, made only three South Atlantic League appearances before Thursday night. However fortuitous, the 21-year-old's participation in the milestone was, in fact, predetermined.
"[Feltman] is going to be on kind of a structured workload," We're trying to give him late-ballgame innings and tonight was just one of those nights that he was scheduled to pitch, and he was going to pitch. ... He's entering professional baseball, which is a new world."
In his last outing, the 21-year-old right-hander took the loss after surrendering two runs -- one earned -- on three hits and a walk in an inning on Monday against Lexington. Feltman was elevated on July 10 from Class A Short Season Lowell, where he compiled seven strikeouts and did not allow a baserunner over four one-inning outings.
"What we saw in his last outing is just another reminder that the young man is human," Kipper said. "There's going to be hiccups along the way. It's important to learn from hiccups and his response tonight was really, really special. ... That was big for me because he responded in a way that we would hope someone would respond to in the wake of a difficult outing."
Greenville's last no-hitter came on May 8, 2012, when Mickey Pena, Hunter Cervenka and Tyler Lockwood were one walk from perfection in a 1-0 win over Rome. The first no-no in franchise history was a rain-shortened six-inning contest on June 11, 2007 in which Daniel Bard and Ryan Phillips combined to beat Kannapolis, 5-0.
The historic effort on the mound was aided by a solo homer by Tanner Nishioka before Marino Campana and Garrett Benge went back-to-back to open the sixth.
Gerard Gilberto is a contributor to MiLB.com. Follow and interact with him on Twitter, @GerardGilberto4.