Missions' De Los Santos dazzles on mound
Padres No. 13 prospect allows three hits, posts seven zeros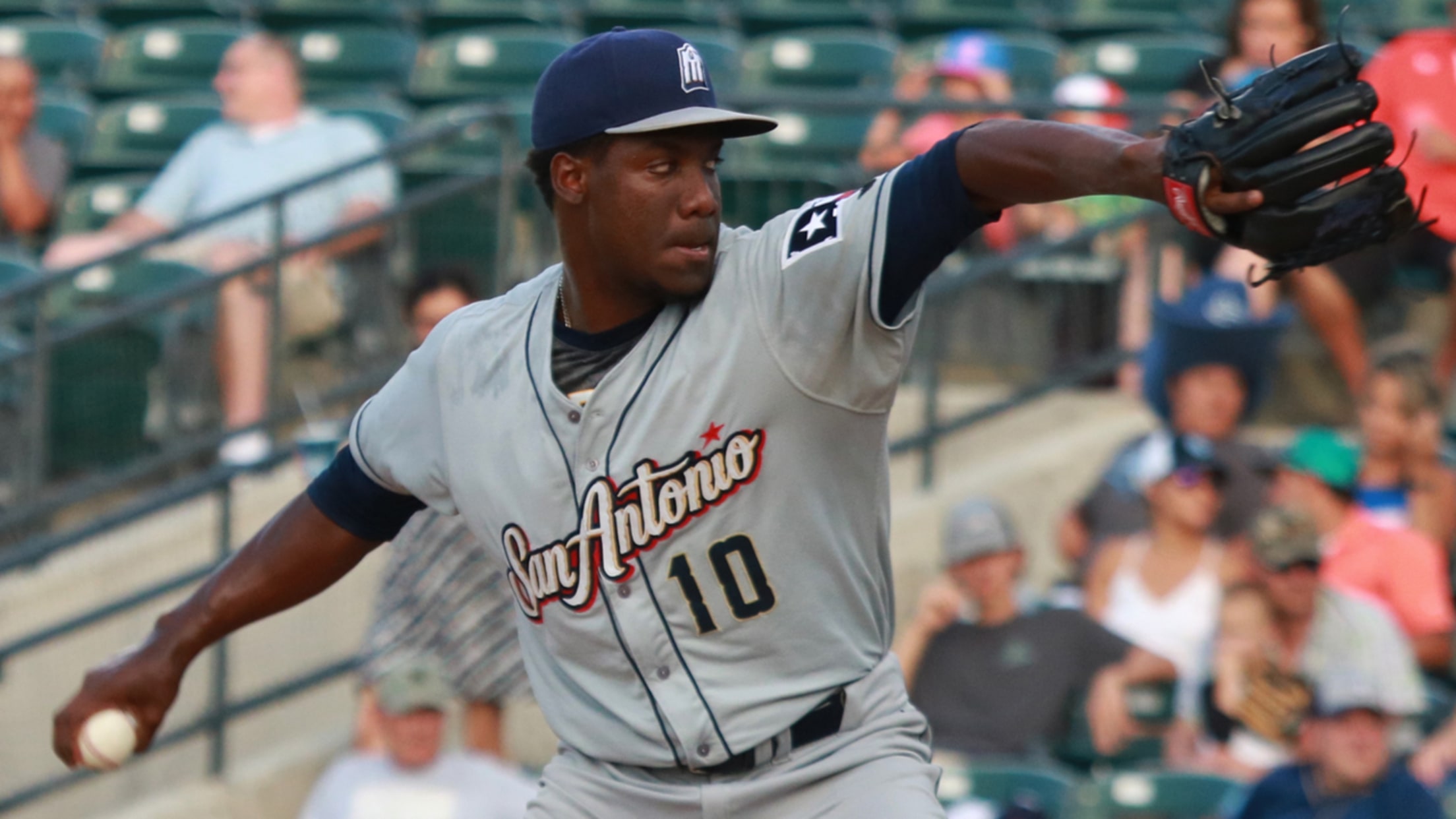 Enyel De Los Santos has just nine losses in 59 career Minor League games since 2015. (Tammy Tucker/MiLB.com)
With each start in recent weeks, Enyel De Los Santos has been gaining momentum in different components of his game.On Monday night, he rediscovered another piece and used it to construct one of his best starts of the year.San Diego's No. 13 prospect matched his longest career outing with seven
With each start in recent weeks, Enyel De Los Santos has been gaining momentum in different components of his game.
On Monday night, he rediscovered another piece and used it to construct one of his best starts of the year.
San Diego's No. 13 prospect matched his longest career outing with seven shutout innings, allowing three hits and equaling a career high with eight strikeouts as Double-A San Antonio thumped Corpus Christi, 10-1, at Whataburger Field.
"One of the things that I've seen is more confidence than anything else," Missions pitching coach Jimmy Jones said. "It seems like once he settles in, he finds the pitches that are working for him. Tonight, he had a good fastball, of course, and one of the pitches that he had in the past that he hasn't really used a whole lot this year is his changeup. They had a few left-handed hitters tonight, and he used that really, really efficiently and effectively."
De Los Santos' best offering is a fastball graded 60 on MLB Pipeline's 20-to-80 scouting scale, but his changeup is his highest-rated secondary offering at 55. Still, the right-hander hadn't seen much success with it in 2017 before Monday. De Los Santos faced two over the minimum and generated seven groundouts while keeping opposing hitters guessing.
"If he has [any given pitch], that's great, but he's able to recognize what he has," Jones explained. "Tonight, it was his changeup. Probably about the third inning, you could see it. He was pretty much fastball-dominant earlier in the game, and then you could see him mix in his changeup. He was getting some swings-and-misses and weak contact with that changeup, and that plus the fastball really enabled him to go deeper in the game."
Gameday box score
De Los Santos (8-4) breezed through the first inning before San Antonio gave him a four-run cushion in the second. The 21-year-old allowed a one-out double to Dexture McCall before retiring the next two batters to get out of the inning.
"It's one of those things where we get the momentum on our side, and then he goes out there and has a quick second inning," Jones said. "For the team, that's a huge benefit because you just kind of continue to roll with what you've been doing. We got four in the second inning, and then we just continued. He fed off that. The hitters fed off that."
Corpus Christi's Antonio Nunez singled with one out in the third but was retired on a double play by Houston's No. 16 prospectRamón Laureano. De Los Santos didn't walk a batter and allowed one baserunner the rest of the way, stranding Drew Ferguson at second after his two-out double in the fifth, en route to his third straight victory.
"He's able to recognize in the game what he's able to use to get these hitters out," Jones said. "To me, that's what good pitchers do. You're not necessarily going to have a great changeup tonight or a great curveball or slider, but you use what you have to expose the weaknesses of the hitters.
"When you can go out there and have a lead, and you're still pitching and pitching effectively instead of just going, 'OK, we have a four- or five-run lead, I'm going to continue to throw my fastball,' [that's big]," Jones said. "He's going, 'Hey, it's the fourth inning. In Corpus, anything can happen.'"
• Get tickets to a Missions game »
De Los Santos is 6-1 in his last eight starts and Monday's effort was the third in his last four in which he's lasted seven innings. It marked the first scoreless outing for the native of the Dominican Republic since he went six hitless frames on April 14 against Northwest Arkansas.
"He became a pitcher the last three or four innings," Jones said of Monday's win. "It's a formula that you can say, 'This is what I have to do to get these hitters out so we can get back in the dugout and do what we do at the plate.'"
Franmil Reyes belted two home runs and drove in four runs for the Missions. Reyes connected on a two-run shot to left field in the fifth and hit another two-run blast to right in the ninth, giving him 13 on the season.
It was the outfielder's second multi-homer game this year, matching his output on May 30 at Tulsa.
Nick Torres went 3-for-5 with a triple and three RBIs for San Antonio.
Tyler Maun is a contributor to MiLB.com. Follow him on Twitter @TylerMaun.