Greiner goes deep twice, plates career-high six
Tigers No. 27 prospect notches first multi-homer game as a pro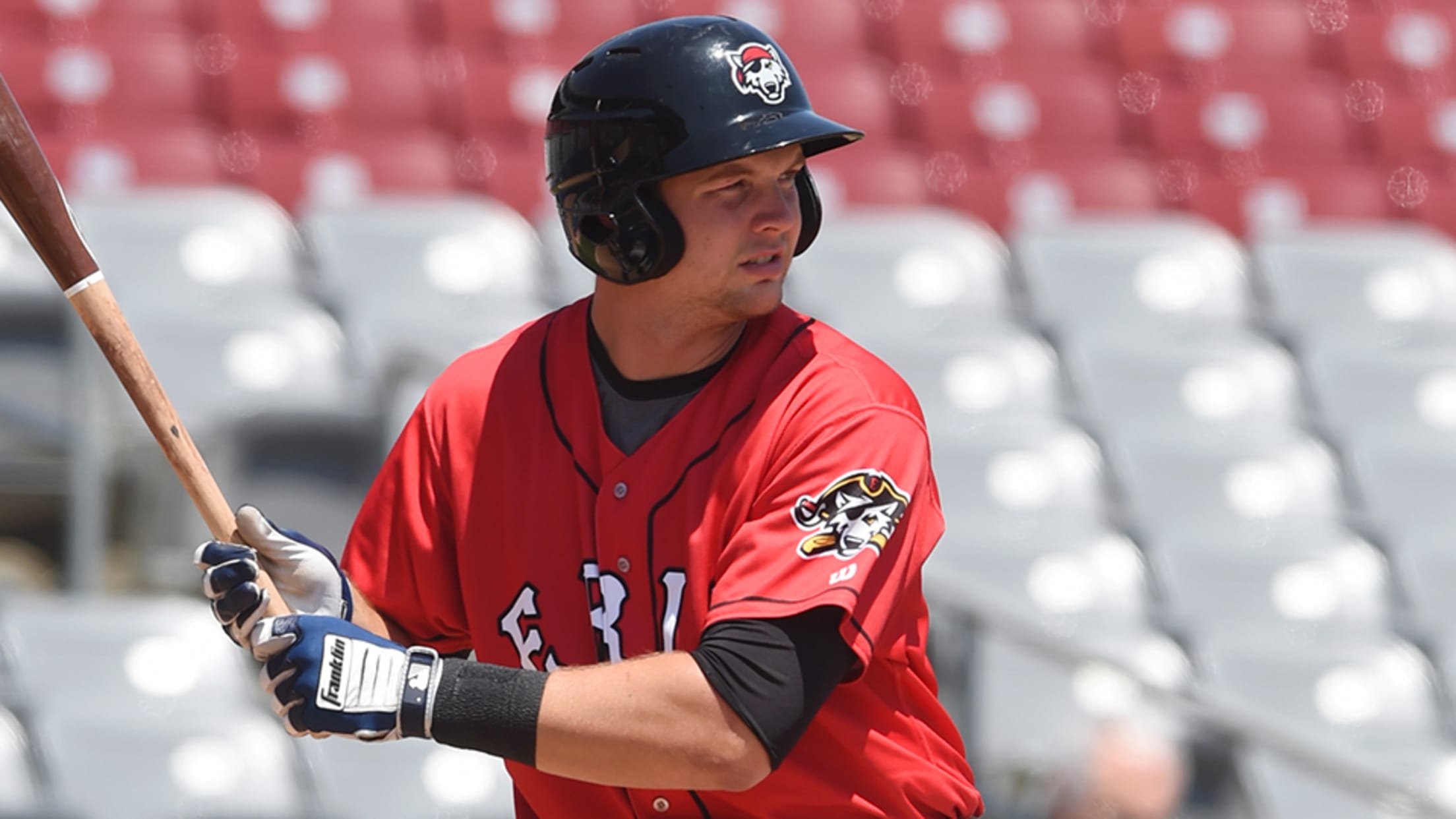 Grayson Greiner's 1.249 OPS in June is higher than his marks for April and May combined. (Kevin Pataky/MiLB.com)
Grayson Greiner started the month of June without a home run this season. After Wednesday's big game, he's up to five.The Tigers' No. 27 prospect blasted two long balls and drove in a career-high six runs as Double-A Erie beat Binghamton, 7-2, at UPMC Park. It was his first multi-homer game
Grayson Greiner started the month of June without a home run this season. After Wednesday's big game, he's up to five.
The Tigers' No. 27 prospect blasted two long balls and drove in a career-high six runs as Double-A Erie beat Binghamton, 7-2, at UPMC Park. It was his first multi-homer game since his freshman year at the University of South Carolina, and he topped his prior high by two RBIs.
Gameday box score
"I felt good tonight. I've been working hard in the cage before games with hitting coach Phil Clark, just trying to make a couple minor adjustments to my swing, and it paid off tonight," Greiner said. "I was able to get a couple pitches I could drive and was fortunate they were able to go over the fence. It's always rewarding to have results when you work on something."
Greiner flied to left field in the third inning before coming up with two men on and one out in the fifth against Rumble Ponies knuckleballer Mickey Jannis. After a foul tip on the first pitch, the 6-foot-6, 220-pound catcher sent the next one over the left field wall for a three-run homer that broke a 1-1 tie.
"We were facing a really good knuckleballer. It's extremely hard to have a standard approach against them, so my approach was just if it was down, let it go because it's probably a ball and if it's up, try to work under it because it's most likely going to drop at the last second," Greiner said. "Just trying not to swing too hard, get a good swing and the right trajectory on it and I got it out."
The 2014 third-round pick got another opportunity with two runners on in the following frame, although Jannis was pulled after walking Kody Eaves one batter before. Greiner greeted Scarlyn Reyes with another blast to left to open a 7-2 lead.
"Jannis came out right before my last at-bat and with a runner in scoring position, I knew I was going to get [Reyes'] best stuff," Greiner said. "I wasn't sitting on off-speed, but in the back of my mind I knew there was a chance and I was able to get a slider in the strike zone and got a good swing on it and hit it out. It just goes back to working on my approach and being able to put a good swing on a slider."
The first two months of the season were rough on Greiner, who had a .198/.286/.267 slash line after a 1-for-4 night on May 31 in Bowie. Since the calendar flipped to June, however, the 24-year-old is batting .300/.382/.867 with five homers, four of which have come in his last three games. His 11 RBIs this month already match his season total through May.
"I kind of told myself at the end of May that June is a new month and put everything you've done so far behind you," Greiner said. "I tried to wipe a clean slate and see what happened, and I've gotten off to a pretty good start. I dug myself a pretty deep hole and had a bad start to the season, but I've felt great the past couple weeks.
"Sometimes baseball's not going to go your way; you can't get too down on yourself and, fortunately as a catcher, I can impact the game in more ways than offensively. I hit well in this league last year, so I knew if I worked hard the results would come."
Greiner earned an early June promotion to Erie last season after hitting .312/.385/.367 in 31 games with Class A Advanced Lakeland, although he left the Flying Tigers without a home run. He batted .288/.320/.462 with seven homers and 30 RBIs in 59 games with the SeaWolves and could be in for a similarly strong finish if he can sustain his recent success. That's included an increased walk rate as he's drawn 20 free passes in 47 games after walking 22 times in 91 games in 2016.
Seventh-ranked Tigers prospect Mike Gerber drove in Erie's other run with a single in the first inning. No. 21 prospect Artie Lewicki (4-2) allowed two runs on six hits and a walk while striking out five over 5 2/3 innings for the SeaWolves.
Chris Tripodi is an editor for MiLB.com. Follow him on Twitter @christripodi.