Loons' Robinson does a little bit of everything
Dodgers shortstop falls homer short of cycle, swipes three bags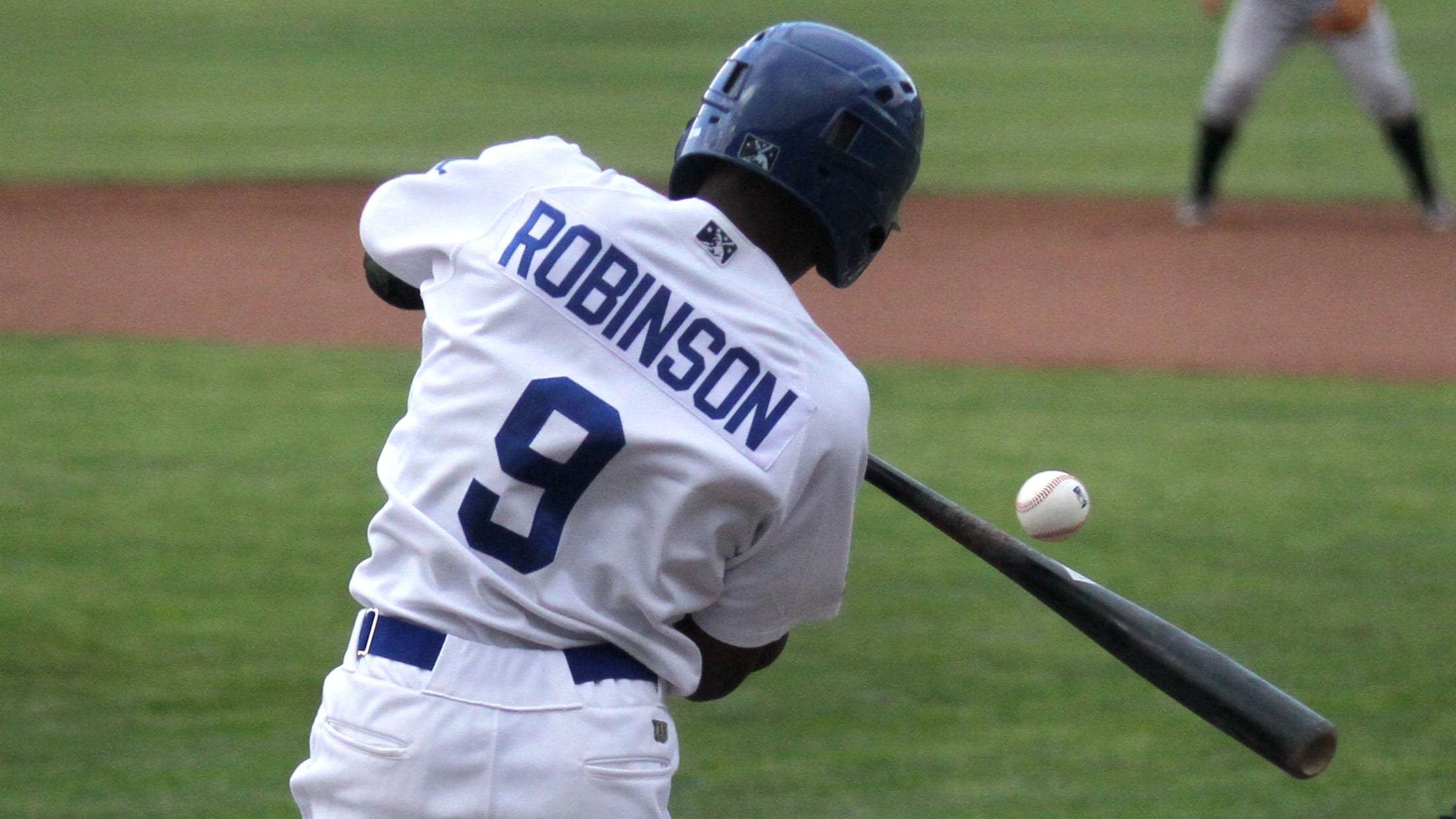 Errol Robinson is 5-for-5 on stolen-base attempts in the Midwest League this season. (Michael Grennell)
Being all over the place may not always be a good thing for a baseball player, but for Errol Robinson, it's the mark of a game well played.The Dodgers infield prospect was a homer shy of the cycle, reaching base five times and stealing three bases, to lead the Class
Being all over the place may not always be a good thing for a baseball player, but for Errol Robinson, it's the mark of a game well played.
The Dodgers infield prospect was a homer shy of the cycle, reaching base five times and stealing three bases, to lead the Class A Great Lakes Loons over the Bowling Green Hot Rods, 11-0, on Sunday.
"Usually when he's hitting well, he's more middle-away and he got back into things today," Great Lakes manager Jeremy Rodriguez said. "He had a talk with myself and [Great Lakes hitting coach] Jair Fernandez. We told him to just to do his thing and not try to do too much and just play. He's usually very aggressive on the bases and we haven't seen that much from him yet, so it was a really good showing."
Robinson singled to center field in his first at-bat, then stole second and third base before scoring on a double by Cody Thomas.
Gameday box score
The Ole Miss product roped a single to right in the second inning. He drove in a run with a double to right and swiped his third bag of the game in the fourth.
"He's pretty much free to run whenever he wants," Rodriguez added. "I know, in the beginning, he was a little hesitant, but we talked about it and told him, with his speed, I don't need to put the steal sign on. He's a very smart baserunner, which is very nice to have."
Following a walk in the fifth, Robinson belted his first triple of the year to right to plate another run.
"He was definitely locked in. When he's taking breaking balls down in the zone early, you know he's in a good spot. When he's chasing balls down, that's when you know he's trying to do too much," Rodriguez said.
After spending the first month of the season at extended spring training to get regular at-bats, Robinson has posted a .262/.301/.508 slash line with three homers and 12 RBIs in 19 games.
"I told Errol when he got here he's going to be a guy that could be hitting leadoff, last or in the two-hole," Rodriguez said. "Because of his speed and his bat-to-ball skills, he's become a good situational hitter. He can bunt, move guys over or drive guys in when we need him to."
Robinson wasn't the only Loon to come within a hit of the cycle. Thomas finished the game a triple shy of the feat and tied a career high with four RBIs.
"The at-bat before the home run, he just missed one," Rodriguez said. "His swing path has been looking good this series and he's sticking with the process. His preparation before the game has been outstanding, so the games like the one he had today don't come as a shocker because of how well he prepares."
With his offense firing on all cylinders, Dodgers' No. 22 prospectDustin May (3-2) turned in the best outing of his career. The 2016 third-round pick scattered five hits over a career-high seven scoreless innings. He threw 68 of 83 pitches for strikes en route to seven whiffs.
"When his tempo is on beat, he gets ahead of hitters and gets quick outs," Rodriguez said. "I talked about it with him and [Great Lakes pitching coach] Connor McGuiness before the game about getting his changeup working. He used it today and enjoyed throwing it."
In 11 starts for Great Lakes this season, May has produced a 3.93 ERA and 1.13 WHIP in 50 1/3 innings. He's struck out 54 while walking only eight .
"He's working on things to get better, but to be honest, the most important thing for him is to continue to get ahead of hitters early and then work his tempo," the skipper said.
Dodgers' No. 20 prospect Oneil Cruz went 4-for-5 with two runs scored and an RBI.
Michael Leboff is a contributor to MiLB.com.