Florial shines as Yankees flourish on the farm
Outfielder enjoys breakout year in one of game's deepest systems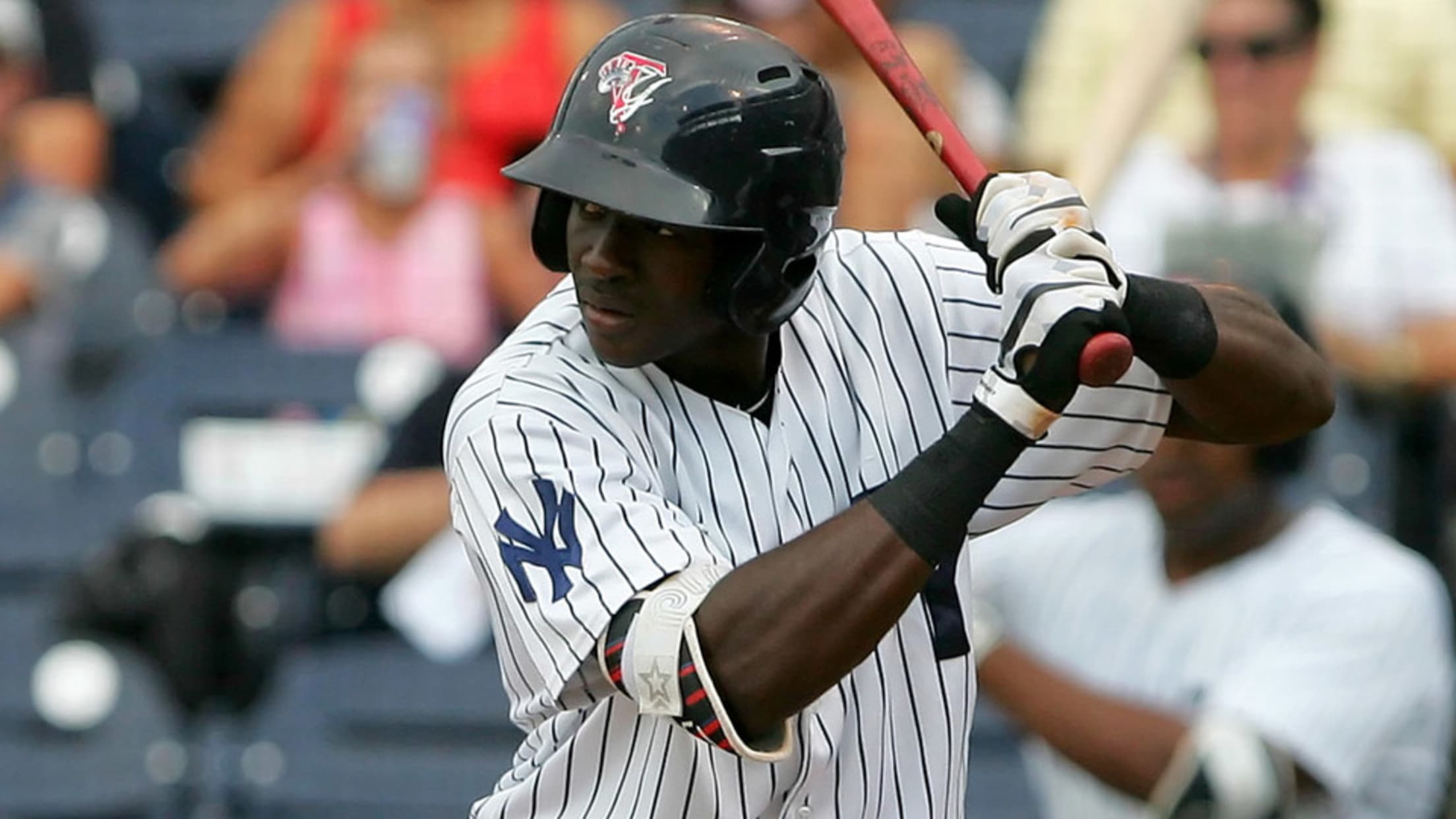 Estevan Florial recorded an .850 OPS in 2017 and earned a promotion to Class A Advanced. (Cliff Welch/MiLB.com)
This offseason, MiLB.com is taking a look at the most outstanding campaigns by players in each system across Minor League Baseball and honoring the players -- regardless of age or prospect status -- who had the best seasons in their organization.After years of fielding rosters filled with more free-agent superstars
This offseason, MiLB.com is taking a look at the most outstanding campaigns by players in each system across Minor League Baseball and honoring the players -- regardless of age or prospect status -- who had the best seasons in their organization.
After years of fielding rosters filled with more free-agent superstars than homegrown talent, the Yankees have put their focus back on the farm system. And it's starting to pay off.
Led by the likes of Aaron Judge, Gary Sánchez and Brett Gardner, New York battled to the American League Championship Series in 2017, falling one win shy of a trip to the World Series. Down on the farm, the team picked up the MiLBY award for top system in the Minors.
"I really think we've turned the corner here," managing general partner Hal Steinbrenner told MLB.com at the Owners Meetings earlier this month. "Part of it was by not trading away the Judges and the [Greg] Birds and the Sanchezes of the world, and the [Luis] Severinos year after year when people were asking for them, being patient with the system, getting some new leadership a couple of years ago in player development. I think we're on the right track."

Yankees Organization All-Stars
Catcher -- Donny Sands, Charleston (76 games), Tampa (17 games): Following a couple seasons in Rookie ball, Sands held his own in his first full campaign. An eighth-round pick in 2015, the 21-year-old doubled his career high with four homers while adding 55 RBIs in 93 games.
He hit .269 in 76 games with Class A Charleston and earned a bump to Class A Advanced Tampa. The Arizona native successfully competed in the pitcher-friendly Florida State League in early August, posting a .306/.353/.484 slash line in 17 contests.
First baseman -- Mike Ford, Trenton (101 games), Scranton/WB (25 games): Ford bounced back from an injury-riddled 2016 with arguably his best campaign yet. Although he had a short stint on the disabled list with a strained hamstring, the 25-year-old proved his hand was all better by tallying 86 RBIs to lead the Yankees farm system and belting 20 homers to tie Jake Cave for the organizational lead.
Ford also showed a lot of patience at the plate, working a career-high 94 walks across the two levels. The Princeton product led the Eastern League with 76 free passes and a .410 on-base percentage with Double-A Trenton.
Second baseman -- Nick Solak, Tampa (100 games), Trenton (30 games): The Yankees selected Solak in the second round of the 2016 Draft and he performed well right away. Although his first full season proved to be a little more of a challenge, the 22-year-old continued to look comfortable at the plate.
Skipping Class A, Solak began the year with Tampa and posted a .310 average in the pitcher-friendly FSL. The University of Louisville product was bumped to Double-A on Aug. 1 and finished the season with 12 long balls, 26 doubles and 53 RBIs. He also swiped 14 bases in 19 chances.
"Nick has shown the ability to hit throughout his college career and continued during his first season in the organization," said Eric Schmitt, the Yankees' director of Minor League operations. "His maturity, attitude, and work ethic led us to believe he would be prepared to start in the Florida State League this season. He has continued to perform and as a result earned the opportunity to advance."
Third baseman -- Miguel Andújar, Trenton (67 games), Scranton/Wilkes-Barre (58 games), New York (five games): It was a big year for the Yankees' No. 5 prospect. Andujar led the system with a .315 average while tallying a career-best 16 jacks. And when he got a taste of the Majors, he only picked up the pace. Andujar went 4-for-7 with four RBIs in five games for the Yankees in June and September.
"One of the possibilities in my mind somewhere in the infield is Andujar," Steinbrenner told MLB.com. "He had a really good August in [Triple-A] Scranton offensively, and even defensively, [he was] much improved."
The 22-year-old displays an above-average arm at the hot corner and continued to show improvement defensively with 17 errors this year - his lowest tally since 2013.
Shortstop -- Thairo Estrada, Trenton (122 games): At 21, Estrada already has five Minor League seasons under his belt and has gotten better each year. The Venezuela native notched a career-best .301 average to rank fourth in the organization. While he isn't known for his power, Estrada surged with 29 extra-base hits, a personal high.
Estrada played mostly shortstop this season but continued to show off his versatility with the Thunder as he once again saw time at second base and third.
"Thairo continues to impress. He always has a smile on his face and continues to answer the challenges that have been put in front of him," Schmitt said. "He comes back faster and stronger each year and continues to hit at every level, including the Arizona Fall League this year, along with being able to play multiple positions in the infield."
Outfielders
Estevan Florial, Charleston (91 games), Tampa (19 games): Florial broke out in 2017, and the Yankees rewarded their No. 3 prospect with Player of the Year honors. In his age-19 season, he set career highs with 13 homers, 57 RBIs and 23 stolen bases while hitting .298 across two levels.
"He still has some work to do on the development side," Yankees' vice president of baseball operations Tim Naehring told MLB.com. "But when you look at the interesting dynamic of this young man, he has a chance to be an above-average defender that has speed, arm strength, raw power to all parts of the field and intangibles like a sense of urgency with his work ethic that is unparalleled. It's exciting."
Florial continued to grow in the Arizona Fall League, where he showed off his bat as well as his above-average arm.
Jake Cave, Trenton (31 games), Scranton/WB (72 games): Cave missed the first month of the season due to arthoscopic knee surgery and spent a week on the disabled list in June due to a concussion, but he still found plenty of time to put together his best season yet. The 24-year-old set career highs with a .305 average, an .893 OPS, 20 homers and 56 RBIs between Double-A and Triple-A.
"Jake has always had tremendous work ethic on the field, in the cages and in the weight room since he joined the organization in 2011," Schmitt said. "We were very happy to see it translate into such a successful season for him this year."
Cave also played mistake-free in the outfield, making zero errors this season.
Billy McKinney, Trenton (69 games), Scranton/WB (55 games): After being traded from the Cubs last summer, McKinney got the chance to fully adjust with the Yankees this season. The 23-year-old produced one of his best campaign yet with a .277 average, 64 RBIs and a career-high 16 homers across two levels.
"Billy is not only a great player but also an outstanding person and teammate," Schmitt said. "He was an immediate fit into the Trenton club last year and had a great season this year in Trenton and Scranton, and he continued to play well in the Arizona Fall League. "
Spending all of his time professionally in the outfield, McKinney tried his glove at first base during the Fall League. The left-hander made just one error in 19 games in Arizona.
Honorable Mention:Isiah Gilliam ranked second in the organization with 85 RBIs for Charleston.
Utility -- Tyler Wade, Scranton/WB (85 games), New York (30 games): After making his debut in June, Wade bounced between the American League and the International League a few times this season. The 2013 fourth-round pick remained focused on the field while with the RailRiders, hitting a career-high .310 to rank second in the system.
Wade, who turned 23 on Thanksgiving, became even more versatile this season when he moved to the outfield for several games at both levels. While the majority of his games were spent at short, the California native also spent some time at second and third, giving the Yankees plenty of options.


Left-handed starting pitcher -- Caleb Smith, Trenton (one game), Scranton/WB (18 games), New York (nine games): Smith drew a lot of eyes this season as he resurged with the RailRiders. The 26-year-old went 9-1 with a 2.41 ERA, 102 strikeouts and 31 walks in 100 2/3 innings.
Although he didn't fare so well in the big league bullpen -- a 7.71 ERA in 18 2/3 innings -- Smith's Minor League numbers put him on the Marlins' radar. New York dealt the southpaw to Miami on Nov. 20, and he will look to continue his development in South Beach.
Right-handed starting pitcher -- Chance Adams, Trenton (six games), Scranton/WB (21 games): Adams continued his winning ways as he climbed the ladder this season. The Yankees' top pitching prospect led the system with 15 victories while taking just five losses, bumping his career record to 31-7 across three seasons.
Adams utilized his above-average fastball and slider to post a 2.45 ERA with 135 strikeouts and 58 walks in 150 1/3 innings. The 23-year-old continues to improve his changeup as he works it into his mix.
Relief pitcher -- Anyelo Gómez, Charleston (10 games), Tampa (10 games), Trenton (17 games), Scranton/WB (one game): The Yankees signed Gomez in 2013 as a starter, but he began his transition to the bullpen in 2016. In his first full season as a reliever, the 24-year-old shined as he advanced three levels.
Gomez notched a 1.92 ERA with 87 strikeouts in 70 1/3 innings and converted nine of 10 save situations. The right-hander from the Dominican Republic cut his walks down from 42 in 2016 to 21 this year. And Gomez continued the dominance in the postseason with four scoreless appearances for the RailRiders.
Kelsie Heneghan is a contributor to MiLB.com. Follow her on Twitter @Kelsie_Heneghan.