System Rankings: Position players (30-21)
D-backs, Marlins and Royals need to do some restocking of systems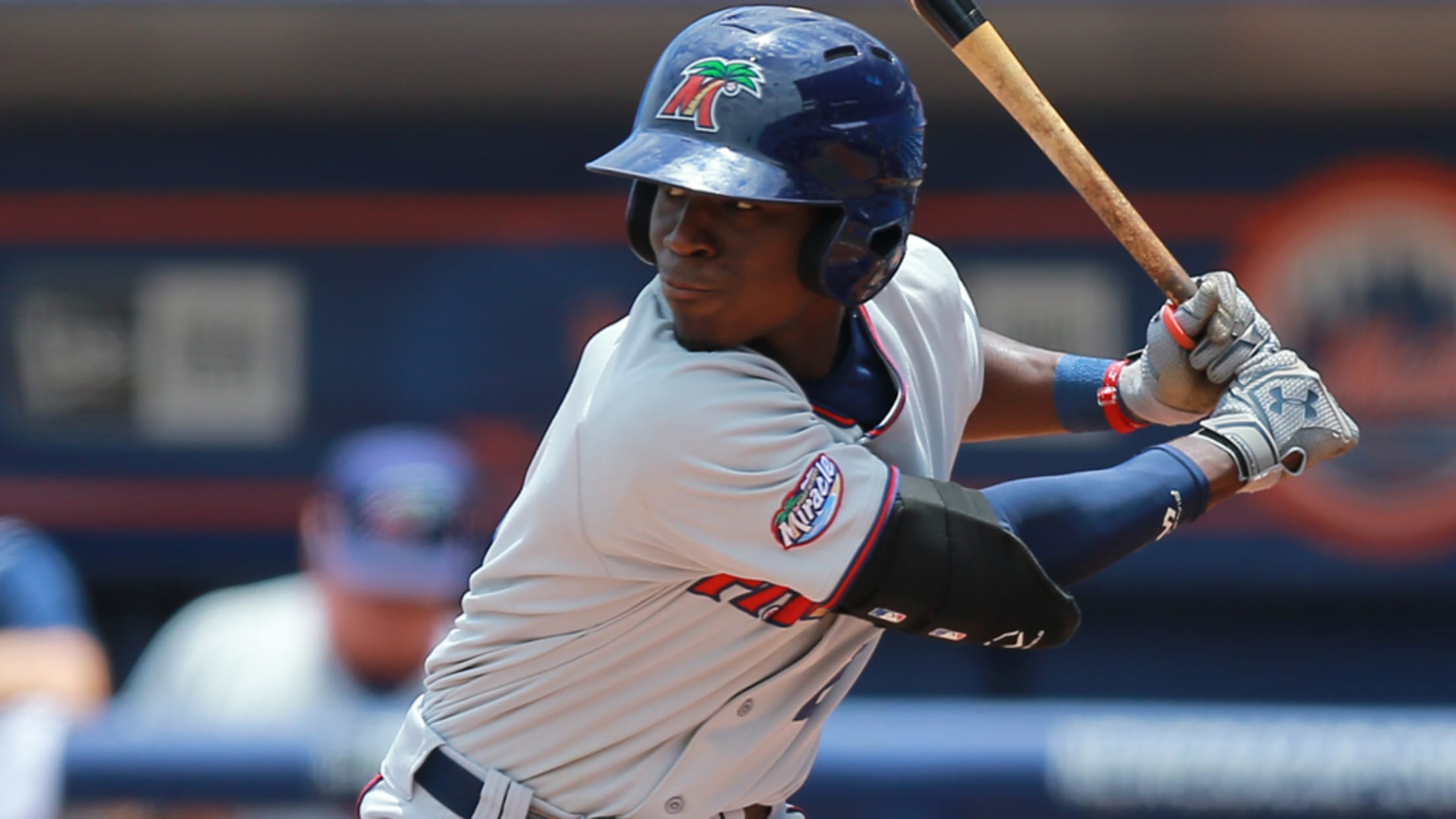 Nick Gordon has amassed 336 hits and 55 steals over 293 games in the Twins system. (Gordon Donovan/MiLB.com)
With Spring Training under way and the 2017 season almost upon us, MiLB.com will look at the state of all 30 farm systems over the next couple weeks and rank them, according to certain changing criterion with each edition. This opening edition focuses specifically on position-player prospects and considers the
With Spring Training under way and the 2017 season almost upon us, MiLB.com will look at the state of all 30 farm systems over the next couple weeks and rank them, according to certain changing criterion with each edition. This opening edition focuses specifically on position-player prospects and considers the quality and quantity of top talent in each system in its current state. So without further ado, Part I of these rankings:
30. Arizona Diamondbacks
It's no secret that it's a down time for an Arizona system that lacks a position player with an above-average projection right now.
Sócrates Brito
is 35 Major League at-bats away from losing his prospect status, but has produced just a .554 OPS during his time at the top level. Infielder
Dawel Lugo
spent most of 2016 in the California League, and if his power plays to a similar degree at the upper levels this year, he could generate some excitement. Still, the picture is bleak. The D-backs join the Angels and the Royals as teams without a farmhand ranked among MLB.com's
Top-100 prospects
-- pitchers or position players.
29. Miami Marlins
The Marlins traded
Josh Naylor
to the Padres in a package for Andrew Cashner in July, further depleting a system that finished at the bottom of these rankings in 2016. Third baseman
Brian Anderson
had a decent year, but outfielder
Stone Garrett
missed over half the season after being
injured by Naylor in a prank
. Outfielder
Thomas Jones
, a third-round pick in last year's Draft, is a nice addition in terms of his power and speed potential, but Miami still has some serious building to do in order to stay competitive without spending at an astronomical level on the free-agent market.
28. Kansas City Royals
It wasn't so long ago that the Royals boasted one of the top Minor League systems in the game, but now the likes of Eric Hosmer, Mike Moustakas and Salvador Perez are long-established Major Leaguers, and youngsters such as Raul Mondesi and Cheslor Cuthbert graduated last year. At this point, the majority of Kansas City's most exciting prospects are pitchers --
Josh Staumont
hits triple digits and southpaw
Matt Strahm
is rediscovering himself as a starter with a rebuilt elbow -- but the Royals don't have any top-100 talent on the mound or on the field. Third baseman/outfielder
Hunter Dozier
, who finally broke out with an .899 OPS in the Minors last season, is as close as Kansas City can come in this category.
27. Los Angeles Angels
With first baseman
Matt Thaiss
, shortstop
Nonie Williams
and outfielder
Brandon Marsh
coming aboard via last year's Draft and catcher
Taylor Ward
and outfielder
Jahmai Jones
joining the ranks in 2015, the Angels have begun to stockpile pieces who would complement top-tier prospects very well. Jones, in particular, is looking more and more like a top-100 contender, given his speed and defensive abilities in center field. That said, the club is a few acquisitions away from establishing real position-player depth and dynamism.
26. Baltimore Orioles
It's a fair jump from the Angels at 27 to the O's here at 26. Catcher
Chance Sisco
put together a fantastic 2016 to climb into MLB.com's Top 100 for the first time, but outfielder
Mike Yastrzemski
stumbled a bit at the higher levels of the Minors.
Trey Mancini
successfully followed up his breakout 2015, but Chris Davis has him blocked at first base in the big leagues.
Ryan Mountcastle
, a 20-year-old shortstop and 2015 first-rounder, also bears watching, although a position change could be in the works for the future given his defensive liabilities, and his bat will be a lesser asset if he's an outfielder.
25. Detroit Tigers
The mashing of
Christin Stewart
and Willie Mays-like theatrics in the outfield of
Derek Hill
aside, the Tigers' position-playing Minor Leaguers don't have many flashy tools to dream on. In last year's Draft, Detroit selected pitchers (including No. 74 prospect overall
Matt Manning
) with each of its first five picks, and Stewart was the only non-pitcher among the Tigers' top four selections the previous year.
Dixon Machado
, a strong defensive shortstop, posted a .349 on-base percentage over 131 games for Triple-A Toledo, but he faces being stuck there again for the bulk of 2017 with Jose Iglesias under contract through the end of the season.
24. San Francisco Giants
Christian Arroyo
, the Giants' only position player ranked in the Top 100 by MLB.com, played both middle infield positions and third base while putting together a strong campaign for Double-A Richmond, batting .274/.316/.373 with 36 doubles in 119 games. His progress through the Minors landed him in big league camp as a non-roster invitee this spring.
Chris Shaw
had a dynamite first three months of the season, bashing 16 homers with a .357 OBP in the California League, but didn't produce at the same level in July and August in the Eastern League. San Francisco's first pick of last year's Draft didn't come until the second round, when toolsy Vanderbilt outfielder
Bryan Reynolds
was nabbed.
23. Minnesota Twins
At the close of 2016, only three of the
Twins' top-10 prospects
were position players. On the plus side, two of those three have landed on the Top-100 overall list for the 2017 season.
Nick Gordon
(No. 50) continued to show a lot of promise as a line-drive hitter, baserunner and shortstop. Outfielder
Alex Kirilloff
(No. 98), the 25th overall pick in last year's Draft, hit .306/341/.454 with seven homers over 55 Rookie-level games.
Ben Rortvedt
, whom the Twins grabbed with their '16 second-round pick, is a power-hitting catcher drafted out of high school.
22.Texas Rangers
Last season brought the end of Joey Gallo's prospect status, but the Rangers have other young hitters -- none with as much pop, of course -- who make it an interesting system. Outfielder
Leody Taveras
, the 18-year-old ranked No. 55 overall has gained notice as a potentially five-tooled switch-hitter. First baseman
Ronald Guzmán
smoked 36 extra-base hits over 102 Texas League games last year, and he'll look to control at-bats a bit more this season.
Jose Trevino
, the
ninth-ranked catching prospect
, had an excellent 2016 for Class A Advanced High Desert, and if he can replicate those offensive numbers at the Double-A level while continuing to develop as a strong defender and a leader behind the plate, he'll turn a lot of heads. Watch out for 18-year-old shortstop
Anderson Tejeda
, who climbed from the Dominican Summer League to Class A Short Season Spokane (where he hit eight homers in 23 games) in 2016, ahead of his second season stateside.
21. Oakland Athletics
No. 52 overall prospect
Franklin Barreto
and No. 100 Matt Chapman are big bright spots in the Oakland system, and there is some depth here, even for a pitching-heavy farm. Although forner infielder/designated hitter
Renato Núñez
had 115 hits in 505 Triple-A at-bats last year, he showed some good pop as 45 of them went for extra bases. Shortstop
Chad Pinder
, who was the Texas League MVP in 2015, also hit for considerable power in the Pacific Coast League last year, and each Nunez and Pinder got a taste of the Majors at the end of the season. Another rung or two down the ladder, middle infielders
Yairo Muñoz
and
Richie Martin
are exciting defenders at shortstop, but Munoz struggled at the plate in Double-A and Martin's bat has a way to go to catch up to his plus-glove.
Josh Jackson is a contributor to MiLB.com. Follow and interact with him on Twitter, @JoshJacksonMiLB.