Fatherhood, According To Tim Dillard
As the Father's Day Weekend came to a close, Tim Dillard sat down with us and shared his secrets to parenthood.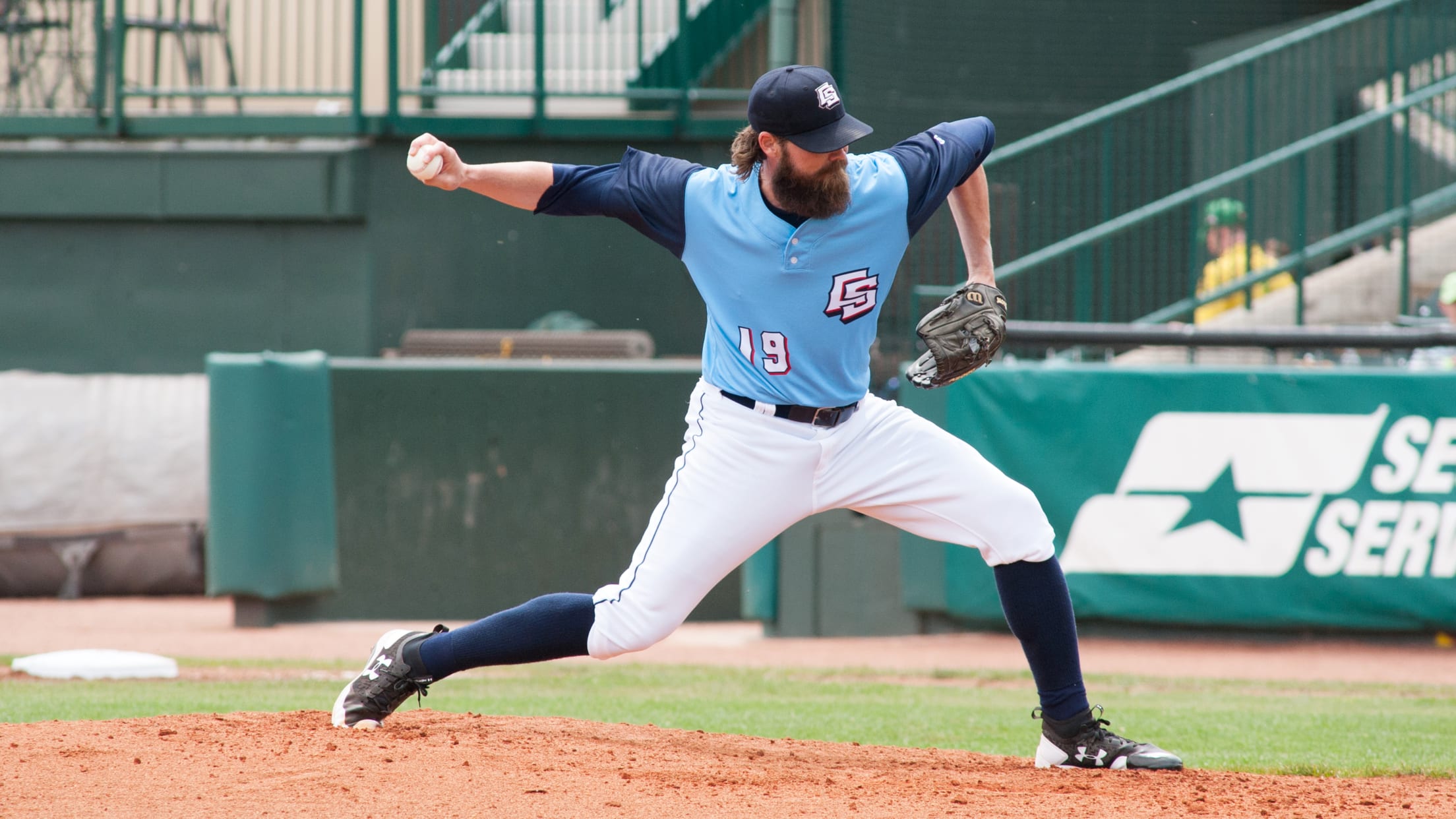 (Paat Kelly)
There's no owner's manual on how to be a dad, much less how to be a dad and a professional baseball player.
There's no owner's manual on how to be a dad, much less how to be a dad and a professional baseball player.
For a majority of the season, the husband and father can be found traversing the United States, bouncing from hotel room to bus to hotel room to temporary home base to a plane to another hotel room…and repeat from April through September.
For a professional baseball family, both selflessness and sacrifice are needed if not required, making sure that the children are properly cared for, while also making sure that everything is logistically planned out to the nines in order to make everything as smooth as possible.
So is the case in the Dillard household. Sky Sox relief pitcher Tim and his wife, Erin, have three kids to make up the Dillard clan. There's Brooks, age 8, Camryn, age 6 ½ (and don't you forget that half!) and Hayes, age 20 months.
"We had three offseason babies, which is good because I wanted to try to have an offseason baby, if you can plan such a thing," said Dillard. "(In September,) I started the game, threw five innings, got done, came in and Sweet was like 'Hey, great job. Way to go. Go have your baby.' So I went, jumped in the car, drove 16 hours home just in time before the other two kids got off the bus for school. About 11 hours after that, I had a kid (Hayes). That was probably the most interesting one."
For Dillard, the right-hander has had the luxury of both playing for and against the Nashville Sounds, the hometown team of where the house of five currently live. When the Milwaukee Brewers Triple-A affiliate moved from Nashville to Colorado Springs, Dillard still was able to head home for a pair of series in the Music City.
That still leaves a lot of time away from home.
"For me, the best course is when you're with them, you're with them," said Dillard. "Be around them, listen to them, hear their stories, ask them questions and just give them that attention. Everyone needs attention, but kids more so need attention from their parents. It's almost like they get to say 'hey, I get to tell you what I've done over the past couple weeks.' I woke up, got breakfast, (and) listened to stories that they've had over the past couple months. I find it fascinating."
Life was a little easier when Dillard was a member of the Sounds, but he and Erin have found a way to be methodical in the planning and logistics of keeping three kids under eight years old entertained while having just one car.
"(In Nashville,) we would live our lives and I would go to the field every day; it was kind of the dream in a way," said Dillard. "Here, it's about finding what we can do to kill time and having a schedule planned out. When you're home, you can go play in the yard or in the play room, or they have school or baseball practice. Here, we have to make it up on the fly, where we're out of our element.
For Brooks, having a dad as a professional ballplayer has give the eight-year-old plenty of perks that few of his peers get to experience.
"I get to bring my oldest, Brooks, to the clubhouse," said Dillard. "We're out on the field taking groundballs, taking batting practice, running around, learning how to backhand a baseball and the ins and outs of what I did with my dad and older brothers. I look at him and I go 'this is special for you. You may not know how special it is to be in a clubhouse and be relocated every few months, but it can be special.'
Last year, I felt like he was really sitting in the stands watching the game to the point where he knew what was good and what was bad because he can understand baseball. It's made him a better Little League player. He's really good-not necessarily the biggest, but one of the quickest. I think the older he gets, the more he realizes how special it is that not everyone's dad plays professional baseball."
Of course, despite the special trips to the clubhouse and the travel to Colorado each summer, the Dillards are still parents first, meaning that they have a bigger, more constant job at hand outside of Tim's outings on the mound.
"We try to raise adults," said Dillard. "We don't want to raise them up so that when they're 18, they can't function. We don't try to put them in a bubble. We try to have them experience everything and have freedom. When they abuse that freedom, we take a little bit away. It's a relaxed, organic process, but we don't try to patronize them in any way (and) it doesn't take away from the fun.
"For instance, when they come back from school and they're like 'everyone believes in Santa Claus but us.' We didn't teach them about Santa Claus. If they wanted to believe in Santa Claus and ask us questions, we would tell them the truth. I don't want the kids to grow up and find out that we were telling them little white lies. We tell them the truth and try to raise adults. I know that that's not groundbreaking, but that's the simple idea that we run through."
Part of the process of raising adults is instilling the concept of time management, a facet of life that Dillard took away from having a dad in the professional baseball world. Former Major League infielder Steve Dillard spent time with the Red Sox, Tigers, Cubs and White Sox from 1975 and 1982.
"One thing that my dad taught us growing up was being on time," said Dillard. "One major rule in baseball is that if you're five minutes early, you're 10 minutes late. I think that's vital for kids to know structure in that way. If you say you're going to be somewhere at 3 p.m., then be there. If I say we have five minutes to get dressed because we have to leave, then we have five minutes so make use of your time.
"I know time management seems weird for little kids, but we start them early so that I don't have to wake them up to go to school everyday. They'll be able to wake up and they'll be able to use an alarm clock, and that's just part of being an adult. That's the one big thing that my dad took away from baseball and instilled in me and that's a big thing that I try to instill in the kids."
Dillard's parenting techniques have also come from past teammates during the veteran's 15-year professional career.
"When you're with teammates for six months of the year plus Spring Training, we don't always talk about baseball," said Dillard. "We're trying to get through life together. In my early years, I really gravitated towards R.A. Dickey. He was on my first Triple-A team in 2007 and he already had a couple kids. He would show me little tricks of the trade like how to manage your time and your effort.
"I don't want to use the cop out of 'I can't change diapers because I have to head to the field' or 'sorry, kids, I can't play because I'm pitching tomorrow.' I go full throttle as a dad and the baseball thing will take care of itself."
His dad has had an influence. Former teammates have been an influence. The one person, however, whom Dillard would be the first to dub as the "superhero" of this balancing act is Erin.
"When I'm not around, she has every role in making sure they're alive," said Dillard. "After we left Nashville, (the Sky Sox) were going to Oklahoma City. She flew out here by herself, got the rental car, got the car seat, drove from Denver to Colorado Springs, and moved into the apartment. She did all that.
"Anybody that's been in the baseball family that has family knows that it's not smooth at all. It's never smooth. You expect things to go wrong or things to pop up or someone to get sick. She's a trooper. I'm not saying she's always excited about it, but she does it and she does it well. She does it as good as anyone can hope for.
"If she's listening, then honey, I love you."