Jorge goes seven frames in Lookouts shutout
No. 9 Twins prospect records third scoreless outing of season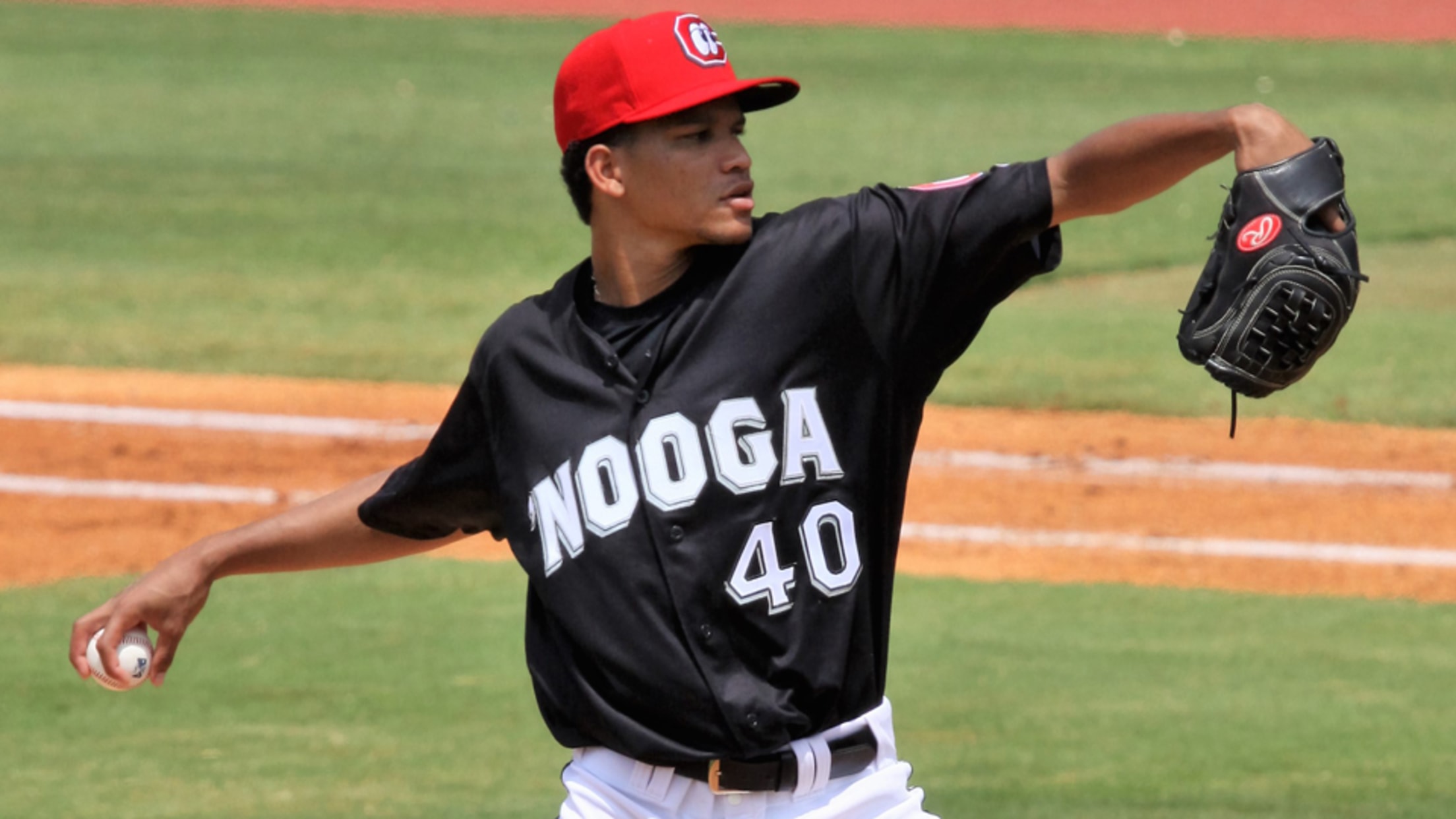 Felix Jorge has averaged 1.35 ground-ball outs for every one in the air over 72 innings this year. (Meeks & Norris Photography)
When Felix Jorge issued back-to-back walks to open the fourth inning Monday night, the belief he would produce a quality start didn't fall by the wayside. "Not concerned, no," said Double-A Chattanooga pitching coach Ivan Arteaga. "The worst that can happen is they score a run or two. That's the worst
When Felix Jorge issued back-to-back walks to open the fourth inning Monday night, the belief he would produce a quality start didn't fall by the wayside.
"Not concerned, no," said Double-A Chattanooga pitching coach Ivan Arteaga. "The worst that can happen is they score a run or two. That's the worst that can happen."
Instead, the ninth-ranked Twins prospect scattered three hits and fanned five over seven innings to lead the Lookouts to a 6-0 win over the Montgomery Biscuits at Riverwalk Stadium.
Gameday box score
Jorge (7-1) recorded his third scoreless outing of the year and sports a 3.00 ERA through 12 starts. Last season, he went 9-3 with a 1.55 ERA over 14 starts in the Class A Advanced Florida State League and 3-5 with a 4.12 ERA over 11 in the Southern League.
Added muscle mass over the winter has been a benefit.
"That is a fact. It's noticeable. He's stronger," Arteaga said. "He's putting in the work in the weight room, and he's very athletic. He makes everything easy, the way he fields his position, the way he holds runners, the way he approaches the game.
"And being stronger keeps him fresher toward the end of the game, so his pitches work the same way they were working at the beginning of the game."
The Dominican Republic native's ability to locate those pitches is also much better than when he made his Double-A debut last July 11.
"The difference, so far, is he's been able to get ahead, and when he doesn't get ahead, he can spot his fastball, and his changeup is getting better. He's pitching with that ahead and behind in the count. All his breaking stuff is better," the pitching coach said. "He can pitch any pitch at any count. He knows it and the hitters know it. It makes him unpredictable."
After working around a two-out single by 19th-ranked Rays prospect Joe McCarthy in the first, Jorge surrendered a one-out double to Michael Russell in the second. But it wasn't the kind of ball that leaves a pitcher wondering whether he made a mistake.
"We were playing the shift, and the ball got between the shortstop [Nick Gordon] and the second baseman [Ryan Walker]," Arteaga said. "Russell took a big turn and got himself a double."
The right-hander worked a 1-2-3 third, but began the next frame with walks to McCarthy and Cade Gotta. Two grounders, including a double play, got him out of the inning.
"Being objective of what the game is, one thing we're trying to teach is, walks are going to come. Hits are going to come. That's part of the game," Arteaga said. "They need to understand that, and to keep their composure and minimize the damage.
"Felix is one of the best at doing that. He knows there's always a way out. He made some pitches, and the defense played good defense behind him."
From that point on, he was perfect except for Granden Goetzman's single with one out in the sixth. Through seven frames, he threw 67 of 95 pitches for strikes. With Chattanooga (37-27) maintaining a 1.5-game lead over Tennessee (35-28) and three over Montgomery (34-30) in the Southern League North Division's first half, the young hurler was excited about what he's accomplished for the team.
"This is what the game is all about," Arteaga said. "The development side is great, but at the same time, it's about camaraderie, and winning as a team, and putting forth the effort as a baseball player. That's what this team is about. Felix understands what the moment is."
No. 21 Twins prospect Mason Melotakis struck out the side in order in the eighth and -- after a four-run outburst by the Lookouts in the top half -- shrugged off a one-out double by McCarthy and fanned two in the bottom of the ninth to notch his fifth save.
"It was only a two-run lead when he came in, then it was a long inning. He went down to the bullpen and threw some more to stay warm. We asked him if he was OK with the long wait. He said he was, and he came back and proved it," Arteaga said.
"It's not easy when you do it, but we're trying to develop baseball players. It is going to happen in any league you play in. It happens in the big leagues, and it happens in Triple-A. Long innings are a part of it. That's going to happen, so it's good if you experience that one time or two times, and then you have a feel for what the situation is."
Gordon, MLB.com's No. 42 overall prospect, went 2-for-5 with a double. He stands fourth in the league with a .313 batting average.
Josh Jackson is a contributor to MiLB.com. Follow and interact with him on Twitter, @JoshJacksonMiLB.