Feliz' homer highlights late-night doubleheader split with Marauders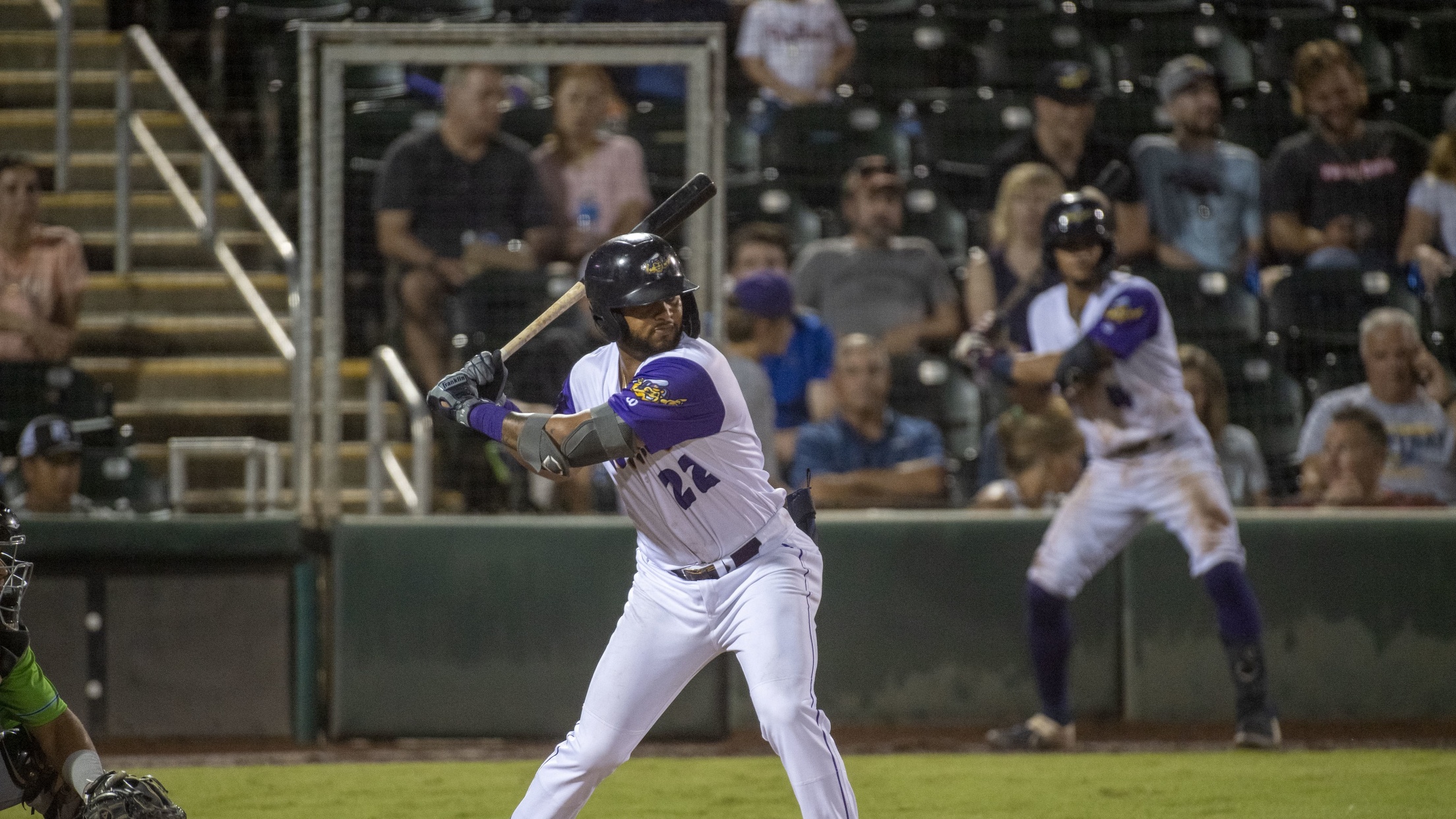 FORT MYERS, Fla. (August 25, 2021) – Jesus Feliz' long home run highlighted a 12-hit output for the Mighty Mussels Wednesday, as they took the second game of the doubleheader 12-1 at Hammond Stadium. The Mussels (48-45) rallied for eight runs on seven hits in top of the seventh, matching
FORT MYERS, Fla. (August 25, 2021) – Jesus Feliz' long home run highlighted a 12-hit output for the Mighty Mussels Wednesday, as they took the second game of the doubleheader 12-1 at Hammond Stadium.
The Mussels (48-45) rallied for eight runs on seven hits in top of the seventh, matching their highest-scoring inning of the season. The entire inning occurred after midnight, as a two-hour and 41-minute rain delay caused Game 2 to end at 1:05 a.m. Feliz' home run left the bat at 104. 4 miles per hour and cleared the left field wall by a large margin.
Will Holland led the way with three hits in the finale, with Alerick Soularie and Patrick Winkel each notching two.
Fort Myers got on the board in the second when Charles Mack walked before advancing home on three wild pitches.
Still leading 1-0 in the third, Justin Washington singled before advancing to third on an errant pickoff attempt. Two batters later, Winkel singled to center to extend the lead to 2-0.
After the Marauders (59-36) sliced the deficit in half on a Jack Herman single, Holland singled to center with two outs in the fourth. After Washington walked, both runners stole a base to put men at second and third. Soularie then smacked a base hit to right to extend the lead to 4-1.
Matthew Swain (6-2) went two hitless innings out of the bullpen to earn the win. Matt Mullenbach went four strong as the starter, allowing one run while striking out four.
In the third inning of Game 1, Marauders catcher Abrahan Gutierrez doubled to center before Herman lined a single to center to put men at the corners. The next batter was Endy Rodriguez, who pulled a double down the right field line to make it 1-0 Bradenton. Dariel Lopez followed with a sacrifice fly to extend the lead to 2-0. Two batters later, Hudson Head rolled a single over shortstop to cap the inning at 3-0.
Bradenton tacked on another run in the fourth, stringing together three straight hits – capped by a Rodriguez RBI single.
Marauders starter Eddy Yean (5-2) went four scoreless innings, allowing just one hit and one walk. Relievers Justin Meis and Alex Roth completed the shutout, logging the final three frames.
After splitting Wednesday's doubleheader, the Marauders and Mussels will meet again at 7 p.m. on Thursday. Sean Mooney (0-1, 1.08) is scheduled to make the start for Fort Myers, opposed by Adrian Florencio (4-3, 2.27) of Bradenton. Coverage starts at 6:45 p.m. on the Mighty Mussels Baseball Network.