Tatis flashes speed, hustle for Padres
No. 2 overall prospect collects two hits, two steals, scores twice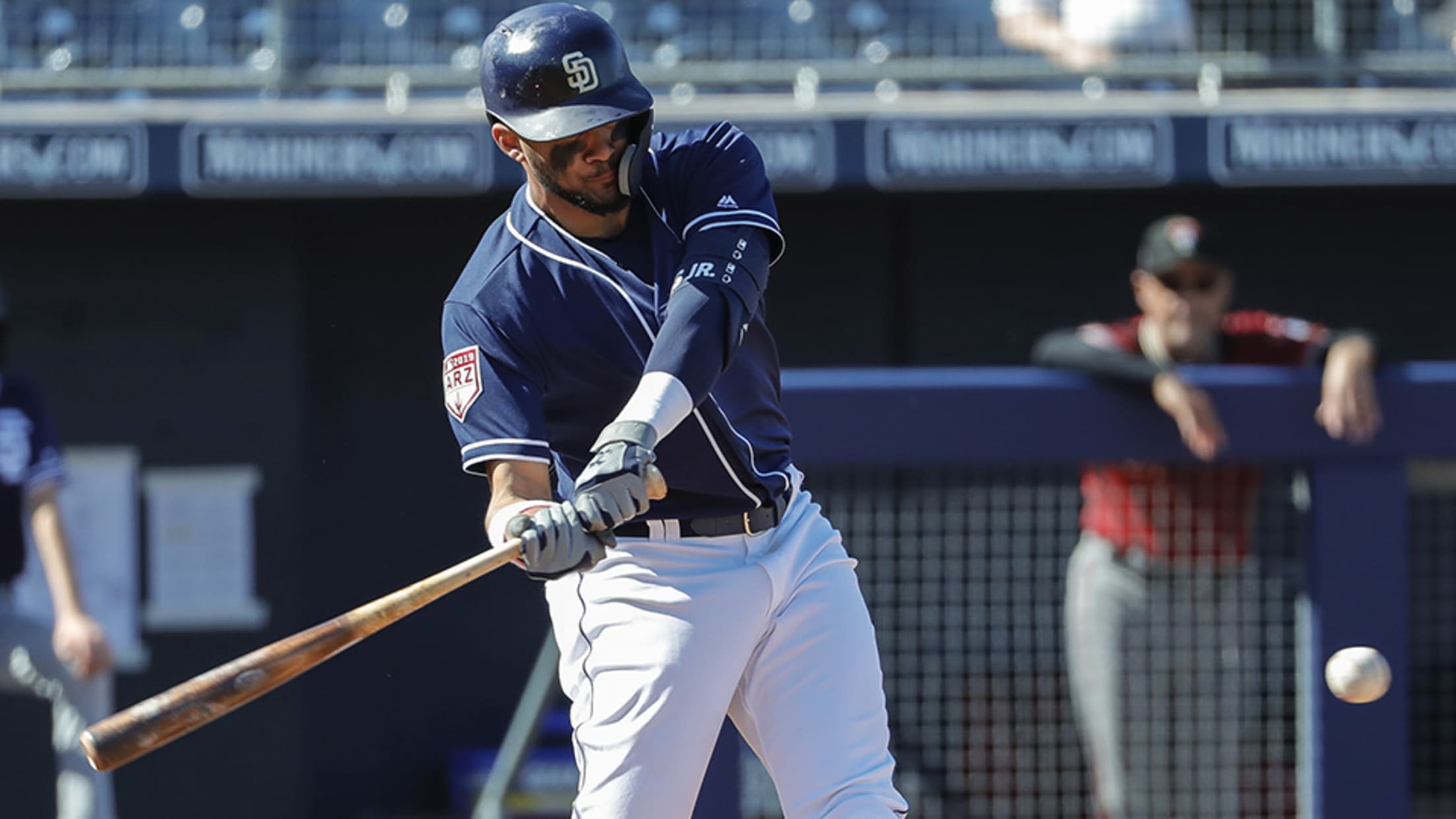 Fernando Tatis Jr. hit 16 homers and stole 16 bases in 88 games at Double-A San Antonio last season. (Kevin Abele/AP)
The future left side of the Padres infield was on full display Friday night, and it's looking more and more like it should be beyond the beta phase.Manny Machado opened the scoring with an RBI double in the first inning and Fernando Tatis Jr. collected a pair of hits, two
The future left side of the Padres infield was on full display Friday night, and it's looking more and more like it should be beyond the beta phase.
Manny Machado opened the scoring with an RBI double in the first inning and Fernando Tatis Jr. collected a pair of hits, two stolen bases and two runs scored in a 6-5 Cactus League loss to the Rockies at Salt River Fields at Talking Stick in Scottsdale, Arizona.
Tatis, MLB.com's No. 2 overall prospect, grounded a 1-1 changeup from Rockies No. 13 prospectJustin Lawrence to third and legged out an infield single with two outs in the opening frame. The 20-year-old promtly stole second and third and came home on a single up the middle by Austin Hedges.
Two innings later, the top Padres prospect beat out a grounder to first on a 1-2 heater from right-hander Bryan Shaw with two outs. He again wasn't on the basepaths long as he scored all the way from first on Hedges' single to center.
Third-ranked Rockies prospect Garrett Hampson capped a five-run, ninth-inning rally with a walk-off three-run homer with two outs. Niko Decolati (No. 23) entered as a pinch-runner in the sixth and scored a run, while No. 27 Roberto Ramos started the comeback with a two-run single. Righty Jesus Tinoco (No. 20) allowed a hit and two walks over two innings of scoreless relief for Colorado.

In other spring action:
Cardinals 15, Mets (ss) 5
Pete Alonso
, MLB.com's No. 51 overall prospect, continued his stellar spring for the Mets with a pair of hits, an RBI and a run scored to bump his slash line to .356/.387/.627 with four homers, four doubles and 10 RBIs in 62 plate appearances at big league camp. Called up from Minor League camp, Mets No. 3 prospect
Ronny Mauricio
-- a 17-year-old shortstop -- went 1-for-3 with an RBI and a strikeout.
Cardinals No. 13 prospect
Tommy Edman
stole the show in St. Louis' romp. Starting at third base before moving over to short, the 23-year-old went 4-for-6 with three RBIs and a run scored out of the eighth spot in the lineup. He's hitting .366/.413/.561 through 20 Grapefruit League games. Third-ranked
Andrew Knizner
delivered a two-run double in his lone at-bat, while No. 8
Dylan Carlson
singled and walked. Top prospect
Alex Reyes
retired all three batters he faced.
Box score
Rays 3, Pirates 2
Rays No. 9 prospect
Brandon Lowe
continued to wield a hot bat in the same week he signed a six-year contract extension. The 24-year-old got the start at first base and went 2-for-3 with a double and two runs scored in Tampa Bay's home win in Port Charlotte. The performance pushed his spring line to .391/.429/.761 through 15 games. Bucs No. 18 prospect
Pablo Reyes
was 2-for-4 with a double, an RBI and a run scored.
Box score
Cubs (ss) 7, Rangers 3
Cubs No. 20 prospect
Trent Giambrone
walked, stole second and came around to score on Javier Baez's homer in the third inning. Rangers No. 24 prospect
Demarcus Evans
walked a pair and notched a strikeout for his only out.
Box score
D-backs 10, Dodgers 4
D-backs No. 17 prospect
Pavin Smith
drilled a two-run homer in his only at-bat, while 20th-ranked
Marcus Wilson
singled and scored a run. Dodgers No. 16 prospect
Jeren Kendall
went 2-for-2 with a solo homer, a double and two runs scored. Seventh-ranked
Dennis Santana
gave up three runs on three hits and two walks but struck out five over three innings.
Box score
Brewers 6, Reds 4
Eighth-ranked Brewers prospect
Lucas Erceg
went 2-for-3 with a solo homer in the seventh inning. No. 2 prospect
Corey Ray
doubled and scored in the same frame, while 10th-ranked Reds prospect
Jose Siri
was 1-for-3 with a run scored.
Box score
Angels (ss) 5, White Sox 4
The White Sox got scoreless innings from a pair of prospects as
Zach Thompson
(No. 24) and
Ryan Burr
(No. 30) each recorded one strikeout. Thompson, a 25-year-old right-hander, has a 1.23 ERA in 7 1/3 innings this spring.
Box score
Blue Jays 4, Orioles 0
Third-ranked Blue Jays prospect
Danny Jansen
led off the fifth inning with a single and scored on a two-run homer off the bat of
Brandon Drury
.
Box scoreAstros 7, Mets (ss) 3
No. 16 Astros prospect
Myles Straw
went 3-for-4 with an RBI and two runs scored, while 27th-ranked
Jeremy Pena
walked and came around to score in the sixth inning. Left-hander
Framber Valdez
(No. 11) recorded his third spring win after allowing two hits and fanning a pair over two frames of scoreless relief.
Box scoreBraves 4, Tigers 3
Braves No. 21 prospect
Chad Sobotka
struck out three over 1 2/3 innings, allowing one run on two hits out of the bullpen. Fourth-ranked
Cristian Pache
singled in his only at-bat. For Detroit, No. 4 prospect
Isaac Paredes
went 2-for-3 with a double, his first extra-base knock of the spring, and a run scored. The 20-year-old third baseman is 4-for-9 (.444) in six Grapefruit League games.
Box score
Red Sox 10, Twins 6
Tenth-ranked Red Sox prospect
Jarren Duran
singled in three at-bats to maintain a .333 Grapefruit League batting average. Right-hander
Colten Brewer
(No. 23) gave up one hit in an inning of scoreless relief.
Box score
Nationals 5, Marlins 5
Top Nationals prospect Victor Robles continued his strong spring with an RBI triple in the third inning. The 21-year-old center fielder, who also walked and scored twice, has a .333/.456/.533 slash line this spring. Box score
Royals 15, Giants (ss) 3
Second-ranked Royals prospect Khalil Lee launched his first spring homer -- a three-run shot in the eighth. The 20-year-old outfielder is 5-for-11 in Cactus League play. Giants' No. 2 prospect Heliot Ramos singled in his lone at-bat, while 22nd-ranked Aramis Garcia ripped an RBI double. Box score
Indians 8, Cubs 3
Indians No. 7 prospect Brayan Rocchio made his Cactus League debut and did not disappoint. The 18-year-old shortstop went 2-for-4 day with a triple, an RBI and a run scored. For the Cubs, No. 15 prospect Nelson Velazquez singled in his first spring at-bat and 20th-ranked Trent Giambrone walked, stole a base and scored a run. Box score
Mariners 8, Angels (ss) 7
No. 21 Angels prospect Jared Walsh clubbed a pair of homers and drove in three runs. Brennon Lund (No. 28) laced an RBI triple in the fourth for Anaheim. Fourth-ranked prospect Evan White put the Mariners on the board with an RBI groundout in the first. Kyle Lewis (No. 7) doubled and scored to bring his Spring average to .423 with three homers and five RBIs, while 14th-ranked Jake Fraley singled in one run and scored another for Seattle. Box score
Giants (ss) 6, Rockies (ss) 4
No. 29 Giants prospect Jalen Miller entered the game as a pinch-runner in the fifth inning and scored for San Francisco. Box score