Tatis leads way in loaded Padres system
No. 2 overall prospect highlights San Diego's bountiful farm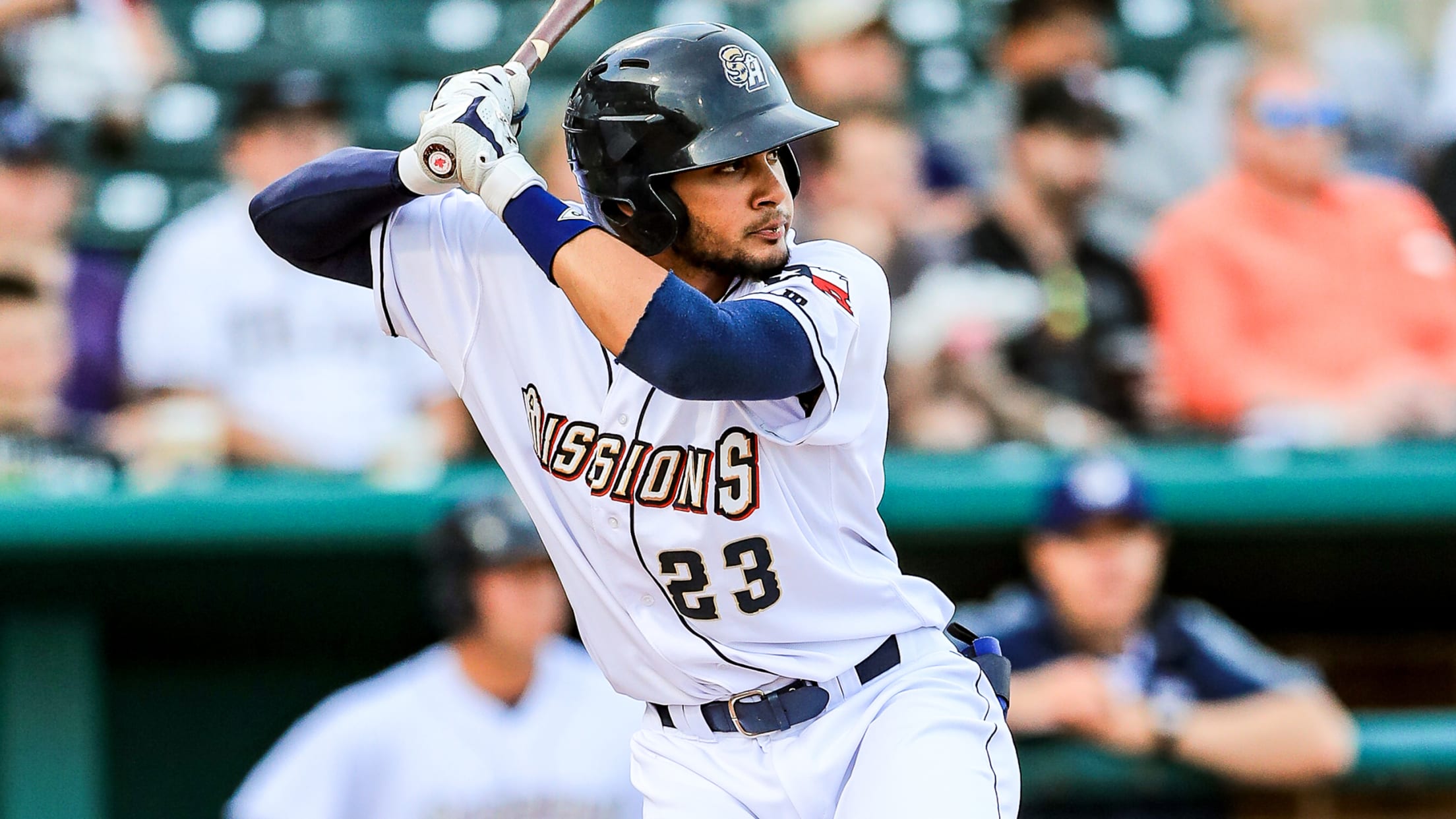 Fernando Tatis Jr. topped the Texas League with a .507 slugging percentage. (Ozzy Jaime/MiLB.com)
Each offseason, MiLB.com goes position by position across each system and honors the players -- regardless of age or prospect status -- who had the best seasons in their organization. Click here to locate your favorite club.Brighter days are on the horizon in sunny San Diego.The Padres have not finished higher than
Each offseason, MiLB.com goes position by position across each system and honors the players -- regardless of age or prospect status -- who had the best seasons in their organization. Click here to locate your favorite club.
Brighter days are on the horizon in sunny San Diego.
The Padres have not finished higher than fourth in the National League West since 2014 and are coming off a 64-98 campaign that sent them to the cellar.
But there's plenty of hope within the organization -- and with good reason. Three of the system's prospects participated in the Futures Game and San Diego possesses arguably the deepest system in baseball with 10 prospects ranked among MLB.com's top 100, including five in the top 35.
And sooner than later, those players will begin making their way to Southern California.
"We're really excited about the talent pool in the system," Padres director of player development Sam Geaney said. "The guys down there now know they have a chance to be a part of something special in San Diego and want to get here."
Padres Organizational All-Stars
Catcher -- Austin Allen, San Antonio (119 games):
For the second straight season, Allen cracked 22 homers, leading the system while playing in the Double-A Texas League. In fact, most of his numbers closely mirrored what he produced in 2017 at Class A Advanced Lake Elsinore.
The
Padres' 25th-ranked prospect
hit for a slightly higher average and more power following his promotion in 2018, posting a .290/.351/.857 slash line while driving in 56 runs. The 24-year-old had the same number of hits (131) and doubles (31) each of the last two seasons.
Geaney praised the backstop's work ethic, particularly the efforts he's put in to improve his defense.
"He's answered everything that we've put in front of him, that we want to see out of him," Geaney said. "That's also carried over into some really strong performances on the field the last couple of years."
Honorable mention -- Brett Nicholas, El Paso (117 games): Nicholas led the system with 83 RBIs across 412 at-bats. The 30-year-old, who spent the first part of his career in the Rangers organization and has 103 Major League at-bats, hit .291 with a .893 OPS, cracked 30 doubles and registered 200 total bases.
The University of Missouri product is no longer with the Padres after signing a Minor League deal with the Rockies on Nov. 19.
First baseman -- Brad Zunica, Lake Elsinore (123 games): Zunica isn't a hitter who consistently puts the ball in play, but his bat has pop. In 2018, the 23-year-old belted 17 homers and drove in 60 runs with a .769 OPS. Those numbers come a year after he clubbed 18 dingers in 84 games with Class A Fort Wayne.
Zunica posted a modest slash line of .251/.340/.429 and struck out in 34.3 percent of his at-bats.
Organization All-Stars by MLB affiliate »
Second baseman -- Luis Urías, El Paso (120 games), San Diego (12 games): One of the system's jewels, Urias is the Padres' fourth-ranked prospect and No. 27 overall. With Triple-A El Paso, his slash line was .296/.398/.447, but behind the numbers were inconsistent stretches in which he'd go from locked in to slumping at the dish.
The Mexico native's campaign was strong enough to earn him a Futures Game selection in July, and he heated up following All-Star Weekend. In 24 August contests, Urias batted .420 with a 1.139 OPS. That led to his first big league callup, and he hit .208 with two homers in 48 at-bats with San Diego before a hamstring injury ended his season.
"It was positive for him to get a taste," Geaney said. "He's a guy who's swung the bat ever since he signed with us back in 2013. He continues to answer every challenge. He saw some adversity, offensively, for maybe the first time in his career at Triple-A this year. Either way, he dug himself out of that in August and it culminated with his big league debut in September, which was very cool."
Geaney wouldn't say for certain whether Urias, who also can play shortstop, will begin the season as the Padres' starting second baseman.
"I think there's going to be a lot of competition," he said. "I don't think there's anyone on the club, Luis included, that's guaranteed of anything. He's in San Diego, rehabbing that hamstring injury. He's going to be ready. He's going to be a strong consideration to be a part of the club that goes north from Phoenix in April, but there's definitely a lot of time between now and then."
Third baseman -- Hudson Potts, Lake Elsinore (106 games), San Antonio (22 games): Potts is progressing how the front office imagined when the Padres selected him with the 24th overall pick in the 2016 Draft.
Potts mashed with Lake Elsinore to start his second full season in the Minors, batting .281/.350/.498 with 17 homers and 58 RBIs in the California League. The Southland, Texas, native was the second-youngest player selected in the first two rounds of his Draft class, so the Padres are excited by the numbers, given his age.
"Huddy continues to have really strong performance separate from his age," Geaney said. "But if you look at his age relative to his peers, this is a guy who turned 20 years old at the end of the Arizona Fall League and put up a really, really nice year. He hits the baseball really hard, continuing to walk more, making [plate discipline] a weapon."
Geaney noted Potts' defense, which he projects as a strength at the hot corner.
"We've seen as much, if not more, development from Huddy on the defensive side of the ball, to the point where he's going to turn himself into an above-average defender at third base," he said. "It's something we're very proud of."
Following a promotion to San Antonio, Potts hit .154 with two homers, but Geaney sees the fact that Potts made it to the Texas League as a positive.
"We've had him now for only two full seasons," he said said. "To see him touch the Double-A level and prepare himself for the level he's likely to play at next year, it's definitely a successful season for him."
In the AFL, San Diego's No. 23 prospect batted .228 with two homers and 13 RBIs in 21 games.
Shortstop -- Fernando Tatis Jr., San Antonio (88 games): Tatis Jr. gets two thumbs up for his 2018 season, despite the fact his left one cost him several weeks when it had to be surgically repaired in July.
MLB.com's No. 2 overall prospect was scary at the dish when healthy, posting a .286/.355/.507 slash line with 16 long balls and 43 RBIs. For all of 19 years old, Tatis has an advanced approach at the plate.
The Padres hope his time spent in the Dominican Winter League allows him move smoothly into the 2019 campaign.
"He was in the midst of a really, really strong season," Geaney said. "There was a lot of growth on both sides of the baseball. I think the underwritten story of Fernando over the last couple of years is the progression of him as a true defensive shortstop. It's something he takes a lot of pride in. It's something we as an organization are very proud of. I think with his size and his overall athleticism, he's a pretty unique player in the middle of the infield, in addition to everything he does offensively. It's been really fun to see that."
The 2018 Futures Game selection, who was acquired from the White Sox in 2016 as part of the trade for right-hander James Shields, has plenty of weight on his shoulders as the organization's top prospect. And despite being a teenager for another month, Geaney believes he's ready to deal with the hype.
"I think he definitely understands at a young age -- he was in Major League camp and got off to a nice start there, and then to have the season he did before it was interrupted -- I think he knows that he's under a microscope," Geaney said. "I think he's excited about what we're trying to build here in San Diego. He knows that with his talents and his prospect status comes with responsibility. I think he welcomes that."
Outfielders
Josh Naylor, San Antonio (128 games): Naylor used a scorching start -- he hit .379 with seven homers in April -- to set the tone for a strong 2018 season. Along with a move from first base, the 2015 first-round pick combined average and power at the plate. Naylor batted a career-best .297 at a new level and set another personal best with 17 homers while driving in 74 runs.
Geaney described Naylor as one of the system's most talented all-around hitters who has raked at every level. The Padres' 15th-ranked prospect truly loves hitting, he said.
"He loves his craft. He works at it relentlessly," Geaney added. "He's layered several strong seasons on top of each other, a little stronger this year at least in terms of power and in terms of his average. He continues to be everything you want in a hitter. He walked more this year and struck out less. He's checking all of the boxes we look for in a young player."
Naylor welcomed the transition to the outfield, Geaney said. The Mississauga, Ontario, native also displayed noticeable athleticism, despite a stocky frame -- he's listed at 5-foot-11 and 250 pounds. The Padres have confidence that he'll develop into a solid defender.
"He might not be built like a conventional outfielder, but he runs well," Geaney said. "He's an average runner. Very, very athletic. He throws well. He really enjoys playing the outfield."
Buddy Reed, Lake Elsinore (79 games), San Antonio (43 games): Another Padres prospect who participated in the Futures Game, Reed excelled with Lake Elsinore, hitting .324/.371/.549 with 12 dingers and 47 RBIs.
The Padres' No. 13 prospect struggled after a midseason promotion to Double-A, hitting .179 with one homer in 179 at-bats.
"None of these prospects are going to face a linear path to the big leagues where they have success at every level," Geaney said. "Double-A is a pretty robust challenge for a lot of these guys."
Geaney pointed to Reed's strong Fall League showing -- the University of Florida product hit .333 with a .882 OPS, six homers and 32 RBIs -- and said that fell in line with what he accomplished in the first half of 2018.
"These guys aren't going to climb every step of the Minor League ladder with success along the way all the time," Geaney said. "I think it's really cool to see them respond to little bits of adversity."
Shane Peterson, El Paso (126 games): At the age of 30, Peterson batted .286 with a .793 OPS, 11 homers and 74 RBIs in the Pacific Coast League. The 2008 second-round pick had not driven in that many runs since 2014, when he totaled 90 RBIs for Triple-A Sacramento in the Angels system.
Peterson elected free agency last month and is no longer with the organization.
Honorable mention -- Edward Olivares, Lake Elsinore (129 games): Olivares came over from the Blue Jays in January 2018 in the Yangervis Solarte deal. He hit .277 with a .750 OPS. 12 homers and 62 RBIs in the Cal League in his first season in the Padres system.
The organization rewarded the strong first impression by adding him to the 40-man roster ahead of the Rule 5 Draft this month.
Right-handed starting pitcher -- Chris Paddack, Lake Elsinore (10 starts), San Antonio (seven starts): Obviously, the hurler who captured the Top Starting Pitcher MiLBY makes this list. Even more impressive is the fact that he skyrocketed up the prospect rankings in 2018, his first season back from Tommy John surgery.
The Padres eased him back to form. The 22-year-old never threw more than 86 pitches or went longer than six innings in a start. Paddack went 4-1 with a 2.24 ERA for Lake Elsinore before impressing even more with San Antonio, where he was 3-2 with a 1.91 ERA. The Cedar Park, Texas, native struck out 120 over 90 innings and fanned at least nine six times (all in the Cal League).
"The level he dominated the California League and Double-A, I can't sit here and say that I expected it," Geaney said. "Knowing Chris and knowing the competitor he is, what kind of shape he puts himself in, how he viewed adversity, how he viewed getting hurt, how he responded, I'm not surprised, but maybe a little taken aback with how dominant he was."
Paddack is another example of how the Padres have constructed their system through trades; the Marlins took him in the eighth round of the 2015 Draft and dealt him to San Diego for Fernando Rodney in 2016.
Left-handed starting pitcher -- Logan Allen, San Antonio (20 games, 19 starts), El Paso (five starts): The Padres have four left-handed starters ranked in MLB.com's top 100 prospect, but none had a better season than Allen.
The No. 76 overall prospect went 10-6 with a 2.75 ERA for San Antonio, striking out 125 over 121 innings while posting a 1.05 WHIP. Opponents hit .195 against him in his final eight appearances for the Missions.
That earned him a promotion to El Paso, where he went 4-0 with a 1.63 ERA to close the season.
"Logan's very much put himself into consideration to be a part of hopefully our Major League club here in the next couple of years, taking the ball every five or six days," Geaney said.
A large part of Allen's success was the dominance of his off-speed pitches, particularly his slider, which developed as a putaway pitch.
"He's very intelligent, a quick thinker," Geaney added. "Another guy who is young in terms of his date of birth but has evolved quickly."
Honorable mention -- Osvaldo Hernandez, Fort Wayne (21 games, 19 starts): His final six starts were a microcosm of Hernandez's season as he allowed three earned runs over 33 2/3 innings. The 20-year-old finished with a 11-4 record and 1.81 ERA (1.59 ERA as a starter) with Class A Fort Wayne.
A native of Havana, Cuba, Hernandez gave up two earned runs in four May starts after posting a 4.26 ERA in April. He compiled a 1.34 ERA in 10 games after the Midwest League All-Star break.
"[He's] a very competitive guy, probably has one of the best breaking balls in the entire organization," Geaney said. "To see it play at the low-A level in his first full professional season, it sort of gave an affirmation to the work our scouting department did."
Relief pitcher -- Miguel Diaz, San Antonio (19 games, nine starts), El Paso (five games, two starts), San Diego (11 games): As a reliever in the Texas League, Diaz posted a 1.57 ERA and 1.14 WHIP over 34 1/3 innings, surrendering just one homer. The native of the Dominican Republic allowed 10 earned runs over 18 2/3 innings with the big league club.
"I think the fun part about Miggy is that on any given night he has a chance to throw up some of the best stuff in the entire organization," said Geaney, adding he wouldn't be surprised if Diaz's repertoire makes an appearance on the Pitching Ninja Twitter account.
Geaney also said the organization likes what it's seen from the 24-year-old right-hander in terms of possibly becoming a multi-inning reliever.
Chris Bumbaca is a contributor to MiLB.com. Follow him on Twitter @BOOMbaca.