Fightins' Hoskins plates career-best six
No. 19 Phillies prospect continues mastery of Eastern League pitching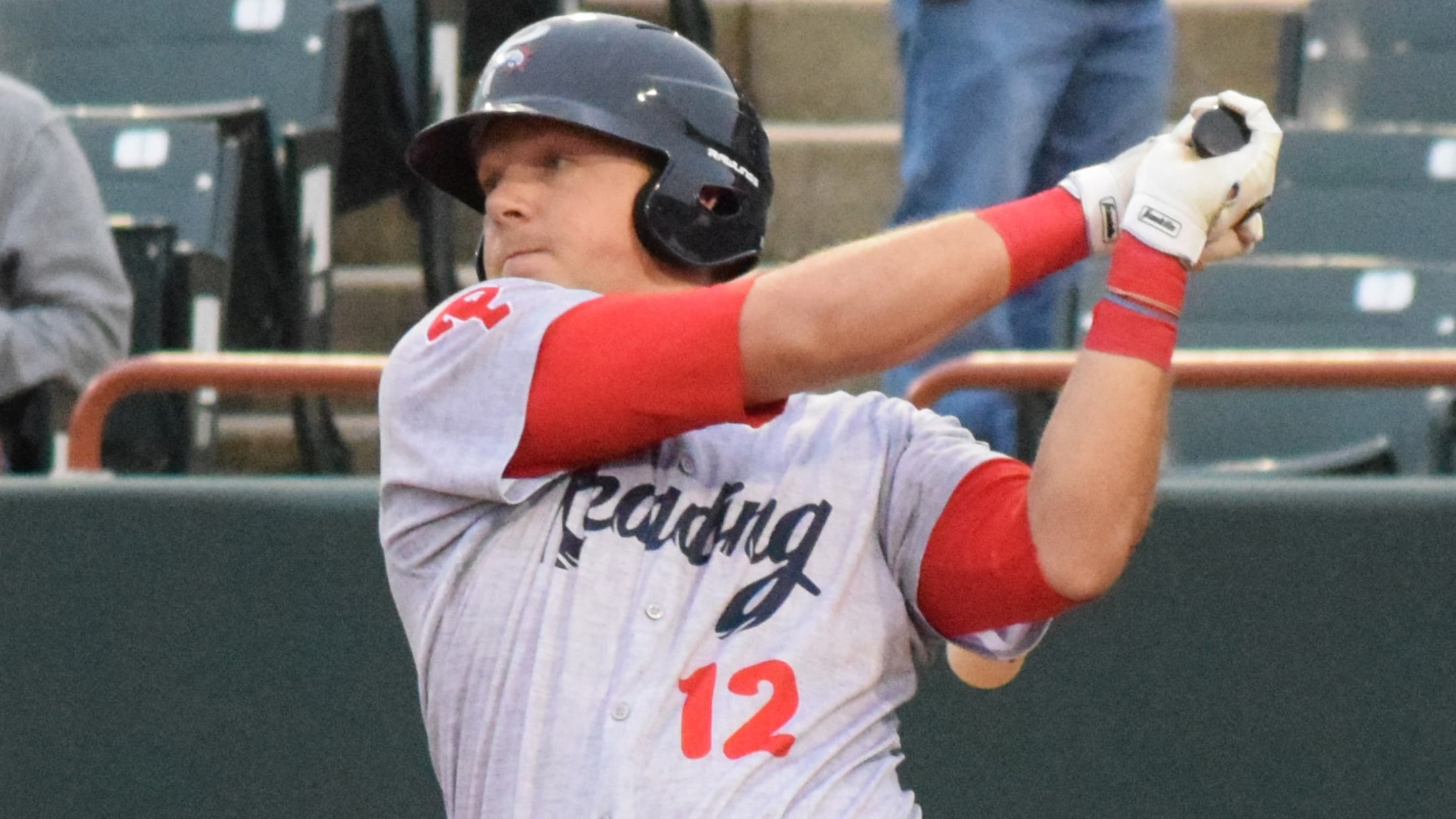 Rhys Hoskins ranks second in the Eastern League with 17 home runs and third with 52 RBIs. (Patrick Cavey/MiLB.com)
Rhys Hoskins wants to keep taking things slow, even as his numbers are quickly climbing. Philadelphia's No. 19 prospect drove in a career-high six runs on a homer and a pair of doubles Tuesday as Double-A Reading sank Hartford, 8-6, at FirstEnergy Stadium. The Fightin Phils got off to a
Rhys Hoskins wants to keep taking things slow, even as his numbers are quickly climbing.
Philadelphia's No. 19 prospect drove in a career-high six runs on a homer and a pair of doubles Tuesday as Double-A Reading sank Hartford, 8-6, at FirstEnergy Stadium.
The Fightin Phils got off to a slow start against seventh-ranked Rockies prospect Kyle Freeland (5-6). Hoskins struck out in the second as Freeland retired the first nine batters in order. But that strikeout eventually worked in the 23-year-old's favor when he ripped his 17th home run of the year, a three-run blast to left-center field off Freeland with one out in the fourth inning.
"I think the at-bat before he got me out on a cutter in. I didn't know he had that until I struck out on it," Hoskins said. "I just was able to use that and kind of eliminate the inner half of the plate. I got my focus out over the middle of the plate, got the pitch and put a good swing on it."
In the seventh, Hoskins plated Dylan Cozens with a two-out double to left. Then in the ninth, another double to center brought in two more runs to top his previous career best of five RBIs. The Sacramento State product found out he'd set a personal milestone after the game.
"Obviously, it's pretty cool," Hoskins said. "I know that's what my job to do is for this team, hit in the middle of the order and drive in some runs. I'm glad I could help the team."
Exactly a month after his average dipped to .238, the 6-foot-4, 225-pound first baseman has surged back in a big way. In his last 11 games, he has gone 21-for-47 (.447) with eight home runs and 19 RBIs.
"Me and [Reading hitting coach] Frank [Cacciatore] have been working hard in the cage since the start of the year, especially with the slow start," Hoskins said. "The more repetition that I've been getting, things just clicked. Now I'm finally starting to see some results. I'm just trying to slow the game down and make pitchers come to me instead of trying to hit pitchers' pitches."
Hoskins spent just 67 games with Class A Advanced Clearwater in 2015 before joining Reading to start the year. The 2014 fifth-round pick said he's begun to adjust to the Eastern League.
"It's been the biggest jump in my Minor League career from last year to this year," he said. "Pitchers pitch different. They've got better stuff and they don't miss as much as they do in the lower levels. I think the adjustment period obviously was longer than I wanted it to be, but hopefully that's behind me."
Philadelphia's No. 10 prospect Ricardo Pinto (2-2) allowed four runs on seven hits and a walk while striking out eight. Miguel Nunez walked one and fanned one while recording the final two outs to earn his eighth save.
Freeland gave up six runs on seven hits and four walks while fanning five over seven frames.
Third-ranked Colorado prospect Ryan McMahon hit a two-run homer for Hartford.